It's been three weeks since us headliners watched the final sunrise over the Las Vegas mountains and bid farewell to our weekend oasis in the desert.  I catch myself silently screaming, "Take me back!" as I go through the motions of reality only to further taunt myself by reliving the experience through photos and videos.  Recounting the memories is an ironically satisfying form of punishment which I'm going to put you through by writing this review.  And, my excuse for being so late: I'm a dinosaur in rave years, and two weeks in Vegas reminded me of that fact resulting in a less than graceful recovery.  But, better late than never!
Top 3 Improvements
3. Layout
In 2012, carnival rides and restrooms were placed awkwardly in high traffic areas that caused bottle necking and problematic congestion especially between Kinetic Field and Circuit Grounds.  However, because of bigger production this year, Insomniac utilized more of the Speedway and also made the proper adjustments to create a better flow for the festival crowd. Traversing between stages with a group of 15 was a breeze compared to last year.
2. Traffic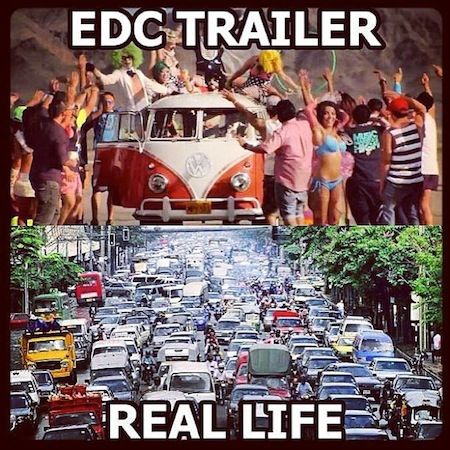 For those of us who attended EDC LV in previous years and couldn't ball out of control on helicopter rides know the horrendous pains of being stuck in a car, shuttle, or taxi for upwards of 3 hours in gridlocked traffic to and from the Speedway.  Insomniac finally addressed the issue efficiently this year by diverting shuttles through Nellis Air Force Base and implementing more law enforcement to control the flow of traffic.  They also converted southbound lanes on Las Vegas Blvd. into northbound lanes allowing for better flow for the incoming EDC traffic.  Time in traffic was cut by at least half.  Now, they just need to figure out how to remedy the real life version of bumper cars in the parking lot when everyone is trying to leave.
1. Production
What does $35 million get you?  Out of this world stage production, more carnival rides, better sound quality, bigger fireworks show, more art cars, more art installations, and enough scaffolding to build a Statue of Liberty sized f*ck you to EDC's mortal enemy, the wind.  Having attended the first two years of EDC in Las Vegas, it felt like walking into an entirely different festival this year.  It's obvious Pasquale, the CEO of Insomniac, drew inspiration from other popular festivals/events such as Tomorrowland (Kinetic Field), Ultra Music Festival (Circuit Grounds), and Burning Man (art cars and installations).  But, he seamlessly combined the different concepts together into a Radical Audio Visual Experience and provided the foundation for a mind blowing, life changing weekend.  My only request for next year: more lasers!
The Suggestion Box
There were minor issues such as gravel (does not make for a good dance floor) or the food selection.  But, my biggest complaint this year is set times.
As much as I enjoy fire, lights, and a gigantic owl shooting lasers out of its eyes, I am a music lover first.  Top notch sound quality and set times longer than an hour are a necessity for an audiophile like myself.  I want a DJ to build an audial journey and serenade me with a story of sound.  An hour isn't enough to work with and most resort to playing banger after banger.  Don't get me wrong, I'm a sucker for an ear blasting drop, but there's only so many times I can bare to listen to "Animal" in three days.  So, I would love to see 1.5, 2 hour sets back at the bigger stages such as Kinetic or Circuit Grounds like in 2011 and 2012.  This may be an unrealistic desire in a festival setting with such a massive lineup, but a girl can dream, can't she?
Music Highlights
The diverse lineup this year featured a variety of genres and up and comers that offered a fresh perspective from the usual main stage acts.  Tech house was strongly represented this year with legends such as Richie Hawtin, Carl Cox, and Pete Tong and Ibiza staples such as Jamie Jones and Loco Dice.  Die hard trance addicts were treated to uplifting sounds that are hard to come by stateside like Bryan Kearney, Indecent Noise, Lisa Lashes, and Simon Patterson.   Cosmic Meadow a.k.a. Hard Stage was a tour de force of talent boasting names like Destructo, Oliver, Alex Metric, Tommie Sunshine, A-Trak, Kill the Noise, and the list goes on for days.
Bouncing between stages trying to conquer the EDC wishlist was a dizzying feat and destroyed my feet.  One of my highlights from the weekend was Markus Schulz's sunrise set at Circuit Grounds.  "Vegas, we have some unfinished business to take care of!"  Last year's windy interruption of Markus's set was brought full circle and, for those of us who were present for that tragic moment, found closure.  Hearing Markus's Big Room Reconstruction of DD11's "Bam Bam" with a heavenly sunrise behind me is a moment I pull often from the memory banks.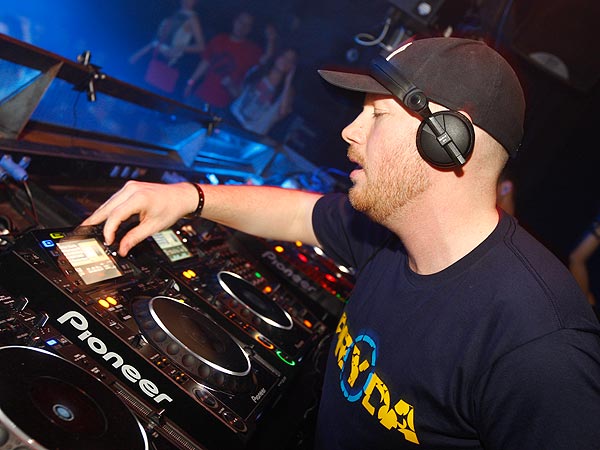 Although I had to leave in the middle of Cosmic Gate's set, there was no way on Earth I was going to miss Eric Prydz.  I had never seen him live so I was not going to squander the opportunity to hear a master at work.  My expectations were already high from hearing his Ultra Music Festival set and loving his productions.  To my pleasant surprise, Pryda not only met my expectations but blew me away.  He was one of the few who took their limited time of an hour and truly created a musical journey for the listener with impeccable balance.
Basscon was a haven where one could gorge on dark and euphoric sounds.  This trance glutton feasted on the higher bpm's and caught phenomenal sets by Bryan Kearney and Simon Patterson.  But, one of my weekend defining sets from Basscon was Scot Project.  A veteran who's been in the game for over 20 years decided to show up at EDC and rip me to pieces.  It was an hour of non stop dancing and occasional hip thrusting induced by filthy beats.  His track "B (Baby)" has been on repeat since then, and the dancing hasn't stopped.
A Night Owl's Tale
EDC has been my home for the past 4 years.  My life changed the moment I hit the open air of the LA Coliseum, and I discovered internal peace in a sea of  70,000 people illuminated by the lights of one stage, dancing to the same beat. Somehow, every year, the stars always seem to align perfectly, and story book fantasies become reality (like getting engaged during Above and Beyond's set in LA :).  This year, fate came in the form of a friend whom I hadn't spoken to in 8 years.  A random Facebook chat a month away from EDC, an extra ticket, and the necessity to escape not only brought a wonderful friend back into my life, but catalyzed a positive transformation in both of us.  My friend had never been to anything of this caliber before and only had an idea of what it was through videos and pictures of previous years. Turning strangers into friends, witnessing someone come alive, getting lost in the music, and connecting with yourself are experiences that cannot be conveyed through words, pictures, or videos.  So, this is what I told him.
"Nothing I say to you will ever prepare you for EDC. This is my fourth year, and I still find it hard to accurately describe what it is to people who've never been. Just know that it has changed the lives of every person that has walked through those gates with me. Although that sounds outrageous and not something that happens for every person who goes, I at least hope this experience will give you a fresh breath of air."
The events that transpired in the Speedway that weekend reminded me why thousands have found a home at EDC and why I will never stop going back.  Whether it's the intimate vibe or Insomniac's attention to detail, the synthesis of all elements has created an unparalleled wonderland.  It's a journey every EDM lover should take at least once.  So, let the withdrawals continue and the countdown to 2014 begin.