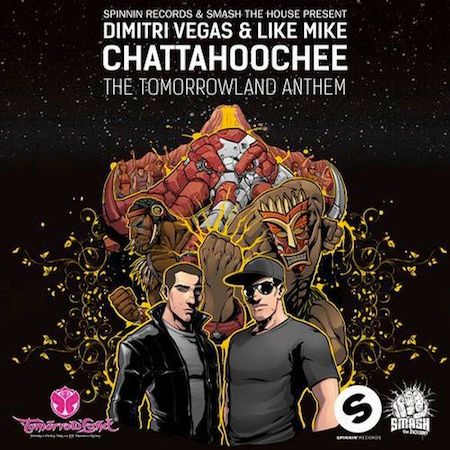 Dimitri Vegas & Like Mike- Chattahooche (The Tomorrowland 2013 Anthem)
Genre: Progressive House / Label: Smash The House /Released Date: July 22
Producers Dimitri Vegas and Like Mike, Belgian brothers, released on Beatport today "Chattahooche (The Tomorrowland 2013 Anthem)". With Tomorrowland 2013 just around the corner, this anthem was released at the perfect time to get attendees pumped. Dimitri & Mike had their first Beatport number 1 this year with "Mammoth" and I'm sure they are hoping everyone will enjoy their newest release. The name Chattahooche is meant to represent the home of the first ever TomorrowWorld taking place in the United States in September. The track has buildups and drops that consume the five minutes. The track is a tiny bit reminiscent of "Wakanda", but is still a solid festival tune. This anthem was highly anticipated as it is meant to embody the entire 2013 Tomorrowland festival. The song is extremely fast-paced and energetic and is sure to be a hit track when played at Tomorrowland. The beat and bassline are perfect for festival dancing.
You can pick up "Chattahooche" on Beatport. Let us know what you think of the anthem and if it pumps you up for Tomorrowland 2013!