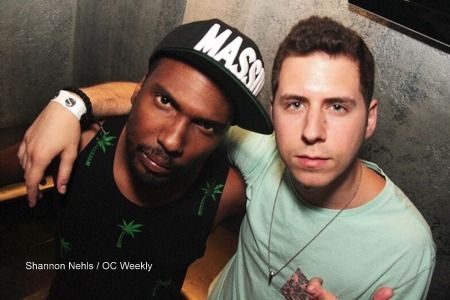 Great things usually happen when superstar artists collaborate on music, so one can only assume that the new EP announced by 12th Planet (Skrillex's mentor) and Protohype (Datsik's protege) will be nothing short of epic. The album will have a lot of influences from hip-hop, dubstep, drumstep, drum and bass and house music, with the style based mostly around interchanging beats per minute. When asked about it John Dadzie (12th Planet) had this to say:

"A transition record is a record that goes from one beat per minute to another beat per minute, so every song changes genres, it starts in one genre and ends in a different genre but it's the same song."
Max Hype (Protohype) added: "I feel like the group of people who are listening to electronic music today have music ADD, they can't stay with one genre, so we are trying to put a face to that." The duo jokes that they're going to name the EP Adderall and are hopeful that their new spin on music will catch on with artists and introduce a whole new sound to a somewhat plateauing scene. "Everyone is doing transitions; they're just not making it," says Dadzie. "They are making edits and shit, but we are making original songs that are transitions."
12th Planet, a veteran in the DJ scene who has seen his life change dramatically since his days of living off the dollar menu, sees a brother in the young Hype. He says that "we met and had so much in common on some real shit, I could actually hang out with him, so that's why I say he's my little brother."  Chemistry like this is rare to find, especially between big names like 12th Planet and Protohype.
Personally I love when songs change beats and they're not mirrors of themselves. Whenever I hear a song repeat halfway through I usually turn it off, so the thought of an entire album of songs that are constantly changing and evolving sounds exciting. I can only imagine the filthiness that will be brought to this album and can't wait to see where they go with it and how other DJ's incorporate it. New things can only help a scene that is repeatedly being bashed for being too mundane and predictable. My hats off to these two for pushing the envelope and daring to be different, can't wait to hear this drop.
via OCweekly