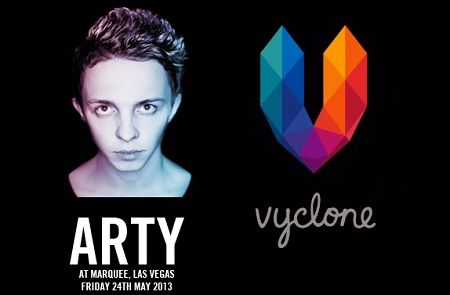 For all those who are new to this technology, the Vyclone social video app lets users create movies out of multiple smartphone videos, then share them via social media. Vyclone then matches videos shot in the same location at the same time and, using its own algorithms, synchs and edits them to create a movie from multiple different angles. The finished product can later be re-edited on the phone or online.
Last week, Arty became the first EDM artist to use Vyclone during his set at Marquee in Las Vegas. Arty used his phone to shoot his video live during his performance and told his fans to do the same. This then turned into a cloud-synched and crowd-sourced mini film production that documented his Marquee set from various angles.

This is very much a concept built around community and Vyclone allows the DJs and the crowd (and anyone at the show) to interact on a different level and contribute to the making of live videos. Surely, this new app should be installed in large clubs and festivals going forward and one could imagine how live and intimate aftermovies of festivals can become when the event can be viewed from over 10,000 angles.
You can check out Arty's Vyclone video below from Marquee.