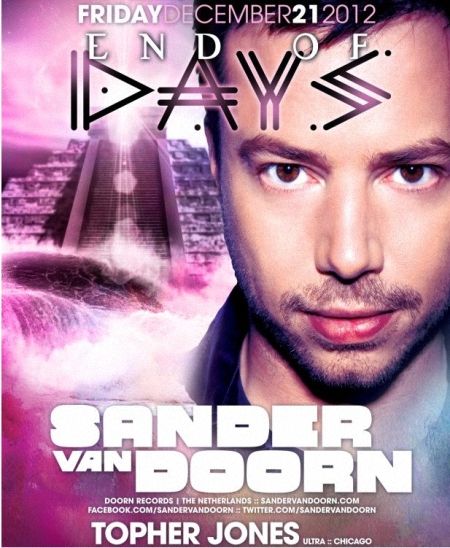 The buzz of the Mayan Apocalypse was the perfect excuse for Elektricity to throw a monumental party booking two top-notch DJs in Topher Jones & Sander van Doorn who provided the music we would inevitably lose our minds to. For the 97% of you who have never heard of Elektricity, allow me to explain. Tucked in the bar scene of Pontiac, Michigan is a tiger spotted dance floor with 4 full service bars, extravagant LED screens, an outside patio, and the ability to book some big name DJs every Friday night consistently. I've been fortunate enough to see EDX, Ferry Corsten, Gareth Emery, Arty, Tritonal, Bingo Players, Madeon, and Eric Prydz there just to give you an idea of the kind of talent this intimate venue brings to both the newest EDM fans, and the most veteran.
Any time spent at Elektricity on a Friday night is a good time, but this night was special. I had the privilege of sitting down with the man responsible for coining the term 'Drop the Brohammer' as his single, "Brohammer," forcefully insists. Born in Indiana, Topher began his career in the trance world releasing tracks on Black Hole and Audio Logic. After much effort, Topher decided it wasn't for him. He re-evaluated his whole sound and now fits comfortably in the…well I hate genre talk so let's let you decide.
Now signed to Ultra Music, Topher hopes to expand his name globally and become a household name in the industry. Here's what he had to say…
Q: First off, I want to get your personal opinion on the Mayan Apocalypse, truthful or not.
A: Haha I think it's really funny and that's great that people are having fun with it. Do I believe it? Not one bit. It's just something fun for people to talk about and a good excuse for people to throw big events on the night of. So I can't be too upset.
Q: EDMTunes.com has viewers from all across the world. For those who may not know Topher Jones, why don't you tell us a little bit about yourself? Where you're from, you're musical background.
A: I grew up in Zionsville, Indiana just North of Indianapolis. My mom was an amazing piano player and on that side of the family there's a long history of musicians. I never thought I was going to pursue something in music. In middle school I was really into underground hip-hop and I wanted to learn how to scratch. My birthday was five days after Christmas so if I ever needed or wanted something big I would ask for a combined present for the two. My parents got me my first pair of turntables when I was a freshman in high school and that's when it all started. I was given a CD from a friend in Arizona the summer after my freshman year and he said this music is getting really big out here. Have you ever heard of it? It's called trance music. The first trance song that I ever heard, and I distinctly remember it, was Armin van Buuren's "Communication." It still gives me chills when I listen to that song. After that I thought I had never heard anything like this, this stuff is incredible. At that time Napster was huge so I'd just type in "trance" or I'd type in "techno" and just download everything that I could. Instead of buying hip-hop records, I started buying Dance music records and that started my love and passion for dance music. I went off to college and took my turntables with me and I would do stuff and then I wouldn't do stuff. I remember having a conversation with myself coming home from class one day and I said, 'Either I need to really dive into this or sell these.' That's when I started producing and things have kind of progressed to how they are today.
Q: Obviously your track "Brohammer" was a huge success, especially when Nari & Milani got their hands on it. I remember reading your Facebook posts as it climbed the Beatport ladder. One of them read, "If it goes top 10 overall I will streak in downtown Chicago." A few days later and the name "Topher Jones" was on the Beatport top 10.
A: Haha I still haven't done that, I need to. It's cold out and now it would be miserable. Chad (1/2 Tritonal) actually said 'If I'm not mistaken you said you were going to run bare naked in Chicago.' I'll make sure it happens in the next few months. We won't get any video footage, that'd be awkward. I will definitely do that at like 3 in the morning so that I don't get arrested. Around where I live, I will put on my running shoes and I'll run up and down the street naked. (You heard it here)
Q: And that just shows how exciting and special that was.
A: Yeah I mean it was a pretty surreal moment. Ultra Music told us to put together a wish list of who we would want to remix it. At the top of that list was Nari & Milani. Their track "Atom" is unbelievable. We hadn't heard back from anyone in two weeks, three weeks. We were surprised because the track was getting a lot of hype, Skrillex was playing it and a lot of these big name guys. I remember I was taking a nap and he (Manager Dustin) told me, 'you gotta check your email right now!' I thought either this is very good or something terrible has happened. I opened it up and it said Nari & Milani were going to remix "Brohammer." I started jumping up and down and screaming because those dudes are incredible and to have them think that my track was good enough for them to remix. They don't release a lot of music so to have them put their sound on it was huge. Their remix is a lot different from the original, but it's sooo good. That just blew up on Beatport and every one was playing it and it really has opened up a lot of doors for me.
Q: Your single, "Hello Chicago," features vocals from Ido vs. The World. You now reside in Chicago so I was just wondering if you had influence in the lyrics?
A: You know what, it's funny. I had written some lyrics, and we had a vocal melody done. Then the label said, 'What you guys have is really cool, but check out what we were just sent.' (Ido's vocals) I just remember listening to it and I just got chills, this vocal is unbelievable. The 'Hello Chicago' thing was almost exactly what we had wanted to come up with. There are definitely some similarities, but what he came up with was way better. They definitely paint a very good picture with the words they picked.
Q: Your remix to Tritonal's "Azuca" comes out in January, correct?
A: Yeah January 18th
Q: And how did that come to be? Is that through your relationship with Tritonal?
A: Yeah exactly, I know Chad & Dave really well. They love "Brohammer" and play it all the time. I'm always sending them tracks for feedback, and they'll send me stuff and get thoughts. I had heard "Azuca" and thought, 'Wow this is one of the best melodies they've ever written, I'd love to remix this.' So I asked them if they had anyone remixing it. They said they didn't have anything set up. They sent me the parts and said, 'If you come up with anything cool then we should do this.' So I came up with a remix and they thought it was really good. (it is by the way) We wanted to sign it to more of a house label because it might not suite with their typical trance fans. Spinnin', which is a huge house label, said, 'We love this, let's do it.' So there you go.
Q: Sticking with remixes, your remix to Gareth Emery's "The Saga" has been on his Youtube channel forever now. Will there ever be an official release?
A: Hahaha for like four months now, I know. The last we had heard they said January. They loved the remix from day one and they tried to get some other remixes, but I don't know what happened with those. So yea, January. Tritonal and Gareth Emery remixes.
Q: In our brief conversation the other day, you talked about playing some new stuff tonight. What, if any, could you talk about that?
A: Yea there's a lot of new stuff. There's a track called "Avalanche" that I did with a guy in England named D Flat who is an amazing producer and has stuff on Carl Cox's label. Really underground, but he's one of my best friends so we said we needed to do some stuff together. This track is just dirty. Another one you'll get to hear tonight is called "Knockout." Another one called "Light the Skies" which is the follow up to "Brohammer." It features the same vocalist. There's also some less dance floor stuff, kind of cinematic so hopefully that can come out next year and we're talking to some labels about that.
Q: What can we expect live out of you next year?
A: There will be a lot of shows! We were talking with my agent on the way over here and we're talking about doing a big "Hello North America" early next year. I'm playing Lavo in New York next weekend, my New Year's Eve show in Chicago just sold out which is pretty sweet and then the weekend after that I'm headlining The Mid. There's a lot of dates I can't announce yet, but I can announce I'll be playing with Tritonal on January 26th in Houston at Stereo Live. So yeah, a lot of shows including Canada and Mexico. It's going to be big, branding and everything.
Q: Awesome, can't wait. What would you say is your favorite Topher Jones song? The one you are most proud of.
A: I can't name one. That's like asking a parent which kid they like more. I love each one for different reasons too. In the end, I wouldn't release it if I didn't like it.
Q: What about a word or phrase that sums up 2012 for you?
A: 'Drop the Brohammer' Come on it's gotta be!
Q: What about 2013? A word or phrase for the future.
A: Well we want to build off the foundation of 2012 so next year we are going to start to expand and grow globally. So I guess 'ramping things up' works.
Q: Thanks for sitting down, I really appreciate it.
A: Yea man no problem, it was fun.
After our conversation, Topher scurried up to the decks to fulfill his opening duties. His set ran from 9:30 – 12 and I like to think of it as a two part set. Part 1 filled the soon to be packed room with tech and funky house tracks just to get the feet warmed up after coming in from the frigid Michigan weather. Part 1 lasted until about 10:40. The turning track for me was Paris & Simo's anthem, "Aura." At this point the dance floor that used to be desolate was now a living, breathing thing. The last hour featured all Topher Jones. Every track played from 11-12 had the name "Topher Jones" incorporated into it whether an original or a remix. The dance floor was now a frenzy of controlled flailing, the typical reaction to a TJ track.
We were blessed with never heard before tracks. One, "Light the Skies," I remember vividly as a growling electro drop shook the floor. The others mentioned in the interview, "Avalanche" and "Knockout" sound massive and got a great response from listeners, only making their releases that much more exciting. Of course we heard the already established tracks as well such as "Hello Chicago" (Tom Swoon Remix), "Brohammer" (Nari & Milani Remix) and the Topher Jones remix to Fun's, "Some Nights." Topher ended his set with symbolism as his remix to Adrian Lux's "Burning" played out to the now mass of a crowd. "The light we had was burning out" and so was our time with Topher. They say a good opener builds a room, Topher built a mansion.
Sander van Doorn entered this 'mansion' and revved up the engines. The dance floor was a ball of energy ready to explode. Sander's quick and seamless transitions kept this energy at an all time high for Elektricity. Every track 'went off' whether it was a Sander original, remix, or an unidentifiable track, even the most experienced dance music fans couldn't put a name to it. About ¾ through the set, Sander played "Nothing Matters" by Mark Knight. This made the transition from progressive house anthems to a super tech housie vibe. This lasted for a few songs and just like that was transitioned out of perfectly without awkwardness into "Koko vs. Sweet Dreams." Then came "Joyenergize," Sander's new track. "Joyenergize" doesn't do justice until you've heard it on a professional sound system.
Sander ended his set, but the crowd wasn't ready to leave. We cheered him on for an encore. In light of all the Daft Punk rumors, Sander played "Aerodynamics", but wait…it wasn't. It may have started with that famous electronic riff, but it quickly switched to an all Daft Punk mashup and then dropped to a 2012 sounding electro house track. Most people thought this was the end, but yet again, it wasn't! "Don't You Worry Child" began to play and the whole club knew it. The perfect sing along track to end what was quite a spectacle. Topher Jones & Sander van Doorn helped throw the best party that Elektricity has ever seen. If you are ever in Michigan, you need to check out this club. Visit Elektricitymusic.com to see the kind of lineups this club hosts. Hope to see you there soon.
www.facebook.com/topherjonesmusic
www.twitter.com/DjTopherJones
www.facebook.com/SandervanDoorn
www.twitter.com/SandervanDoorn