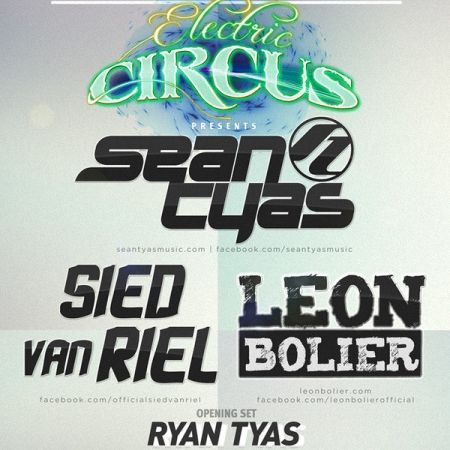 Last night contained an amazing vibe at Webster Hall in New York City. With a huge Trance lineup including Ryan Tyas, Sied van Riel, Sean Tyas, & Leon Bolier, a vast majority of the people were here solely for the love of Trance. Just good old friendly people & good music made for an awesome night at Webster Hall. Although this was my first time at the venue built back in 1886. The venue could definitely use a little renovation and repairs, but overall the main room upstairs was decent and modern for a place that's over 120 years old. Unfortunately I could not receive press access to the event last night, so I do not have any high quality pictures of the night for you to relive but I will do my best to recap some of the highlights of the night.
One thing entirely unique to the experience last night I have not seen before at an event is the acrobatics & fire raving. As the main flyer depicted, "Electric Circus" was the perfect term to describe the night in New York City with acrobats dancing on just a small piece of fabric high above the crowd, and a fiery display of stringing on stage. For an incredible night for under $25 after fee's & taxes, Massive Event really knows how to throw a party.
SIED VAN RIEL
Curtains opening at 10pm, Ryan Tyas wasted no time as he opened up the stage setting the mood for the rest of the night with Sied, Leon, and his brother Sean Tyas. My favorite set of the night would have to be given to Sied van Riel dropping massive bombs such as the recent release of Mikka's Remix of 'Rewind', good ol' 'Trigger' by Marcel Woods and W&W, and of course his own track 'Carved By Your Hands'.
SEAN TYAS
Time went by all too quick during his set and soon enough the distinctive sound of Sean Tyas captured the attention of the crowd. Playing his popular remix of 'Personal Jesus' and one of my favorite tunes of 2012 'Trespass' by Andy Moor, all hell broke lose for everyone in my dancing vicinity. 'Trespass' was accompanied by two performers on stage fire stringing right in front of us, which made the track even MORE massive. (See Video Below) Not a single body stood still to the explosive sound of Sean Tyas.
LEON BOLIER
But even more so, New York City couldn't get enough of Leon Boiler who seemed to be a favorite of the night. Starting his set at 3:00am, Boiler opened with his collaboration with Alex Kenji called 'Trumpets'. Despite playing a lot of tracks I didn't know of, Leon Bolier kept me dancing with his various ID's and melodic massive's such as 'Trigger'. I'm sure no one can forget the ever-popular anthem 'Sun & Moon' by Above & Beyond that he played mid-set of course. Playing some dark melodic trance by KhoMha, I have some newfound love for tracks produced by both Leon Boiler & KhoMha. It was an incredible night to say the least.
Some Songs of the Night (not chronological order)
Above & Beyond – Sun & Moon
Andrew Rayel – How Do I Know
Andy Moor – Trespass
Armin van Buuren – J'ai Envie de Toi
Armin van Buuren – Fine Without You
Depeche Mode – Personal Jesus (Sean Tyas Remix)
Firebeatz – Dear New York
Emma Hewitt – Rewind (Mikka's Remix)
KhoMha – Dejavu
KhoMha – Think About Me
KhoMha – Vapour
Leon Bolier & Alex Keji – Trumpets
Marcel Woods & W&W – Trigger
Sied van Riel ft. Temper Heart – Carved By Your Hands
Tiesto – Maximal Crazy
W&W – Lift Off
They played Maximal Crazy by Tiesto… like four times. Just look at that crowd energy. Amazing.

If you remember any other songs that were played at Electric Circus, feel free to share it in the comments below! What a massive night #trancefamily. I wish you all Merry Christmas & A Happy New Year. See you in 2013!