The massive festival Rave Family Block Fest had a huge line-up with over 850 artists and 65 stages. The whole theme bordered on being a meme, and alas, so it was. Although the aspiration was admirable, the poor communication between attendees and organization along with the major technical problems forced the event to "postpone" once more.
Rave Family Block Fest was a very ambitious project, and many labels and artists put a bet on its success. During these difficult times, this kind of event offers a good opportunity to enjoy your favorite artist's music and a different experience, but it often does not go as planned. Amongst the principal issues, people experienced poor internet connection, licensing issues, or problems with the platform, which can be tricky to navigate.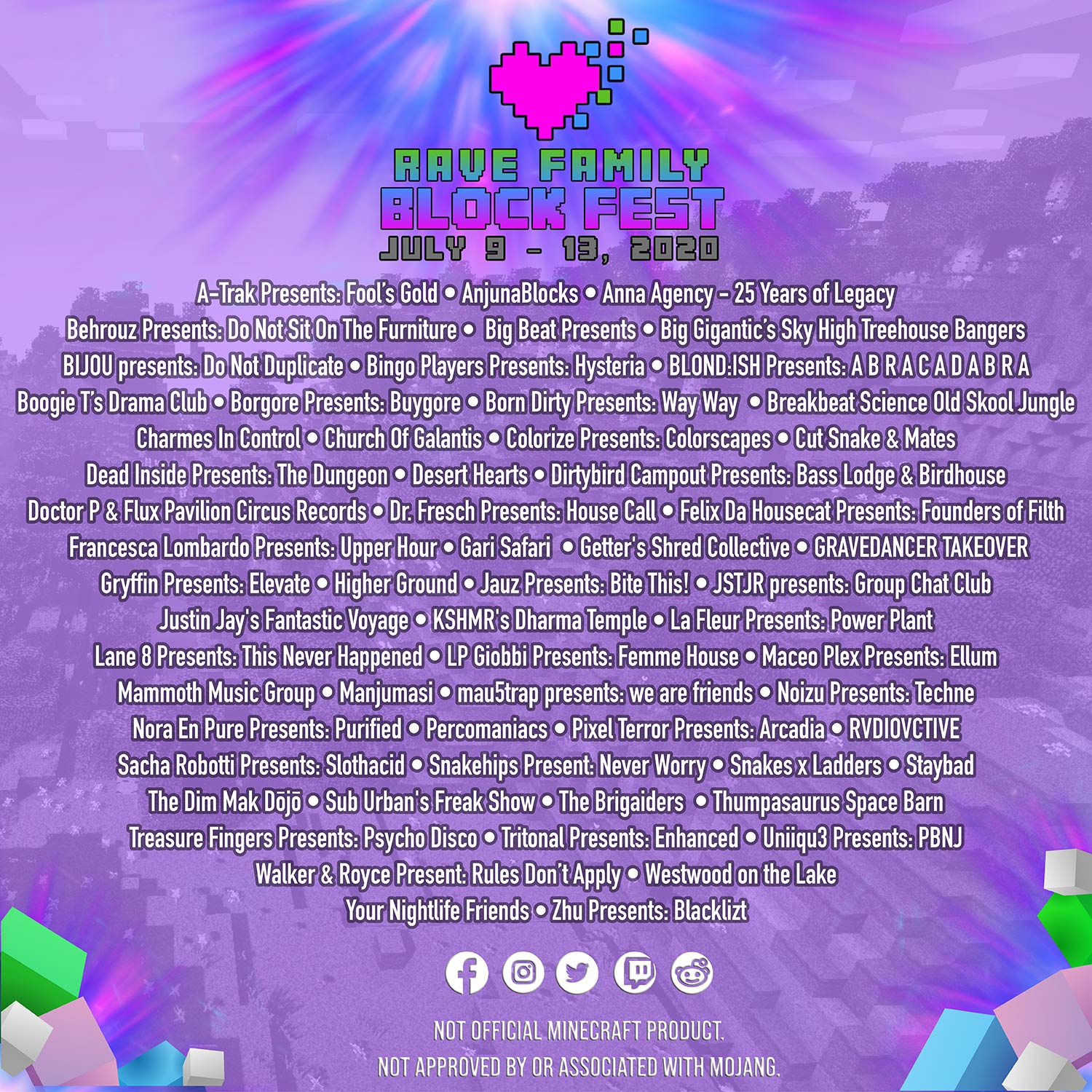 Now, Rave Family Block Fest, formerly known as Electric Blockaloo, released an announcement stating that they're postponing the rest of the show. Again, as this fist change of dates arrived due to an update to Minecraft.
We can't say we didn't see this coming. The event has been dropping red flags since the day it was announced, leading us to predict it would end up being a virtual Fyre Fest. Sure there was no human tragedy on an island, but pretty much the same amount of music and enjoyment resulted from both events. In both cases, they never even got started.
Main Issues
It did not take too long for the first problems to appear. Within a matter of hours when "attendees" and those in the orbit of the event had a bunch of doubts. Allegedly, some ticket holders received no information about how to access the festival. Moreover, other attendees did hear any music in-game. Unplanned server maintenance by Mixcloud completely ruined the uncoordinated experience. For those unaware, there is no native music playing within Minecraft so this was never going to be a traditional experience to begin with.

The inability to access the festival on a console due to the virtual festival being hosted on private servers and a split between Java and Bedrock versions made it even worse. Also, Minecraft newbies had no idea how to navigate the map to find stages, and nobody knew which stages were located where. Rave Family Block Fest released a statement putting the s**tstorm out of its misery.
"We have decided to postpone the event, while still leaving our festival and camping open for the people who have been enjoying them for the last few days," the statement from Rave Family reads. "Many artists indicated that they still want to Have their music in-game, and with more time – and hopefully sleep – we will be in a better place to fully deliver the festival everyone deserves."

Rave Family Block Fest
Rave Family Block Fest: Refunds
Those who would like to receive a refund can request one and Rave Family will issue them within 48 hours. The servers will remain up for those who choose to continue to dance the weekend away in Minecraft. There is not any final date for the new edition of Rave Family Block Fest yet. Stay tuned for updates and more details as they surface in Rave Family's Discord Server and on Facebook
Although a big amount of artists and labels will keep trying to succeed with this event, Dim Mak has had enough and will not participate on the event. More labels and artists will probably follow
You can read Rave Family's full statement below