Today was a full day for Apple, as the company rolled out several new products in their annual September keynote. Three new iPhone models were released, along with an updated iWatch, 7th-Gen iPad, and introduction to Apple TV Plus. Nevertheless, there's plenty to choose from along with varying prices for every buyer. While most of the previous leaks and rumors turned true today, this year's iPhone still leaves a lot on the table. Here's a quick rundown of what was revealed at today's keynote.
iPhone 11, 11 Pro, & 11 Pro Max
If you've been following the latest rumors and leaks this past year, the overall design and features should not be of much surprise. Apple released three models: iPhone 11, iPhone 11 Pro, and the iPhone 11 Pro Max. Obviously, the Pro Models are more expensive as they offer more complex features. Similarly, the iPhone 11, the cheapest model, sports a 6.1-inch Liquid Retina LCD Display. The iPhone 11 Pro has a crisper 5.8-inch OLED Super Retina XDR Display. Lastly, the Max Model includes a 6.5-inch Super Retina XDR display.
Behind these beatiful screens, lays the brand new A13 chip. As per usual, this updated chip will bring faster speeds and longer battery life due to its efficiency. It's so powerful, Apple claims it is the "fastest CPU and GPU in a smartphone". Besides power, the chip includes an R1 sensor (Rose), which allows the phone to have a better sense of location. This lightning fast system will also speed up FaceID.
In terms of battery life, Apple claims each of the new iPhone models are capable of all day battery life. In detail, the iPhone 11 will have an added hour compared to last year's model. Furthermore, the Pro will have four more hours than last year's iPhone XS. Lastly, the Pro Max unit will have an extra five hours. To power these devices, Apple has been kind enough to include 18W fast-chargers. Unfortunately, we're still stuck with lighting adapters, at least for one more year.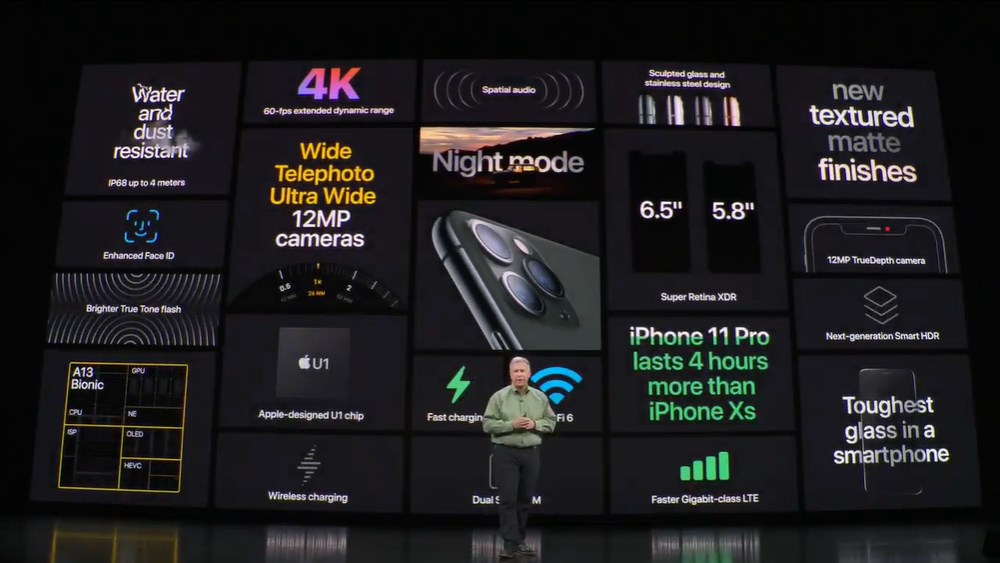 The most obvious change to this year iPhone is arguably the cameras. This year, both the Pro and Max models have a controversial triple camera setup on the rear. The trio make up a telephoto lens and ultra-wide lens, all capable of shooting 4K, 60 FPS. The ultra-wide lens provides a 180 degree view, perfect for landscape shots. Even more impressive, through future updates, each lens will be capable of recording a different individual, all at one time. A new night mode has also been added, allowing clearer, crisp nighttime photography. All iPhone 11 models will also be capable of shooting 'slofies' or slow-motion selfies. We never knew we needed it until Apple showed us a few demonstrations.
If you're into color, Apple has provided several new color options when picking out your device. The iPhone 11 will be available in the following: Green, White, Purple, Yellow, Black, and PRODUCT Red. Meanwhile, the Pro and Max models come in a sleek looking Midnight Green, Space Gray, Silver, and Gold. You can expect the Midnight Green to sell out first as it is already being fought over on Twitter.
Price wise, the iPhone 11 will start at $699, while the iPhone 11 Pro will begin at $999. The fully loaded Pro Max Model will start at $1099. For those looking for a good deal, the starting iPhone 11 model is $50 less than last years XR and still includes some amazing features.
Apple Watch Series 5
This year's iWatch did not receive any major updates. The exterior is almost identical to last year's model, aside from some new bands and faces. The Series 5 iWatch will now include an always-on display. Instead of over-exaggerating your arm movements to find out what time it is, the watch face will always have the current time available. Overall, it's probably not worth upgrading if you have a Series 4 or 3 iWatch already.
Seventh-Generation iPad
The brand new 2019 iPad comes in at a great price, along with several useful features. The 10.2-inch device is fully optimized for both gaming and work. Through both softwares and hardware updates, users will be able to multitask and work more efficiently. Prices start at $329 and will be available at the end of the month.
Apple TV Plus
Apple included some great deals in terms of their new subscription services. Starting November 1st, the public will be able to subscribe to Apple TV Plus for $4.99 a month. With this subscription, subscribers can expect exclusive Apple Original series'. Those looking to purchase a new iPhone, iPad, Apple TV, Mac, or iPod Touch, will also receive one free year of Apple TV Plus. Sorry, but those already owning Apple products will not be included in this incentive.
Pre-Orders and Launch
Get ready to pre-order the iPhone 11 starting Friday, September 13th. They'll hit shelves in stores the following Friday, September 20th. The Series 5 iWatches are also set to go on sale September 20th as well. Let us know your thoughts on this year's products and if you'll be upgrading. Lastly, feel free to watch the recorded keynote from this morning HERE.