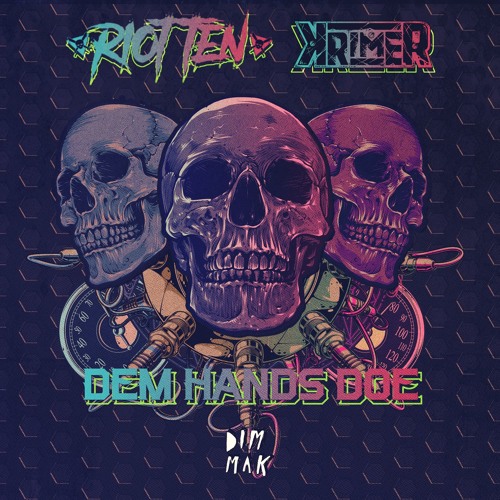 Riot Ten & Krimer – Dem Hands Doe
The pride of Texas, Riot Ten has always known how to throw down a filthy track. This weekend saw the release of his latest single 'Dem Hands Doe' on Dim Mak Records. The dance floor destroyer sees him team up with dubstep mainstay Krimer. The result is a tune that will make even the most breakneck headbanger say "Damn." Pushing the envelope of trap, dubstep and electro, he continues to impress with a prolific run of hits.
The rail-breaking single accentuates the style of both artists perfectly. The two seamlessly play off one another throughout, switching from a synthy build-up to an Earth-rattling drop. The track does not give much time for recovery, featuring four separate breakdowns that absolutely destroy. The vision of a sea of fans tearing up the Basscon stage immediately comes to mind. Certainly many artists will be sampling this one during festival season.
'Dem Hands Doe' was released on the heels of his successful Hype or Die: The Dead EP. He also announced that he will be launching a "Hype or Die" tour this Summer, the biggest of his career. Checkout the full 'Dem Hands Doe' track below, and hold on to something tight.
Riot Ten & Krimer – Dem Hands Doe