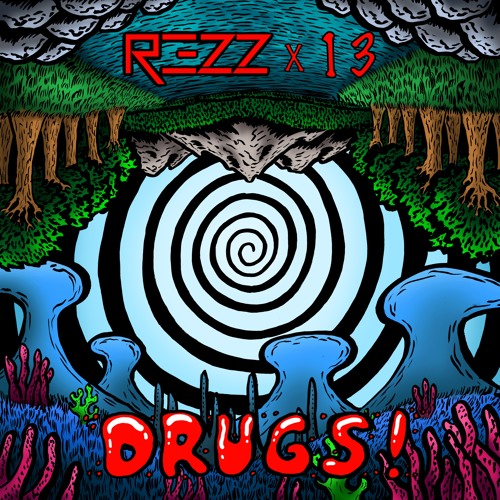 Rezz x 13 – DRUGS!
Is she an alien? Is she a little demon child? Whoever or whatever Rezz is, she's doing things to us. To our brains, our eardrums, and all of our insides. Week after week this month, she's been dropping her gut-wrenching tracks and Happy Friday! We have another.
This one's titled, 'DRUGS!'. It's a collaboration featuring 13, who, as far as we know, may be from the upside down. Come to think of it, that's probably exactly where Rezz's studio is that she makes these insane tracks (extra points for the "Stranger Things" reference).
Seriously though, Rezz has established a cult-like following, building momentum and fan loyalty as she has been destroying stages around the country. She will continue to do so on her headlining Mass Manipulation Tour this fall. If you haven't seen her live, get that fixed, because it's indescribable. Her debut album will be released on August 4th and it's guaranteed to be weird AF and amazing.
Check out DRUGS! below.
Rezz x 13 – DRUGS! | Download

Mass Manipulation Tour Dates:
Sep 2 – New York, NY – Electric Zoo
Sep 3 – El Paso, TX – Sun City Music Festival
Sep 7 – Mumbai, IN – Road to Ultra India
Sep 8 – Dehli, IN – Road to Ultra India
Sep 14 – Bali, ID – Ultra Beach
Sep 16 – Hong Kong, HK – Road to Ultra Hong Kong
Sep 18 – Tokyo, JP – Ultra Japan
Sep 28 – New Orleans, LA – Republic
Sep 29 – Philadelphia, PA – Electric Factory
Oct 1 – Thornville, OH – Lost Lands
Oct 7 – Toronto, ON – Danforth Music Hall
Oct 11 – Grand Rapids, MI – The Intersection
Oct 12 – Madison, WI – Majestic Theatre
Oct 13 – Royal Oak, MI – Royal Oak Music Hall
Oct 14 – Chicago, IL – Concord Music Hall
Oct 19 – Las Vegas, NV – Hard Rock Live
Oct 20 – Portland, OR – Roseland Theater
Oct 21 – Seattle, WA – Showbox SODO
Oct 26 – Boston, MA – The Sinclair
Oct 31 – Minneapolis, MN – Skyway Theatre
Nov 2 – Atlanta, GA – Terminal West
Nov 4 – Oklahoma City, OK – OKC Farmers Public Market
Nov 17 – San Francisco, CA – Warfield Theatre
Nov 18 – Chandler, AZ – Goldrush
Nov 22 – Denver, CO – Ogden Theatre
Dec 7 – London, UK
Dec 8 – Budapest, HU – A38
Dec 9 – Rennes, FR – Trans Musicales Festival
Dec 30 – Gisborne, NZ
Dec 31 – Perth, AU
Jan 1 – Brisbane, AU
Jan 4 – Adelaide, AU