Festival season 2017 seems to be off to a great start. With dozens of widely anticipated new festivals going down around the country, there have never been so many good options for festival-goers to choose from. Phoenix Lights is just one of these wonderful new options. Taking place April 8-9th at Margaret T. Hance Park, this festival is truly going to be something special!
This is the third year of Phoenix Lights and it has grown to become the gem of Phoenix-based production company Relentless Beats.
This year, what is most exciting about Phoenix Lights is the strength and diversity of the lineup. Featuring multiple curated stages across multiple days, PL has something for everyone, and a lot of it. With a lineup too long to list, here are some highlights from this year's lineup.
On headlining duty this year are Tiesto, Alesso and Above & Beyond. All of which need no introduction.
For the bass heads, Griz, Zeds Dead, Keys & Krates, Bro Safari, Hucci, Illenium, Loudpvck, K?D, and many more will be supplying the feels.
For the house heads, Relentless Beats offshoot RB Deep will be curating its own magical stage, featuring some of the best contemporary and established house artists around, including none other than Pete Tong, ZHU, Lane 8, Tiga, Justin Martin, Felix Da House Cat, Coyu, Billy Kenny, Pig & Dan, Low Steppa and many more!
Phoenix Lights also has a few curveballs thrown in, such as sic-fi-funk-jam-band STS9, which will be a breath of acoustic fresh air, along with several hip hop artists including 21 Savage and Vince Staples.
In addition to the stacked roster, the production is set to be incredible. Last year's two main stages were truly a sight to behold and it is rumored that there will be three or more in 2017! Relentless Beats, who consistently rises to the occasion, will surely be pulling out all the stops for this grand affair and we are extremely excited to see what they have planned!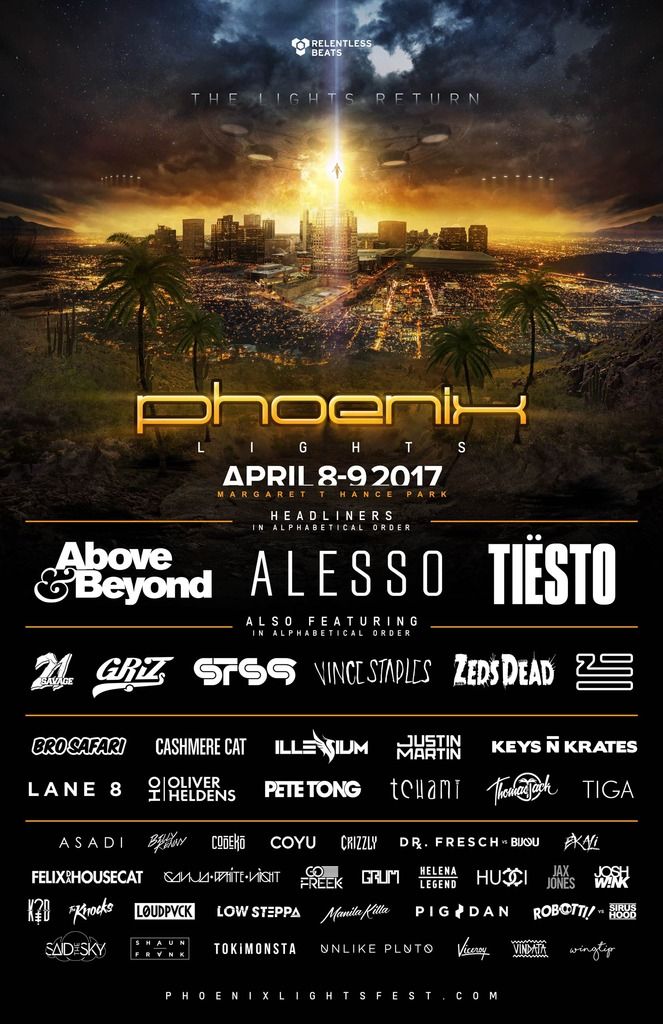 The festival itself is located in the heart of downtown Phoenix, which makes it a truly unique environment for a festival. It is close by to dozens of hotels, restaurants, and other attractions, which make it the perfect destination to kick off festival season!
For more info, and passes, check out the Phoenix Lights Website.