MTV's new show, Wonderland, is like an incredibly condensed music festival – it has four 'stages' with two or three acts each, similar to other festival stomping grounds on the circuit today. Instead of needing to be there in person to watch the music, however, you can catch it on your couch on TV at home.
The weekly live show that MTV hopes artists will use as a way to showcase diverse talent and their own individualistic expression. The show, which has an hour-long run time for each episode, lets its fans run wild throughout the grounds (when they're not keeping them from entering certain sections due to capacity limits) to try to catch their favorite artists perform at random intervals during the night. The sets are only a few minutes long, and none of them overlap – an interesting approach to music performance. Though the arrangement might work better from the perspective of a TV viewer, the show does combine relevant artists in interesting ways.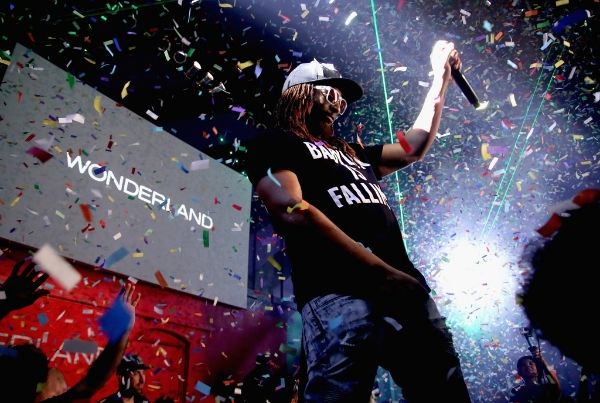 Wonderland's latest episode featured Steve Aoki and his curated line-up of artists such as Blink-182, Lil Jon, ILoveMakonnen, Autoerotique, and a few more. The episode (the fifth in the show's first season) premiered with Aoki playing his remix of Blink 182's 'Bored to Death' alongside the band on the main stage (Courtyard) before blasting 'Boneless' and throwing cake into the audience. Later towards the end of the show, Lil Jon cranked out hits like 'Turbulence,' 'Turn Down For What,' and 'Supernova' with Aoki, who finished the night by table turning on a crane above the crowd. It was truly a wild night, marred only by the constant need to run back and forth to catch all the acts.
Check out a clip of Steve Aoki and Blink-182 performing together that is anything but boring, and watch the whole episode on MTV.