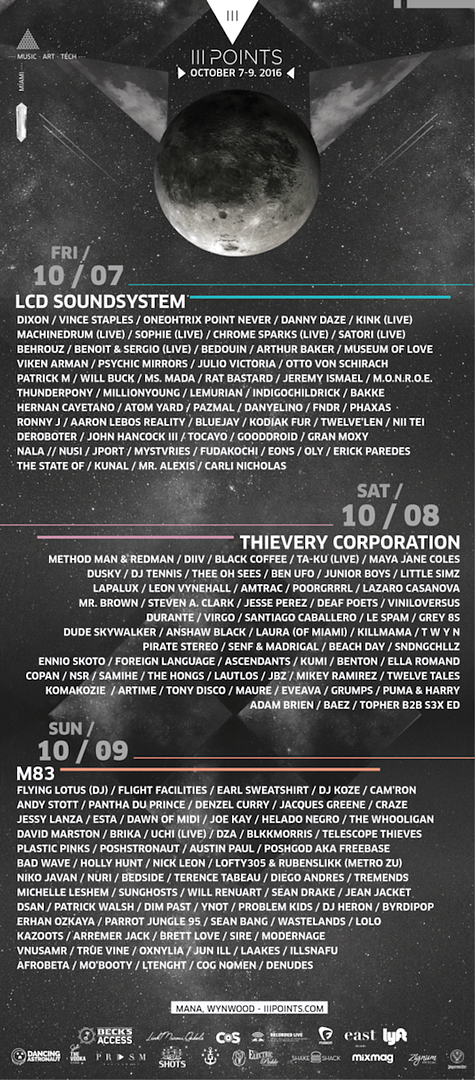 With Miami's III Points Music Art & Tech Festival only a few days away it's time to highlight some of the artists you won't want to make the mistake of missing. Some obvious headliners like M83, LCD Soundsystem, or Flying Lotus are being skipped because they really don't need explanation as to why to be watched. Instead, the following artists are those that you may not have heard of before. Music festivals are great for watching the artists you have come to love, but they're even better for discovering new talent you didn't know existed. Tickets are still available so make sure to grab them here.
Flight Facilities
Let's start with duo Flight Facilities who hail from Sydney, Australia. Consisting of members Hugo Gruzman and James Lyell, the two began the project when they started mixing other people's songs together back in 2009. More likely than not, you probably first heard their name when Canadian duo Adventure Club remixed the Aussies' first single 'Crave You' into a dubstep classic about 5 years back. Since then however, the duo has kept busy, slowly building their project and molding their sound. The culmination of this work came in the form of their debut album 'Down To Earth,' defining their music with day-dreamy tunes to bring you an emotional plane ride. It's all smooth flying with the Flight Facilities and this is one trip you won't want to miss. You can catch the duo at the Mind Melt Stage on Sunday from 9:15pm – 10:15pm.
Ta-Ku
Our next artist is another Australian producer who goes by the name of Ta-Ku. A self-proclaimed genre killer, Ta-Ku has been steadily rising through the ranks of electronic music by infusing different elements from hip-hop, R&B, electronica and more into one seamless product. His work speaks for itself as his remix for Flume's 'Left Alone' and Chet Faker's 'Talk Is Cheap' were both received to much acclaim. Watch Ta-Ku perform his eclectic beats live at the Main Frame Saturday from 10:45pm – 11:45pm.
KiNK
When people use the term "live" in electronic music, it can be a little bit misleading and actually mean a number of different things. However with KiNK, he's probably going to be as "live" as "live" can get in the realms of electronic music. The Bulgarian DJ is known for utilizing a multitude, and I mean multitude, of different hardware in his sets. The DJ starts from scratch, and records as the set moves along, building upon the last noise or rhythm he makes. KiNK is spectacle you definitely will want to be a part of, so make sure to catch him at the Main Frame on Friday from 11:15pm – 12:30am. If you want get a good grasp of what KiNk actually does, check him out as he goes against the clock in the video below.
If you're looking for music to get hazy too then look no farther than Jeremy Malvin, aka Chrome Sparks. With a background in classical percussion, the Brooklyn based musician utilizes bright and dazzling melodies on his beat focused tunes to create his spaced out music. He's best known for his 2012 tune 'Marijuana,' which not surprisingly became a hit among stoners, living up to its name. His live set-up differs for each performance, sometimes he plays by himself, at other times he plays with an 8 person band, regardless, it's a performance you won't want to miss. Spark one up with Chrome Sparks at Sector 3 on Friday night from 1am-2:20am.
Nick León
The last act on this list is local, because while III Points does showcase some of the most renown acts in the game, they also give their community natives an opportunity to shine. Nick León is at the top of that list. The 23-year old South Florida native has been producing since his brother gave him production software at the age of 12 and it has been murder she wrote ever since. León's songs are a head trip, many times drawing from nature itself to tell you different stories painted with detailed textures. It's psychedelic, it's eclectic, and different from anything else you'll hear this weekend, so you'll want to be there for it. You can get weird with Nick Leon at the Isotropic Soulection stage on Sunday from 4pm – 5pm.