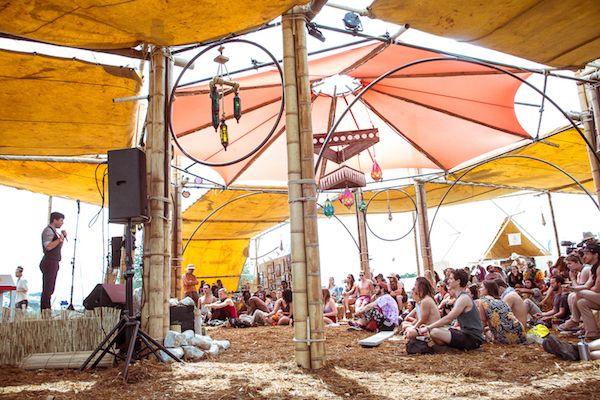 In celebration of the earth and the thirst for its reconnection with humanity, Do LaB has proudly unveiled the theme, presenters, workshops and offerings for this year's Lightning In A Bottle's micro-environment and sacred epicenter, The Village. Fueled by the intention to bring ceremonial and ancient wisdom into festival culture, The Village will create a regenerative, restorative way of life through the aid of educational demonstrations, enlightening workshops and singular metamorphic experiences. The Village's 2016 theme, "Tree of Life", will focus on re-integrating humanity into right relationship with our ecosystem. A carefully selected groups of "Village Earth Stewards" will deliver a wide range of programming to help participants move naturally into their empowered role as agents of the lands. Built around a beautiful Grandmother Oak that pays homage to 2016's theme, The Village will give festivalgoers a unique opportunity to learn by doing, as they develop hands-on skills and discover what it takes to create and sustain a living Village together as a dependent, cooperative community.
Lightning In A Bottle attendees will be given the opportunity to step inside the Community Lodge to explore daily workshops centered around earth-based traditions, rituals, social action strategies and plant medicine teachings. Luminaries taking the Lodge stage this year include visionary activist and founder of Portland's renowned Village Building Convergence Mark Lakeman, festival returnee Mexihcah medicine man and lineage holder Kuautli Vasquez, Community leaders and ceremonialists Isis Indriya and Eve Ladyapples who will lead a fully experiential and participatory journey up the kabbalistic Tree of Life, and Esperide Ananas the "Ambassador of Damanhur" (an Italian-based federation of spiritual communities, with its own culture, art, currency, schools, and underground temple built entirely by hand, which is known as "the eighth wonder of the world") who will speak on the Magic and Power of Community.
Other Village environments include the Essential Oil Learning Lab, sanctuary refuge space The Haven, Casa Sagrada space for sacred healing, the magical Witch's Hut for mystic, esoteric teachings and herbal apothecary, the Permaculture Action Hub, a Mentor Space for personal connections with LIB's elders and wisdom keepers, and the beloved Ancestral Arts Arbor for mentorships of traditional skills such as fire by friction, and wood carving. And, for the first time ever, The Village will present the farm-to-festival theatrical dining experience, the Last Supper Club, where diners will fuel their imaginations and enchant their tastebuds. As the sun begins to set over the native grounds of LIB each evening, participants are invited to lend their presence and energy to the Sunset Ceremony, and witness the daily ritual of the lightning of the Sacred Fire.
For a taste of what's to come at The Village at this year's Lightning In A Bottle, seekers can gather to Nevada City, California from April 21-24 for The Village Symposium for a journey into community building, education, ritual and social change with workshops, ceremony, performance, dancing, and feasts. Visit their Facebook event page for more info. And be sure to purchase tickets to Lightning In A Bottle 2016, taking place Memorial Day Weekend (May 25 – 30, 2016) at the San Antonio Recreation Area in Bradley, CA here.