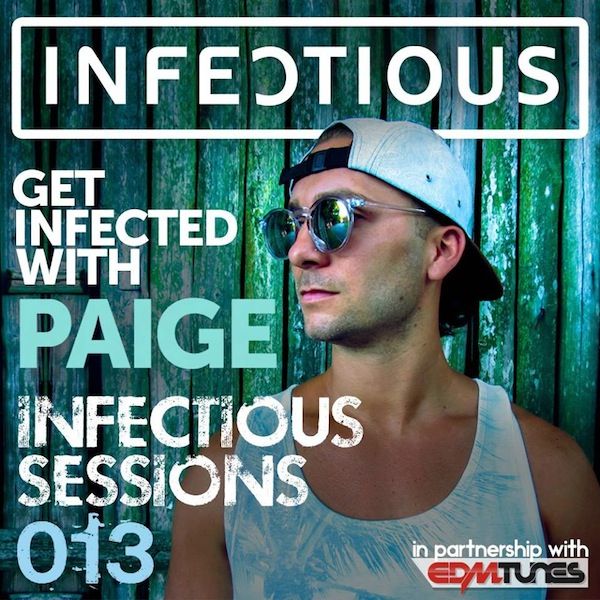 If we had to point to one DJ/producer that we really believe is set to ascend the ranks of the EDM world, NYC born and raised producer Paige would be our top pick. The producer, who recently signed a three track deal with Spinnin' Records and three year publishing deal with MusicAllStars, was called up by Spinnin's A&R team after taking number one on Hypem's with a bootleg remix of Men At Work's "Land Down Under" with Chachi. Spinnin' re-recorded the vocals and will be releasing on December 11th.
We caught up with Paige in Brooklyn at the Infectious Studios to hear more about his deal with Spinnin and his 60-minute mix with Infectious NYC.
What inspired you to start DJing and producing?
One day when I was 16 years old, I sneaked into Crowbar [nightclub in Manhattan that has now shut down] with my cousin. I dropped out of community college after nine days and went to the School of Audio Engineering. I just started producing and DJing from then on.
How did the deal come about with Spinnin?
A good friend of mine, Chachi, and I remixed the [Land Down Under] song for free. Three days into its release we got a call from Spinnin. They wanted to re-do it and put it out as an original. The track will be coming out on [Spinnin's sub label] SOURCE on December 11th.
Which artists would you like to work with?
There are so many artists that I would like to work with. Carl Cox, Steve Angello, AndMe. I think right now Redlight is absolutely killing it with every release. He just has such a bounce to his bass lines. Gorgon City is definitely one of my biggest inspirations. There are just so many good artists in house music which is awesome.
 Which artists would you like to party with?
Definitely like to party with Erick Morillo. I've been able to work with him a bunch of times and he just has this energy when he is DJing and I imagine he carries it into his personal life where he is fun and exciting, non-stop laughs and smiles. To be honest I'd like to party with the people who inspire me because their music I imagine carries into their personalities.
Paige Mix Tracklist
01. Chachi & Paige – Land Down Under (Extended Mix)
02. Skrillex & Diplo feat. AlunaGeorge – To Ü [Clean Bandit Remix] 03. Redlight – Metronome (feat. Roses Gabor) (Original Mix)
04. Matrix & Futurebound – Happy Alone (Joe Stone Remix)
05. Alex Metric – Heart Weighs A Ton (Cassian Remix)
06. Mat.Joe – Don't Move Ma (Original Mix)
07. Fatboy Slim – Star 69 (Noir Remix)
08. Major Lazer – Get Free (Paige Remix)
09. Felix Jaehn feat. Polina – Book Of Love (Mike Mago Remix)
10. Disciples – Flawless (Original Mix)
11. Blonde, Karen Harding – Feel Good (It's Alright) (Low Steppa Remix)
12. Drake – Hxtline Blxng (James Hype Remix) (Paige Edit)
13. CamelPhat feat. Eden – Siren Song (Redondo Remix)
14. Nora En Pure – U Got My Body (Return of the Jaded Remix)
15. Cassian – Feel It (Original Mix)