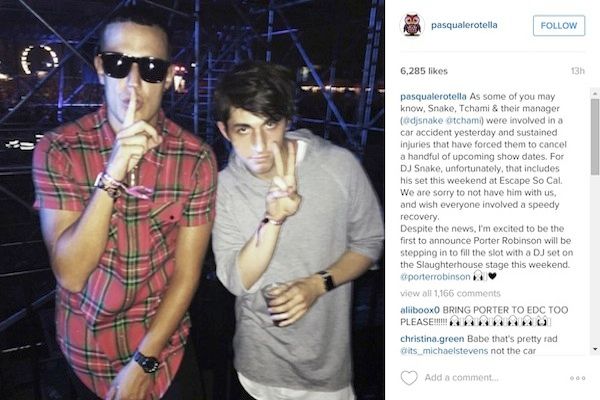 As many people know, DJ Snake, Tchami and their manager were involved in a serious car accident earlier this week. Everyone is still alive and on their way to a speedy recovery, but the shows must go on. For Insomniac's CEO Pasquale Rotella, this meant calling in Porter Robinson to take over DJ Snake's spot this Saturday on the main stage at Escape: Psycho Circus.
The news was recently shared via Pasquale's social media accounts, as he stated, "Despite the news, I'm excited to be the first to announce Porter Robinson will be stepping in to fill the slot on the Slaughterhouse stage this weekend." In addition to filling in for DJ Snake, Robinson will be doing two other shows this weekend: one at Haunted Fest in Boulder, CO and another in San Diego, CA at Heaven & Hell Music Festival. The young producer is sure to have a bustling Halloween weekend full of tricks and treats for his many fans.
The last time he performed for Insomniac Events was during the inaugural edition of their New Year's Eve show, Countdown, just last year. This time around, Robinson will perform at their flagship Halloween festival and is sure to bring haunting bass and hard-hitting beats. In a recent tweet, he stated, "My set at Escape, like all of my Halloween shows, will be a DJ set." His DJ sets, much different from his Worlds live show, portrays the darker, bass-heavier side of his music that will be perfectly in line with the Halloween vibes.

Although it is unfortunate that DJ Snake has to withdraw from this weekend's festivities at Escape, Robinson's offer to step in for him is news that is warmly welcomed by event organizers and ravers alike. Catch Porter Robinson along with Above & Beyond, Dash Berlin, Benny Benassi, and many more talented acts this weekend at Escape: Psycho Circus at San Bernardino's NOS Events Center. For tickets, head over here.
i'll be stepping in for @djsnake at @escapehalloween. really hope you (and @iamTchami) are ok and have a speedy recovery!

— porter robinson (@porterrobinson) October 29, 2015
H/T: Your EDM