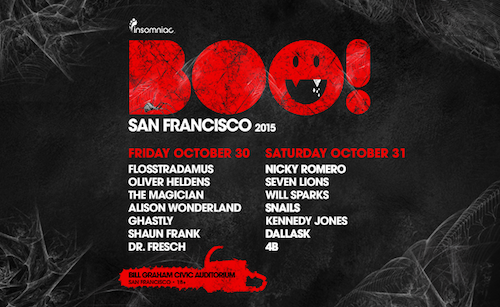 Insomniac's BOO! is heading to San Francisco for one spooky weekend, loaded with a talented roster of DJs. The two-day event will feature a wide range of genres, ranging from Flosstradamus' high-octane Trap, to Seven Lions' melodic Dubstep, and everything in between. To properly help celebrate this Halloween themed show, we will uncover old tracks from this year's featured acts, and bring them back from the dead.
Flosstradamus – Total Recall
Released back in 2012, "Total Recall" is the quintessential Halloween song. It features spine-tingling vocals that echo against a hard trap line, followed by powerful and yet eerie synths. This track goes to show just how far Flosstradamus' sound has progressed over the years.
Oliver Heldens – Gecko (Original Mix)
After Tiesto signed "Gecko" to his label Musical Freedom label back in 2013, Oliver Heldens' career has been nothing short of sensational. His track Gecko revives the funky nineties sound with a modern and up-tempo twist and pushes the boundaries of dance music. Now regarded as an elite DJ, Helden's and his future house beats are here to stay.
Nicky Romero – Toulouse 
With over 266 million plays on YouTube, the 2012 single "Toulouse" has become a staple in many DJ sets. The Big Room hit carries an airy synth melody that morphs into a distorted drop, and contains hints of violin-like sounds. The song is so popular that is has spurred remixes by the likes of Avicii, Tommy Trash, and Head Hunterz.
Above & Beyond – You Got To Go (Seven Lions Remix) 
This 2011 remix of the Above & Beyond classic is what helped propel Seven Lions' career to new heights. The rework pipes in Dubstep influenced drops yet maintains the passionate undertones of the original track. The emotional outpour that is found in this track, is a recurring theme throughout most Seven Lions' production.
Will Sparks – Ah Yeah! (Original Mix)
Will Sparks' undeniably bubbly "Ah Yeah" was one of the catalysts that pushed Melbourne Bounce to the mainstream. With an up-tempo bassline and syncopated pitched-up vocals, you can't but help but get down to this 2012 track.
Lets hope these artists rewind the clock and bring these classics back to life!