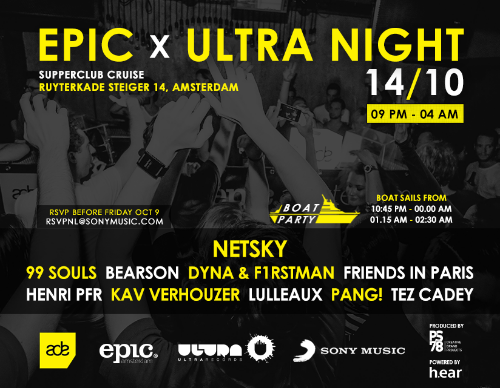 Epic Amsterdam and Ultra Music are two of the leading names when it comes to putting on an event. And with ADE just around the corner, all the gears are churning as all the industries leading powerhouses prepare for one of the wildest weeks in dance music.
So when we caught wind that these two groups were teaming up to co-host an event, we were all more than excited. Better yet, they are joining forces for a massive cruise to showcase some of today's best DJs. Names like Bearson, Netsky, LULLEAUX, and more will be playing this must-see party. Setting sail from the Ruyterkade dock, the party will happen all on board the cruise.
So if you're going to be in the area for ADE, mark your calendars for October 14th. Keep tabs on all thats going on for this event on its event page here, and snag your tickets through Ticketscript.