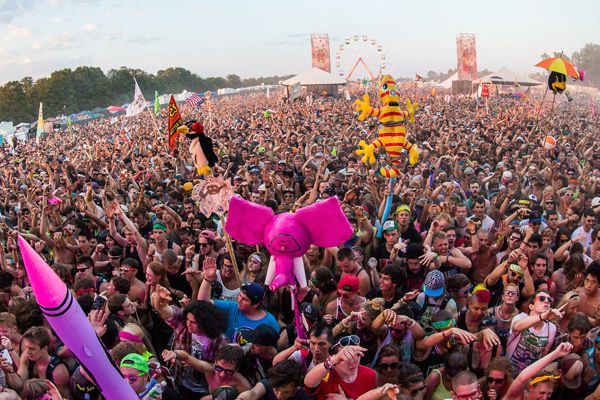 Fans were heartbroken when they learned that Camp Bisco would not take place in 2014. Having taken place in upstate New York since 1999, the iconic festival was forced to take a one year hiatus to remodel and relocate. The festival has now moved to Pennsylvania, fittingly the native home of the Disco Biscuits themselves. The jam band will host Camp Bisco as always, treating their fans to 6 sets scattered throughout the weekend. The Disco Biscuits are hoping to revive the magic that Camp Bisco is known for. Moving from the Indian Lookout Country Club to Montage Mountain, the festival will now take place at a waterpark resort. This will include staggering amenities such as a zipline, volleyball court, lazy river and wave pool.
Most important, however, is the music. Luckily for its attendees, Camp Bisco's lineup is absolutely stellar. While everybody knows not to dare miss sets from headliners like Bassnectar and Pretty Lights, here are 10 lesser known artists you should be sure to catch.
Sound Remedy
While you can count on artists like Bassnectar to bring the heavy and grimy bass, Sound Remedy makes some of the best melodic dubstep out there. The Chicago native has the breathtaking ability to craft poignant soundscapes with powerfully euphoric climaxes. While the Camp Bisco lineup is stacked with artists from all different styles, Sound Remedy is one of the standouts who truly brings raw emotion with his undeniable energy. He will be performing just prior to Bassnectar on Saturday, so be sure to check him out before your face is melted off for good.
Sweater Beats
Filipino producer Antonio Cuna is the mastermind behind Sweater Beats' unique brand of club music. Fusing elements from R&B, pop and more, the producer's multifaceted production style showcases his immense talent. Recently, Sweater Beats even played some killer guitar on his cover of Kanye West's 'All Day,' further demonstrating his abilities.
Louis Futon
Louis Futon is quickly rising up the electronic music ladder. The Philadelphian is consistent in his quality yet diverse in his style, producing heavenly future bass just as easily as his grimy collaboration with Bassnectar. This feature on Bassnectar's album as well as his recent collaboration with DJ Mustard indicates that Louis Futon will stick around in the industry for a long time to come.
Lido
While Louis Futon's future bass productions are impressive, Lido has been helping spearhead the movement. Between his two Chance The Rapper collaborations and his phenomenal EP with Canblaster, Lido has been on an absolute tear in 2015. The young Norwegian has undeniable production abilities, with a jaw-dropping live show to go with it. This is where Lido's talent really shines through, as he incorporates vocals, drums and keyboard into his performance.
Trippy Turtle
With a frenetic and borderline chaotic pace, Trippy Turtle's sets are certainly a sprint over a marathon. Helping break Jersey club to the mainstream, Trippy Turtle's distinctive style is irresistibly energetic and fun. The alias of the legendary Cashmere Cat, Trippy Turtle shows a lighter and bouncier side to the multitalented producer.
Mr. Carmack
Mr. Carmack is a pioneer, a man tirelessly working to bridge the gap between hip-hop and electronic music. The Honolulu based producer crafts some of the best beats around, crossing any genre and style as long as the end product is good. He's been having a huge month too, recently dropping a beautiful single with Kehlani as well as three superb remixes. His single showcases his ever increasing popularity, as it was featured on Adidas' "Songs From Scratch" video series.
J.Phlip
As one of the few techno names on the lineup, J.Phlip is expected to hold down the fort with a constant stream of sexy beats. Known for her booty shaking bass, it is no wonder that J.Phlip is a prized member of the Dirtybird gang. Together with artists like Justin Martin, you can count on J.Phlip to transport you away with a much needed tech fix.
Jauz
Jauz's success in 2015 has exceeded all expectations, with 'Feel The Volume' being played at seemingly every festival everywhere. At merely 21, the young producer has found time this year to release a never ending parade of hits. Just this year, he has collaborated with Borgore twice and with Dillon Francis once, showing his rise to the mainstream. His growing popularity can be attributed to his infectious personalized style of house, with its growling bass and dance-friendly garage drops.
Ghastly
Much like Jauz, Ghastly brings a filthy style to Camp Bisco. In fact, the two have even collaborated together, as 'Miami Connection' showcases these two producers unique reinterpretation of future house. Ghastly's startlingly dirty drops excel at exposing his listeners to sounds and frequencies they have simply not heard before. Be sure to check out Ghastly if you have no intentions of ever stopping dancing.
Slow Magic
Slow Magic's live performances are certainly quite the experience. Donning a colorful, wolf-like mask, the anonymous artist proceeds to drop beautiful music complemented by an onslaught of his live drumming. In addition to all this, he produces some incredible music, crafting a happy and carefree vibe with powerfully euphoric synth play.