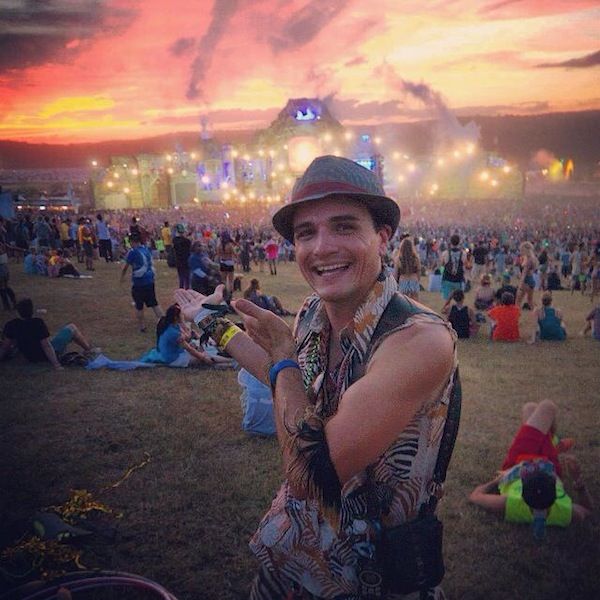 Despite attending a staggering 84 festivals within the last 4 years, 31-year-old Tucker Gumber, a.k.a. "The Festival Guy", isn't your average musically passionate, Burner-esque, festival-goer. After attending Snowball Festival's inaugural year in 2011, Gumber began embarking on a personal musical journey of a lifetime by attending 10 different fests in 5 months around the country and has kept the ball rolling ever since. This year alone, the affably personable, über-positive and quirky festival addict has hit a stunning 14 fests in 15 weeks, mainly fixated around attending electronic and indie music, and has since become notorious among the community as "The Festival Guy".
After two years of maxing out credit cards, volunteering, meeting people and publishing reviews, all in the name of "festivaling", Gumber began gaining media credentials, guest passes and even the coveted all-access artist passes, but never intended on hoarding all of this immense privilege for himself. Instead, he has made it his personal mission to become an influential voice within the festival subculture in order to find solutions to common festival problems, with the ultimate goal of improving and maximizing every festival attendees's experience. 

Since accruing his influential position within the festival world, Gumber has made a career for himself in improving festivals and has become the go-to-guy for artists, fans, and everyone in between to forge ways of elevating the festival experience. His website, TheFestivalGuy.com, where Gumber publishes reviews, tip sheets and festival critiques, is just the tip of the iceberg in his noteworthy festival mission. He's also recently launched a social media app, FestEvo, which keeps track of upcoming festivals, lets users RSVP and find rides, listen to and rank artists on lineups, discover new music and even helps organize lineup schedules. To add even more to his festival résumé, Gumber is also working on his very own TV travel show that will launch on Uphoric.TV in September and has begun initiating his personal green philosophy called "leave no trace +1," which entails being responsible for picking up your trash and the trash of one other festival attendee. He reasoned, "If half of the crowd participates in LeaveNoTrace+1, it doesn't matter what the other half does. The venue would be spotless." As he explained to Insomniac, confronting someone who dropped trash is something we can all do to help festivals restore to earth's factory settings. He also urges festival organizers to cut down on disposable items by trading water bottle sales for water stations.
But why is Gumber so fixated on "festivaling"? He explained, "The lineup basically sorts the world's population, brings all of the people that you would want to be friends with, and puts you on a vacation with them for three days," he says. "It's like, 'Oh, these artists are going to be there? Well, these people are going to be there, and that's excellent news.'" He added, "This is where new relationships are formed and people spend their quality time together." "For me, it's all I could ever want to do, and I'm pretty excited that I've found a way to do it.