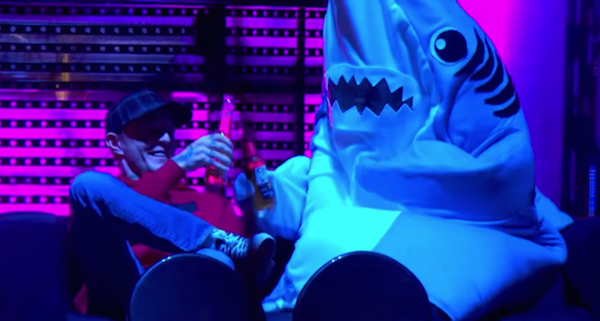 UK's annual, contemporary music and arts gathering, Glastonbury Festival, just wrapped up its 2015 installment packed with legendary headlining performances from artists like Florence + The Machine, Kanye West, The Who, Pharrell Williams, Mary J. Blige and Alt-J. Upon hosting a staggering number of noteworthy acts over the course of four days, BBC TV decided to select a number of standout sets to broadcast live, one of them being Deadmau5's Saturday night headlining performance on the Other Stage. While many of the acts booked at this year's festival ceased this benchmark moment in their careers to showcase the length of their musical chops, Deadmau5 took a very different approach to a small, yet legendary, portion of his set, as he chose to display his favorite, non-musical passion to the UK crowd during his performance … being one of the biggest trolls the music world has ever seen.
While Deadmau5 has long been established as one of electronic music's earliest poster children, he has proven to be renown more recently for another, unpaid, talent: trolling anyone and everyone he pleases, in the most bluntly clever ways possible. And this time, he capitalized on the opportunity to flex this now highly seasoned hobby in front of a huge, live audience (and get paid for it). This past weekend, Deadmau5 took to the Glastonbury stage, adorned with his mouse head and positioned under his new festival rig, the 'Thunderdome," to DJ some of his most popular productions, like "Ghosts 'N Stuff," "Phantoms Can't Hang" and "The Veldt." That being said, the most attention grabbing aspect of his performance happened when the electronic music icon dropped "Seeya;" a moment which the BBC decided to broadcast as one of their official highlight videos. Upon dropping "Seeya," the Mau5 retired his position behind the decks, strutted to a couch situated at the front of the stage, removed his mouse head and sat back to enjoyed a much needed 5 minute intermission from his taxing DJ performance; by way of sharing casual beers with his hot dog and shark mascot pals while also generously offering some beers to the stage's security crew.
Between the easily observable sarcasm and unamused nature of his dance moves, head bobbing and hand-clapping, one can deduce that the always blunt troll-master was making an intentional mockery of and explicitly poking fun at the recent electronic music scene and the ease at which the crowd is entertained; as the sheer acts of Deadmau5 removing his mouse head, raising his beer in the air, and jumping off the stage to hand security guards beers elicited an eruption of roaring cheers from Glastonbury's eager crowd. On top of this, the fact that he took an entire 5 minutes away from the deck to take a load off on the stage-front couch adds extreme fuel to the fire that support the heated argument that some of the world's most successful and well known DJs merely press play and sit back as they gain wild fame and recognition. All in all, Deadmau5 was able to covey a subtle yet obvious message to an entire festival crowd full of people and the BBC TV viewers who tuned in to catch a glimpse of his "riveting" intermission. If anyone can pull it off, it's Deadmau5…and he did. Well played, sir.
And if you don't believe the intricacies of this observation, check out what Trollmau5 had to say about the broadcast of his 5 minute Glastonbury stint on Twitter:
I love how they chose to broadcast my little intermission. EDM in its purest form. 🙂 love it. https://t.co/vkuZ2puvxC

— dead mow cinco (@deadmau5) June 28, 2015