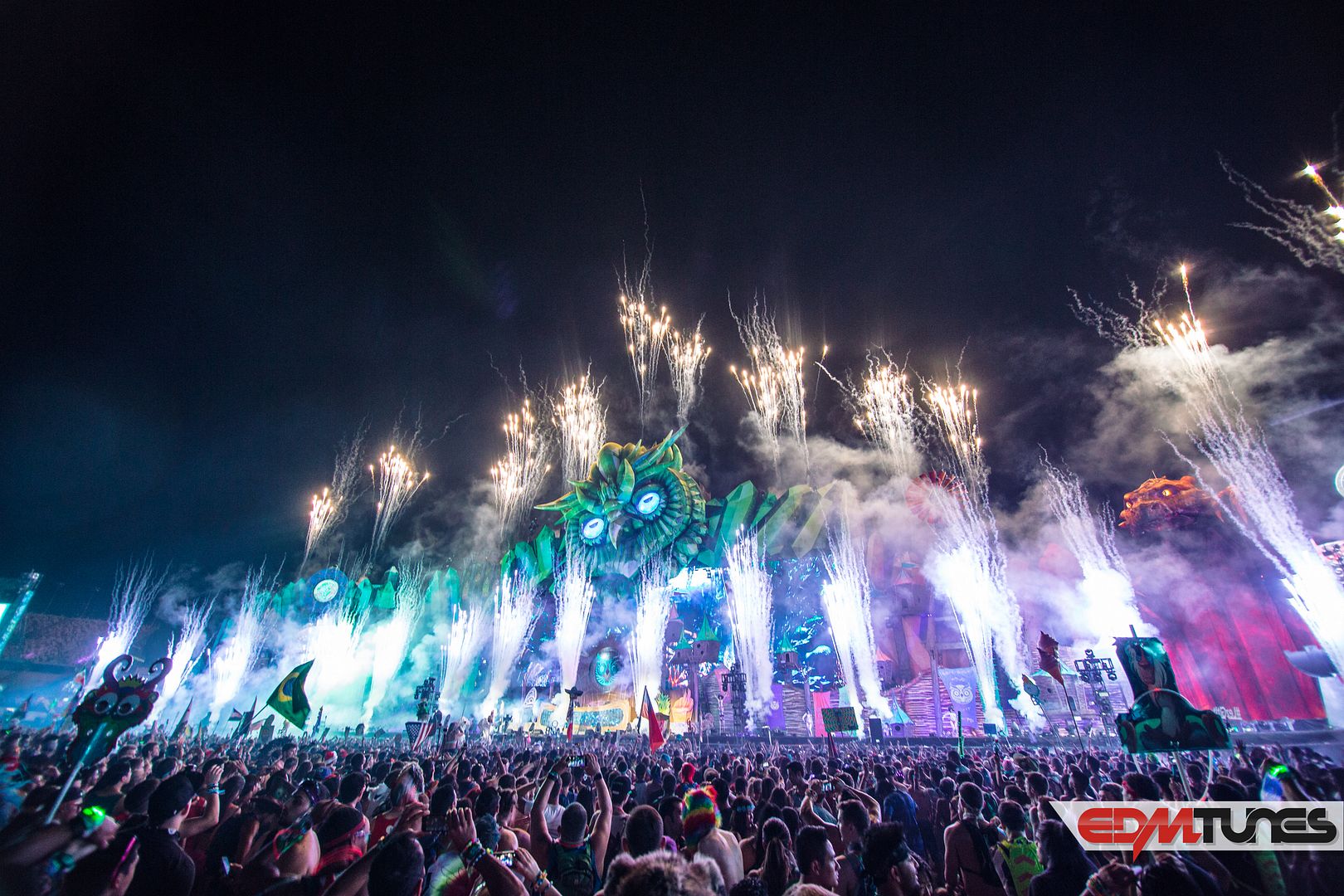 It's been a full week since the final day of EDC Las Vegas 2015 and the chills are still rolling in. Trying to absorb what took place over the course of those three days on the Speedway may take much, much longer than expected. While EDC Orlando, NYC, UK, and soon to be EDC Brasil all carry the EDC brand, none have yet to achieve the significance and emotional grandeur that comes with partying under the electric sky of Las Vegas. For many, EDCLV is the highlight of the year (if not a lifetime), and understandably so; this festival stands at the apex of the modern rave experience, and is exactly what this formerly underground culture needs to stay alive and flourish within the mainstream.
As with every installation before it, the 2015 edition of EDCLV brought fans from around the world under a sky that wasn't just electric, but searingly hot; despite the pressures of health and safety concerns with 100+ degree weather, Insomniac's crew maintained exceptional composure and provided an environment fit for everyone to enjoy. The Vegas edition of EDC continues to serve as Insomniac's platform to premiere groundbreaking stage design, and lays the groundwork for the rest of their festival mainstays throughout the year. While each Insomniac event carries its own vibes and lovable idiosyncrasies, our general expectations stem from the monumental successes of EDCLV. So what exactly is it that this festival makes us all feel?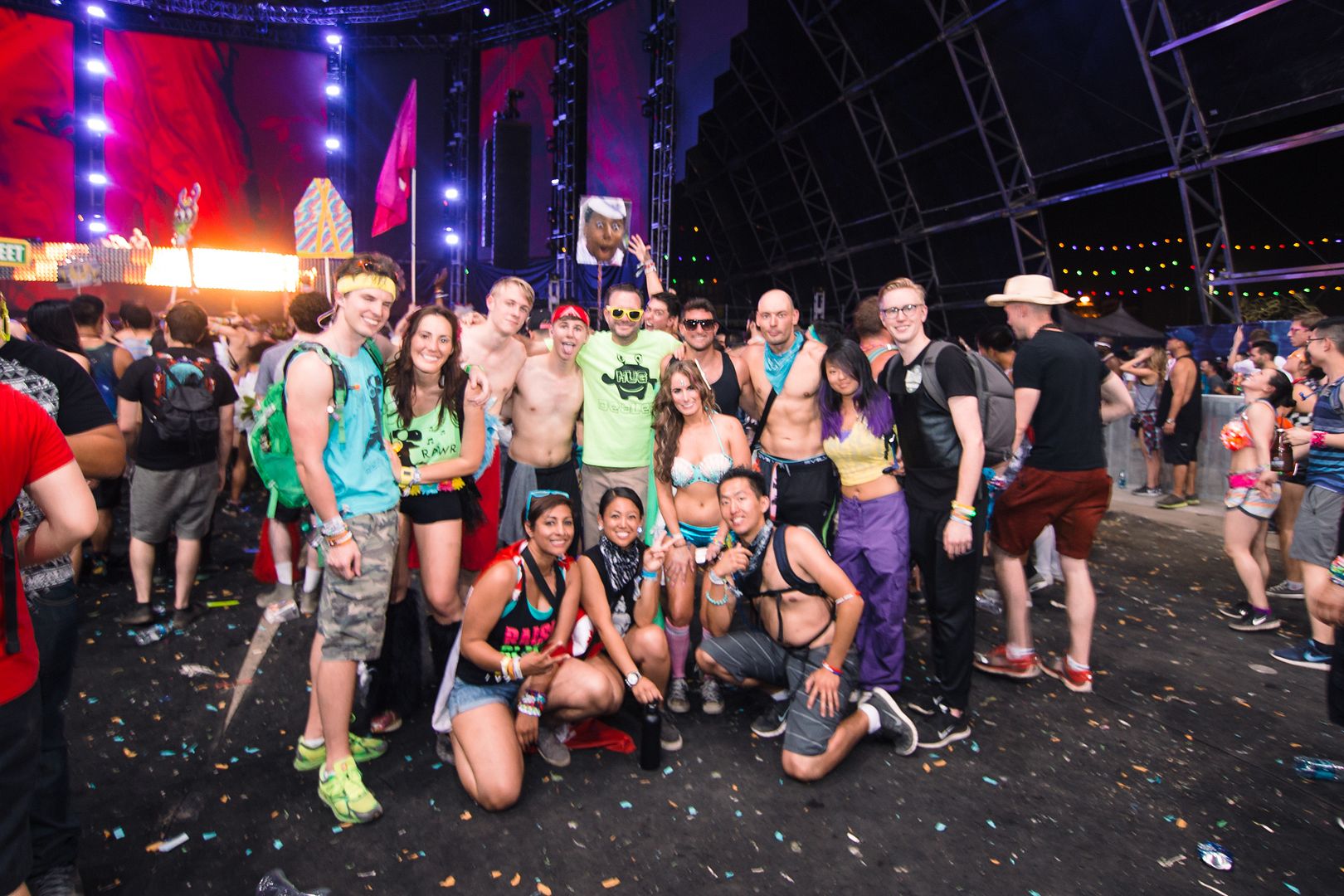 "EDC Las Vegas is the epitome of an electronic music lover's paradise.  This year's unparalleled production value and attention to detail blew me away; the design and effects at every stage completely enhanced the experience of listening to incredible sets from a wide variety of genres and artists.  Beyond the sights and sounds, my favorite thing about EDC is the palpable sense of community.  People look out for each other and reach out to get to know the person standing next to them in the shuttle line, the entrance line, in the crowd at a set and all around the grounds.  In a crowd of hundreds of thousands of strangers, I feel at home."
– Katie Smith, Contributing Writer
Staff couldn't be more welcoming and everywhere you walk there's examples of basic human civility and kindness; small deeds like spraying your neighbor with a water bottle to cool down, or even going full PLUR and trading kandi and making new friends, all carry a long ways. It's one of the few festivals where people come for both the music and the community. Where EDC loses the aspect of camaraderie seen within campgrounds of other major festivals, it makes up for in genuine kindness and attendees' recognition of the harsh (and honestly bizarre) conditions; getting through roughly 12 hours of nocturnal partying isn't something you can do alone, it often takes the efforts and high spirits of everyone around you to power through it. When stepping down the ramp onto the Las Vegas Motor Speedway, we enter a space where negativity, intolerance, aggression, and general disruption is unacceptable; Negative Nancy's and Debbie Downers are in the minority here, and its all thanks to everyone's combined passion for music and the culture created by our overwhelming similarities. Of course, without the actual music, the atmosphere in which that culture needs to flourish wouldn't exist, and this year the music and the production levels were off the charts.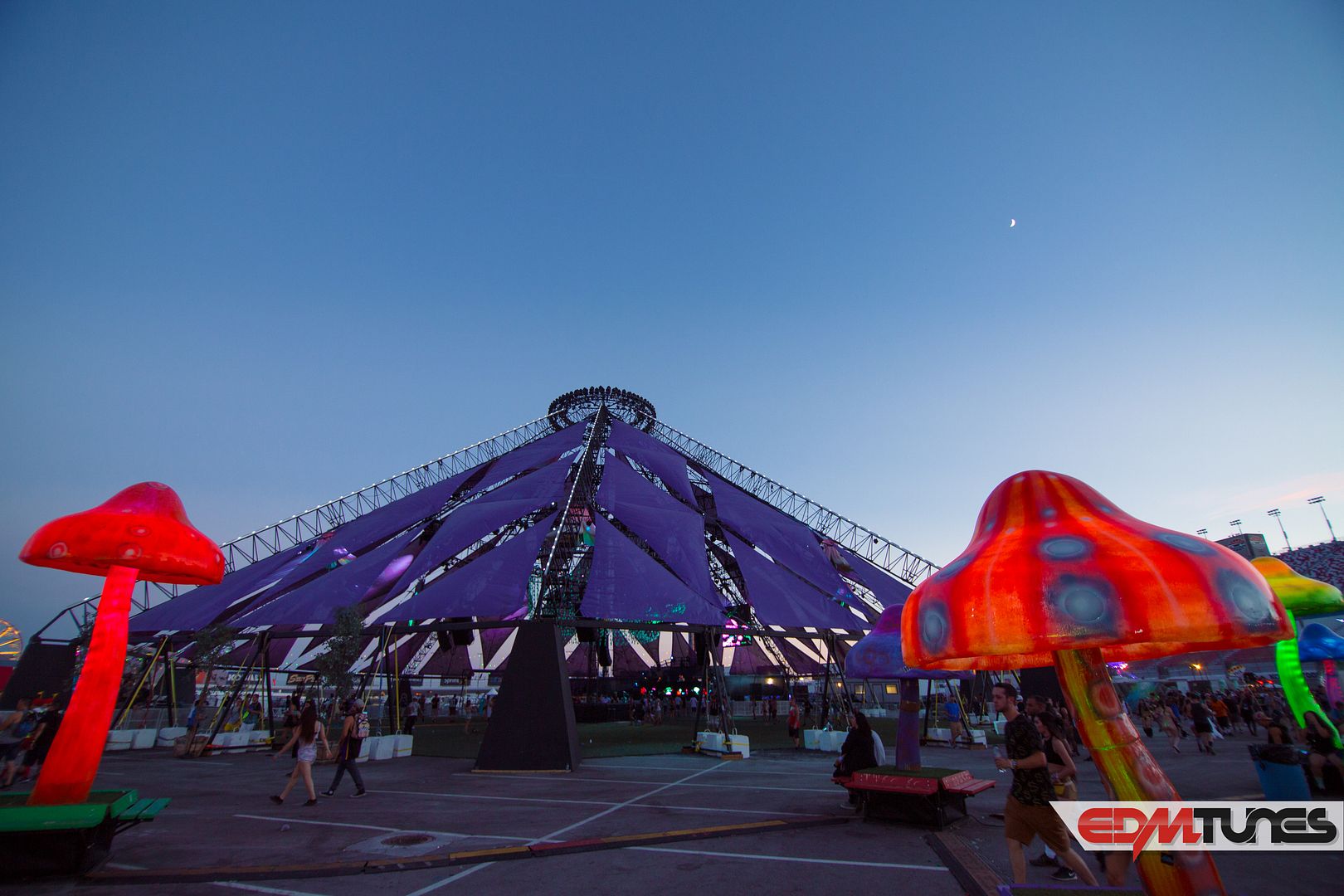 "EDC 2015 was a spectacle in it's own right. The stages this year were leveled out, giving the festival it's own unique focus on the experience rather than the acts. It's completely become it's own version of an adult Disneyland, stocked with 5 ferris wheels, 10 stages with their own themes, and an array of artists to choose from…EDC is well on it's way, and it only seems like year after year, for this 6th year veteran at least, it can only get bigger and better."
– Kevin Pham, Staff Writer
Every stage this year was revamped and designed to hold its own against "the mainstage." Quite frankly the majority of these setups could stand as mainstages at any other festival on the circuit. The neonGarden was completely rethought and turned into a gorgeous combination of LED laden panels and a massive chandelier of lit droplets (and finally some manmade flora to make it an actual garden). The majestic pyramid played home to some incredible tech acts, capped off by Get Real, who filled the grassy arena to the brim with fans and a potent mix of minimal and tech bass thumpers.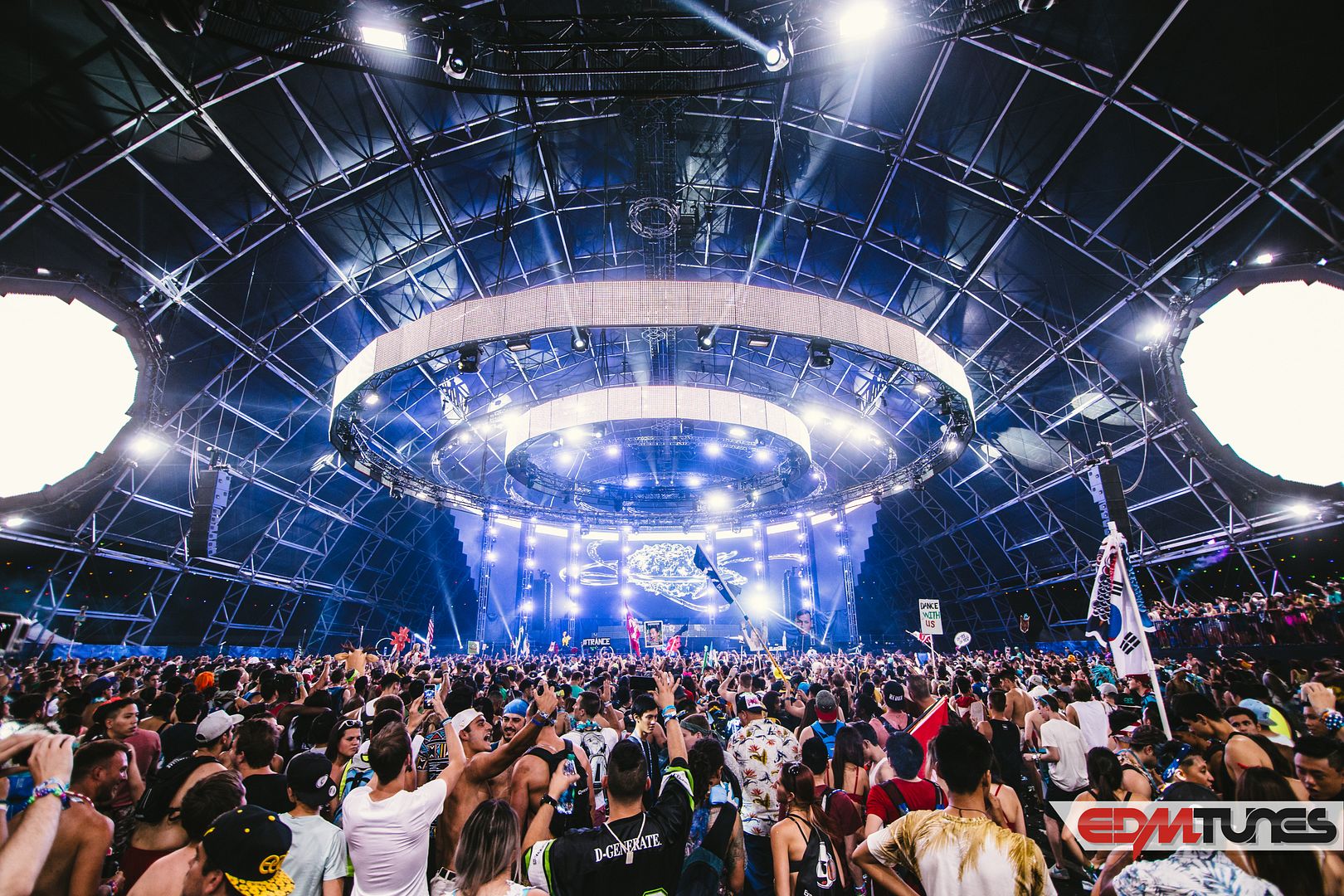 The Garden's neighbors both went through intense bulk up programs since 2014. The Cosmic Meadow received a much welcome increase in LED Boards, making for an epic visual experience full of artistic variety – it was undoubtedly been a VJ's dream arrangement, especially with the addition of strobes and pyro. As with last year, the stage's crowd rivaled the Kinetic Field in size and dominated the energy game; those who dwell in the Meadow are known to be some of the rowdiest folks around, and it definitely came through during Dillon Francis' surprise guest set at sunrise, as the field was full til near close. The Circuit Grounds seemed to be a serious rebuttal to Coachella's famed Sahara tent. Circular LED panels dot the sides, and mobile rings line the ceiling; artists like Prdyz took full advantage of this set up, as the crowd was bombarded by lasers, strobes, lowered and titled rings and sound system that was second to none.
The 7Up stage also received notable upgrades. The stage felt much more like a legitimate installation for the festival, and much less of an advertisement. The double decked arrangement let fans chose their 7Up experience for either maximum rambunctiousness or a more a laid-back view. With a surprise appearance from Diplo, and a full surprise set from Martin Garrix, Stage 7 was slammed with people all weekend.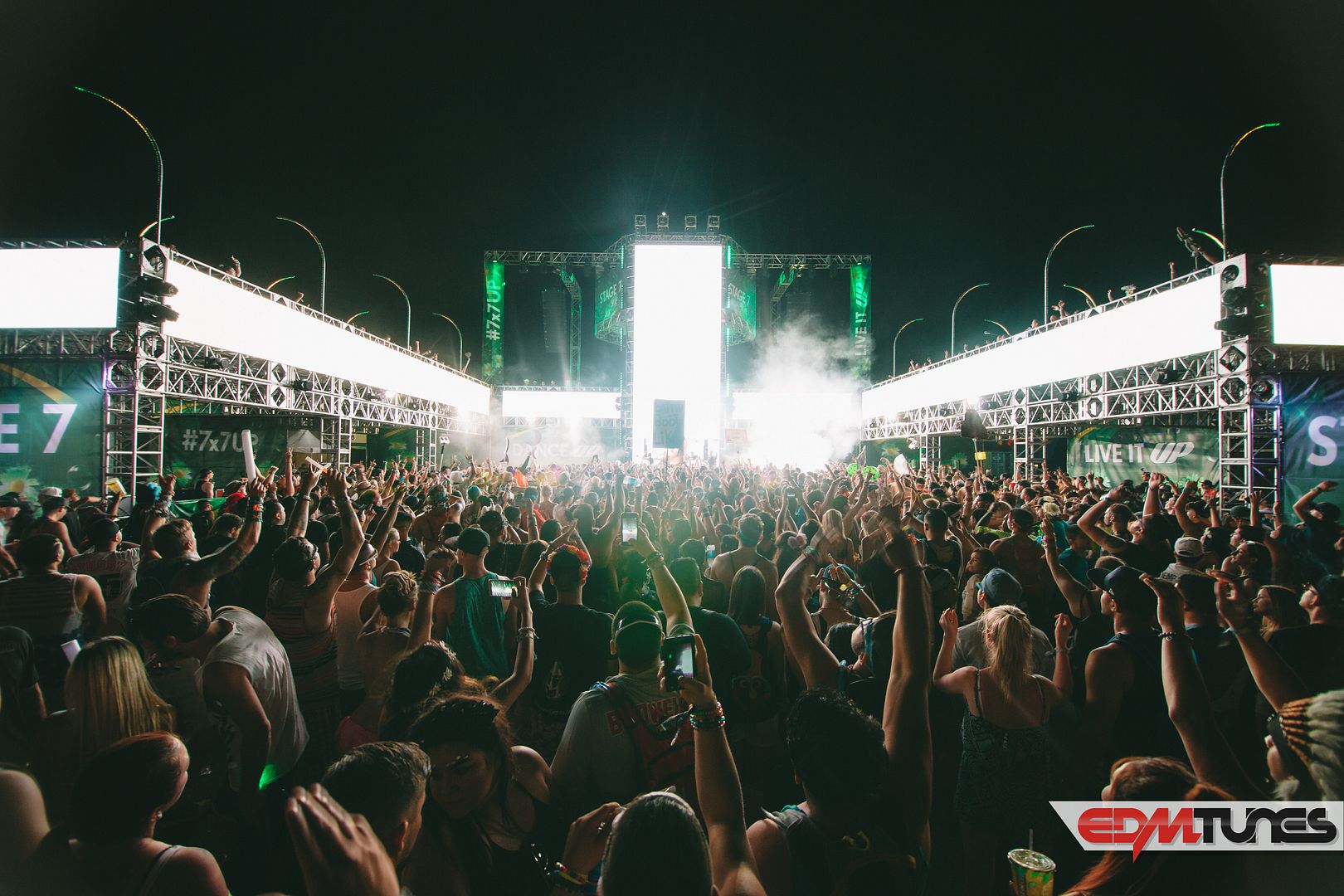 Size alterations weren't the only changes made to EDC stages though. wasteLAND and the bassPod were updated for a full immersion experience, with surrounding pieces to add to the ambiance and interactivity. The wasteLAND was fittingly themed with a post-apocolyptic style America, fitted with spray painted transport crates and crushed cars, as if Mad Max was filmed there; the bassPod was given a more futuristic aesthetic, with numerous pyro and LED enhanced satellites so every bass-head had something knock their socks off. This stage set up came in handy with acts like Adventure Club and Excision packing in a crowd beyond the stages boundaries, giving the overflowing mob visuals as far as the eye could see.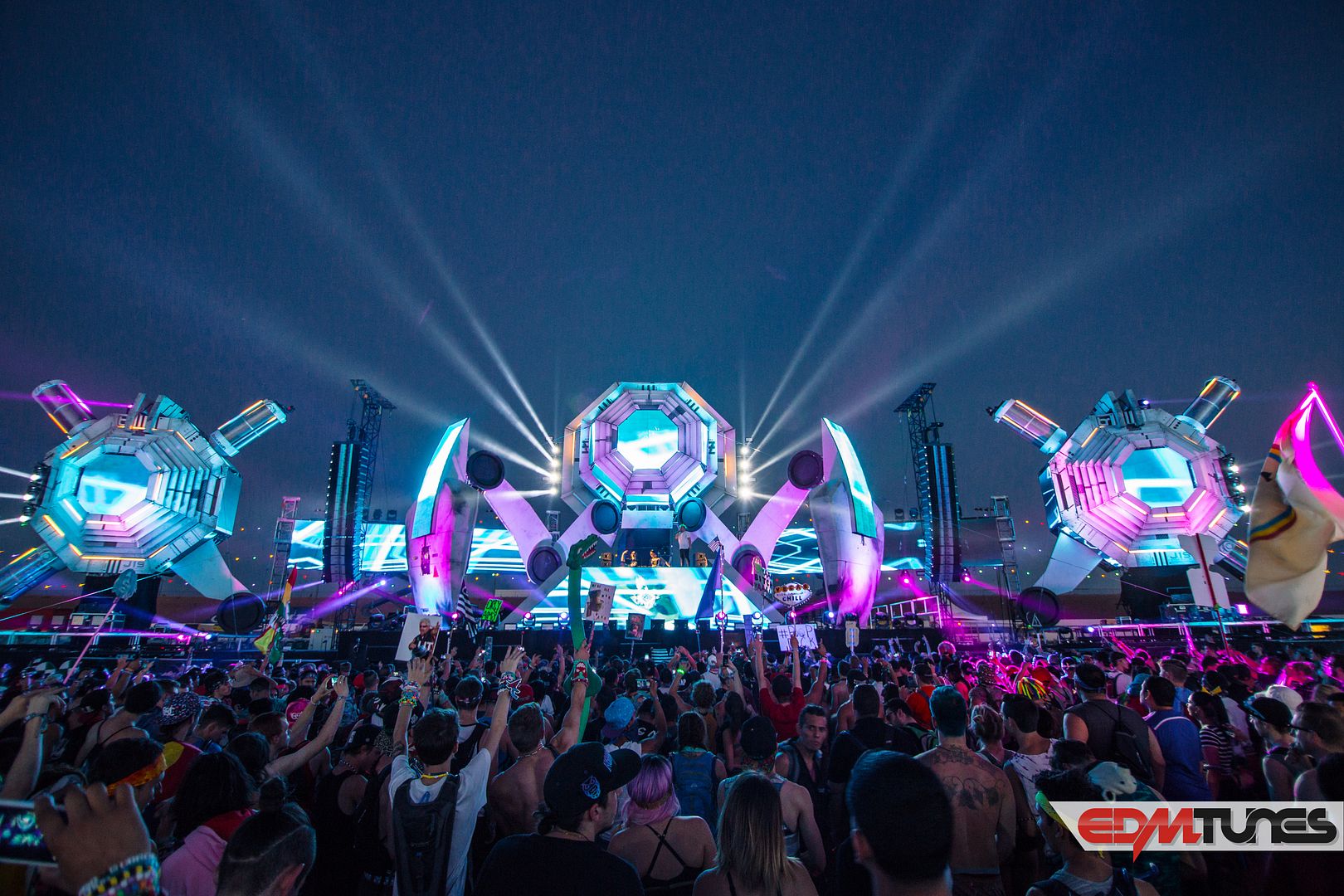 "After notching a third EDC in my belt (2012, 2014 & 2015), it is pretty mind boggling to witness the festival's exponential growth of both production and scope of headliners. Many naysayers will claim that this growth causes a dilution in the credibility of the scene, but the overall takeaway of the all encompassing vibe says differently. Given that growth will cause an initial dilution in the potency of any long withstanding event or scene, the overall trickle down effect into the rest of society and strengthening of the culture as a whole was blatantly evident in Las Vegas this year."
– MF, Staff Writer
It's a wonder that Insomniac has been able to pull off this sort of growth without exhibiting crippling growing-pains. The speed-way continues to attract more and more headliners, yet overcrowding has yet to threat comfort levels; this may have to do with increased mobility, and the desire to explore these newly designed stages and art installations. The mainstage saw a tasteful decrease in size , though there a notable increase in what could be argued as frivolous theatrics that help create its theme. The good folks at THUMP put it best, "Insomniac's restraint in its production on the main stage is indicative of the promoter's preparation for a post-EDM world."
Leveling the playing field for all stages, putting "mainstage" acts on arguably smaller stages (Dillon Francis and Disclosure are both fit for the kineticFIELD, but took the stage at the cosmicMEADOW and neonGARDEN respectively), and drawing fans out of their comfort zone by mixing them into other worlds of music and subcultures isn't a feat easily accomplished; starts with lessening the importance of EDM's classic singular focal point. That's where the real magic happens, the gathering of thousands of the closet friends you didn't know you even had.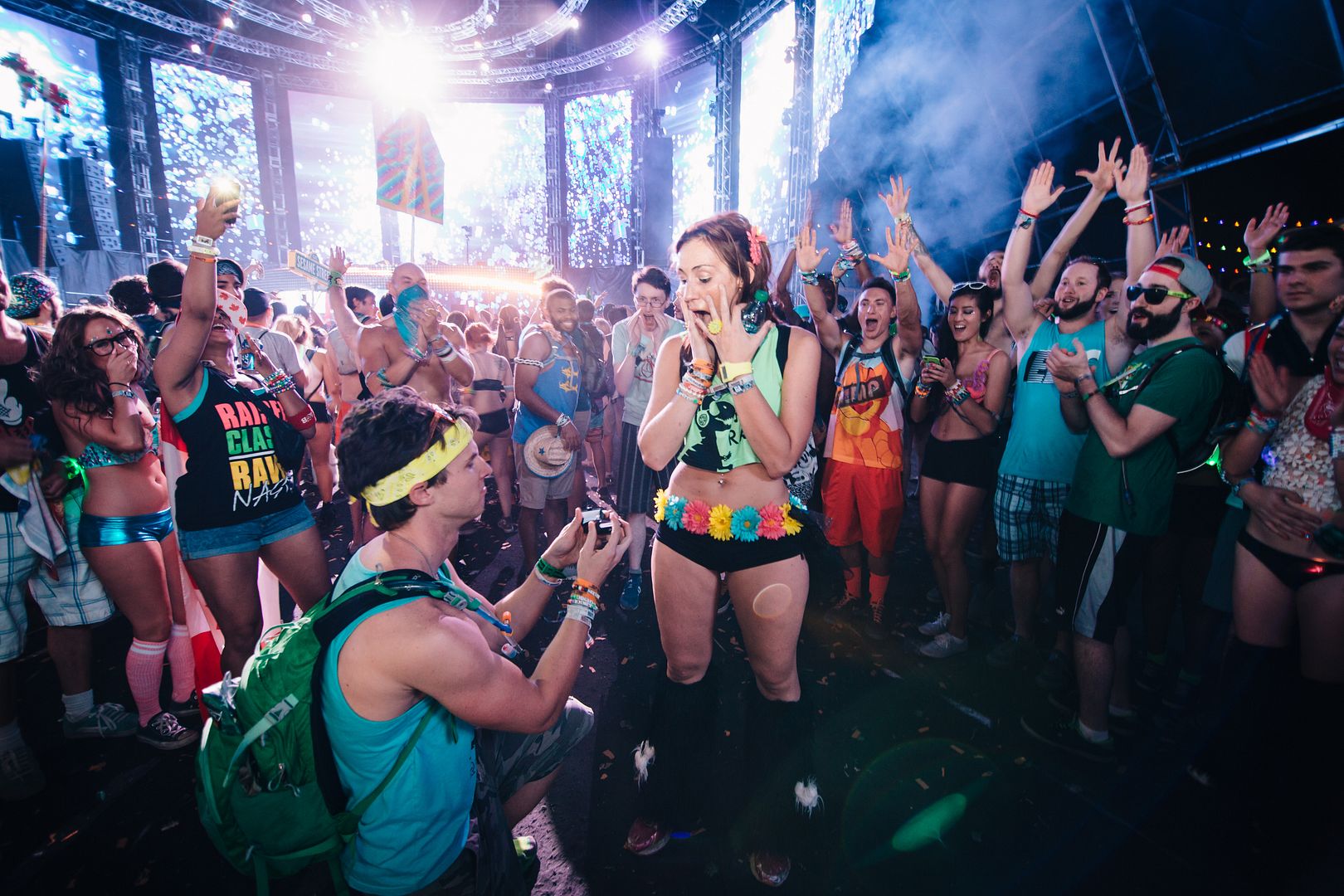 "We are the magic makers, we are the dreamers of the dreams," is oft cited as one of the unofficial slogans of Edc, because the event itself captivates it's attendees in such a breathtaking way, you're taken back to a childlike state of wonder.  Beautiful art exhibits, vibrant colors, and engaging characters drawn up from the minds of visionaries the likes of whom would make Alice in wonderland jealous.  EDC has had such a profound impact on my girlfriend and me, it was the only place I ever could have asked her to marry me."
– Gideon Miller, Contributing Writer
Love is everywhere at EDC. Be it in the kineticFIELD, on a carnival ride, or at a water refill station, the energy exuding from everyone on the festival grounds is palpable. National flags, personalized totems, even hand made outfits, all stand as a visible form of identity within a collective. EDC Las Vegas, more than any other event operating today, stands as the premiere aggregator for the rave scene and its various subcultures, musical passions,  and social connections. Pasquale's emphasis on the experience, and those who make them up (you, the headliners) is what's made this possible for so long, and what continues to successfully craft one beautiful world for all to enjoy. One day "EDM" may no longer be such a unknown or even taboo sector within mainstream music, but simply another crucial cog in the vast world of entertainment, and that'll be due in large part to the efforts of Insomniac and this incredible festival.
Photos Via: Brockelbank Photography