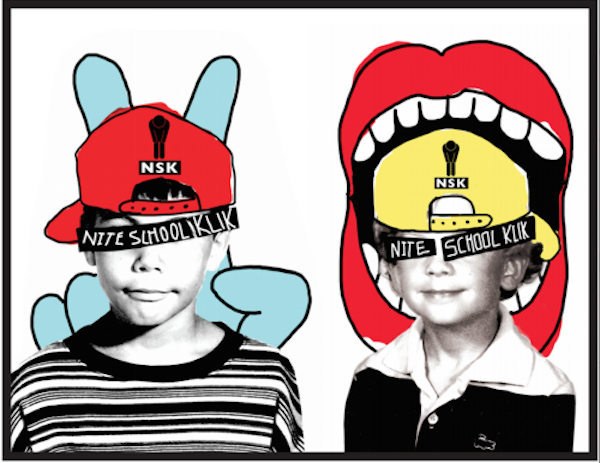 Electronic music's most buzzed about and highly mysterious duo,
Nite School Klik
, just became a little less mysterious today, as the epic announcement was made earlier that revealed the masterminds behind the duo and their first trailblazing single, "
Posse
." Coming as both an epic surprise and no surprise at all, Nite School Klik is comprised of none other than OG electronic legend 
DJ Shadow
, and NorCal's most promising future bass madman,
G Jones
. Last month, Nite School Klik surprised the electronic world by dropping their first release on DJ Shadow's
Liquid Amber
label to a roaring response, as everything about "Posse" was fresh, swaggy, deep, dark and unforgettable. Fast forward to today, at the duo not only has revealed their identity, but has premiered another thunderous single, "Nice Nightmares." This brand new, pacemaking collaboration represents a new chapter for both Shadow and G Jones, as they've taken this opportunity to fuse together their production prowess, undeniable talent and uniquely influential sounds under one dark, melodic and bass-y musical umbrella.
In an exclusive interview with
Billboard
, DJ Shadow and G Jones revealed how their musical alias, Nite School Klik, came to fruition. Once DJ Shadow began dropping originals from NorCal future bass favorites
Bleep Bloop
and G Jones at 2012's 
All Basses Covered Tour 
and 2013's
Emissions Festival
,
it didn't take long for the two artists to connect. Once personally meeting one of G Jones's closest future bass brothers, Bleep Bloop, Shadow sought out Jones, who he asked to open for his 2013 Seattle gig. After witnessing Jones' "super efficient and quick" Ableton skills, Shadow decided to make their musical relationship more permanent with the formation of Nite School Klik. Shadow explained, "Jones' real strong suit, in addition to putting beats together, is as an engineer." "It's one thing to understand music engineering, but it's another thing to execute it well."
After first catching wind of Nite School Klik's first single, "Posse" on 
G Jones' mixtape
back in January 2015, the electronic world began buzzing with excitement and curiosity over the duo's innovate style and pristine production quality. Without a clear genre or label, "Posse", along with the duo's newest single, "Nice Nightmares" prove to be heavy, abstract and dreamy explorations into the capabilities of electronic music making. With this sound, Shadow and Jones are attempting to push the boundaries of the music they are drawn to and inspired by. Jones expressed his admiration for Shadow as an icon and music parter by describing, "he has a whole different perspective on composition and making electronic music. Going into it, I didn't really know what to expect because he's a legendary artist I looked up to for a long time. We're trying to make something that sounds like cool, contemporary and heavy hitting bass music that's between genres. Something a bit more experimental — songs as opposed to DJ tracks."
The reason behind opting for a mysterious side project was both artists' desire to experiment with new sonic elements without reserve or pressure to conform to their already established sounds. Shadow explained further, "I'm trying to conceptualize my music in new ways," "not necessarily trying to push the Shadow brand, but have the music be heard first without anyone trying to claim it. That's why I didn't want to come out at first and say who NSK are. My alias had tactical reasons 20 years ago, and NSK has tactical reasons now."