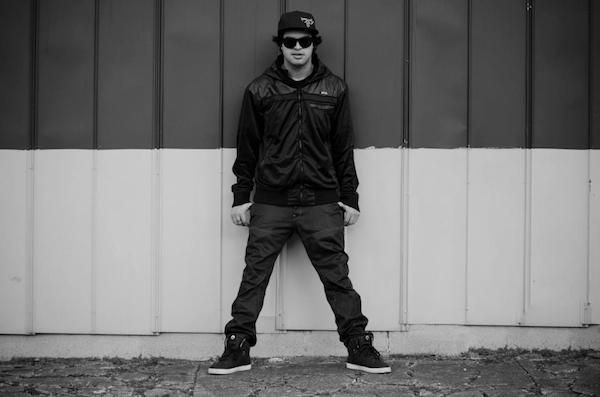 Since first turning heads in 2009 with what can be described as his signature dark and robotic sound, Datsik has managed to accrue a reputation as one of electronic music's grimiest heavy hitters. With his longtime love of hip-hop and knowledge of bass lines leading the way, Datsik has climbed his way to the top of the deep dubstep game with productions that are as aggressive as they are smart. From timeless slappers like "Swagga" and "Deviance" and more recent hits, like "Scum" and "When They Drop", to live sets that are known to shake entire venues, Datsik has proven himself a consistent beacon for original and dirty bass music. And with a career of destroying dancefloors across the globe under his belt, it's only fitting that he's earned the privilege of manning a filthy bass tour of his own.
In 2012, Datsik kicked off the inaugural year of his headlining Vortex tour; a tour featuring the mindblowingly clean cone-shaped projection rig, the Vortex. And since its debut, Datsik has kept up the annual tradition, as he is now in the midst of his 2015 "Datsik's Ninja Nation Tour" featuring the Vortex 3.0. This 50+ stop tour across North America features acts spanning various styles and genres, as it features dubstep acts Truth, Twine and Trolley Snatcha as well as party-starters Kennedy Jones and ETC! ETC!. Themed after his obsession with ninjas and all things martial arts, the Ninja Nation Tour is a call to arms for Datsik's "Ninja Squad" across North America to experience the multitude of opening talent as well as his personal homage to hip-hop influence on American dubstep. While wrapped up in the whirlwind of his biggest tour to date, we were lucky enough to catch up with Datsik at his LA tour stop to discuss his current tour, the evolution and inspiration for his music, his philosophy on producing and fame, and the future of Firepower Records.
When asked to describe what makes the Ninja Nation Tour installment of his Vortex set up, the Vortex 3.0, stand out from all other set ups, he explained:
"It's not necessarily the shape of the cone is what makes it cool, it's more about what's projected onto that shape and each time we do a new rendition of the Vortex we try to soup it out and amp it up in some way and just try and make it more and more intricate and different and we try and switch it up to further the sickness of the Vortex."
Datsik then described how he and his crew "furthered the sickness" for 2015's version of the Vortex:
"We change it up each time and we add different lighting. This time we have a different lighting package and a whole new set of different visuals. So that's ultimately what makes the Vortex."
Although heavily affiliated with heavy dubstep productions, Datsik has been known to embrace and experiment with various tempos and styles of music. With a natural gravitation toward a sound that fuses influences from a multitude of genres, Datsik has begun earning himself the flexibility of dipping his hand in a number of sounds. This freedom is reflected in the diversity of the Ninja Nation Tour lineup, as it combines the two worlds of trap and dubstep, with Datsik meeting right in the middle. When asked to comment on the vibe of this year's lineup, Datsik replied:
"I like to keep an open format because it makes it more interesting for people who come and watch my shows instead of just playing one genre or one tempo the whole night its fun to be able to kind of do a little bit of everything and switch it up."
He added:
"I came from a place of hip hop and I never really wanted to specifically make dubstep. It's what ended up becoming of the combination of what I knew regarding bass lines and what I knew regarding hip hop and before dubstep was a thing over here. I was making stuff in all different tempos that had a dubstep feel before I really knew what it was."
In an effort to "switch it up" and extend his creativity, Datsik expressed plans to generalize and diversify his production style from strictly dubstep to different types of bass music. With a keen versatility and consistent style portrayed throughout his productions, it's no surprise that Datsik is taking advantage of this opportunity in his career to push the limits of his forward-thinking sound, as he revealed to us the details of his new, undisclosed side project:  
"I started a new alias. Its stuff I wouldn't make as Datsik but it's all based around 128 garage-y, future bass, all housey kinda stuff" … "deep house as well."
When describing the mentality behind switching musical gears, he cheekily explained:
"Dubstep is like your diet for the day. As much as you love bacon, you're not gonna eat it all day. Bacon is much better when you only have it once in a while or else you'll get sick of it."
The inspiration behind Datsik's thirst for musical flexibility can be credited to the influence he draws from one of the most diverse figures in electronic music today; Bassnectar. He described:
"As Datsik, Bassnectar has always been one of my biggest inspirations. When you go to a Bassnectar show, you're not necessarily going to a dubstep show or a hip-hop show, you're going to a Bassnectar show; an experience. And its hard to classify what his music is because he does everything in all tempos and he always has and it all falls under the bass music umbrella. I think that's important to keep in mind when you're playing shows."
When it comes to experimenting with new styles as an already established producer, there's a fine line that an artist must face between exploring new avenues of creative expression and abandoning one's roots to gain a wider audience and fame. In a recent interview with Insomniac, Datsik explained how he witnesses electronic artists sacrificing their underground roots and initial styles to cater to their images and to the more mainstream masses. With the desire to advance one's musical career mixed with the attractiveness of fame, it's easy to see the juggling act that artists must undertake when teetering the line between maintaining originality and gaining the approval of peers and fans. Datsik elaborated on this point by explaining:
"It's definitely a fine line because it all depends on what you value out of your career as a musician. If you value getting your thoughts out to the world and having your music heard by masses and creating a radio hit no matter what it costs, then the output of your music is in the end going to be different because you're trying to create something that is broad enough to accept and enjoy."
He continued:
"It's a fine line because it all depends on what you value in this industry. If you value becoming a superstar and that's what you really want, then you'll make music that caters to a lot more people, or at least you'll attempt to, but sometimes in doing that you end up giving away everything that made you special and unique in the first place. So it's definitely important to find a balance of trying to spread your music to a larger audience while keeping it original and remembering what got you there in the first place."
He then pointed out:
"That being said, I also don't think it's right that you stick to that specifically because if you get recognized for a sound, for example, to just stick to that for the rest of your career isn't necessarily healthy for the creative process either, so it definitely is a fine line and its important to remember why you're doing it in the first place. If you love the music then everything else will just fall into place."
After developing his signature sound over the last 6 years in electronic music's limelight, Datsik has been fortunate enough to start his own record label, Firepower Records. Since its conception in 2012, Firepower has released Datsik's Cold Blooded EP and his Let It Burn LP as well as signed and released a number of tracks from wide variety of dubstep producers and bass musicians. Although strongly associated with the label, Datsik has made it clear that Firepower Records is not meant to be an extension of himself, but rather, its own independent musical entity. When asked what he hopes for when envisioning the future of his already widely successful Firepower Records, he confessed:
"Honestly, I'm very happy with the way it's going now. We just try and release music that we love and enjoy and think is gonna crack on the dancefloor. And that's kind of been the formula for it so far and it seems to be doing pretty well. The future of Firepower is yet to be foretold. It's more like we're going with the flow. I try and sign stuff that I think is really cool, regardless of what other people think, who know what's going to be the next big trend. You never know. We're obviously primarily a bass music label, but we're not opposed to signing something that's different and out there as well, and I think that's the beauty of it. Because it's not an extension of me, we can do whatever we want with it. Whatever's cool and whatever's clever, you know."
He even divulged some details on Firepower's exciting upcoming release:
"We're coming up on our 100th release, which is insane to think about. We're doing a compilation called the 'Shellshock Legends Compilation', it's gonna have 3 tracks from me on it as well as 7 other tracks from the heavy hitters on Firepower."
Whether he's commanding dance floors using years of bass music experience or dominating the deep production game, Datsik has always maintained a style that is as original as it is fresh. And with a heavy affection for bass and hip-hop swagger, Datsik continues to set an example in the the electronic music industry with a sound that is recognizable, versatile and forward-thinking. It's no surprise that Datsik is in the business of bass music for the long haul, but with the prospect of exploring new musically creative outlets on the horizon, it seems like fans will soon be lucky enough to get even more of a taste of the unexplored and undiscovered dimensions of Datsik's sound.
Make sure to catch Datsik on the remaining stops of his Ninja Nation's Tour by purchasing tickets here.