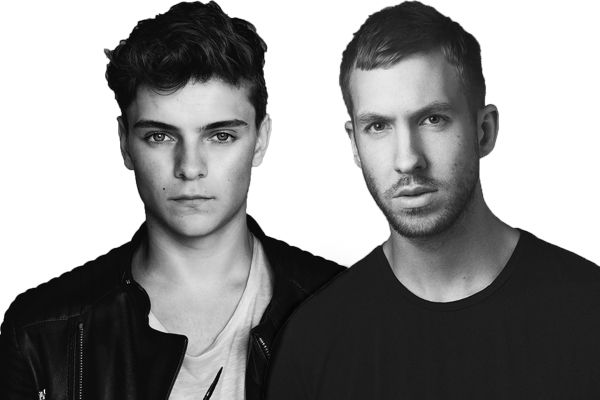 Last year was the inaugural telecast of the iHeartRadio Music Awards. The awards show vastly exceeded expectations, attracting 5.5 million viewers and a significant amount of social media coverage. This year's ceremony is expected to be even bigger, broadcasting live on NBC from Los Angeles at the Shrine Auditorium. The ceremony features 10 categories, drawing from all different genres of music. One category is "Dance Song of the Year," which was won last year by Avicii for his hit track, "Wake Me Up." The award is limited to "the year's amazing music that's been heard across iHeartMedia radio stations and on iHeartRadio nationwide." This certainly restricts the candidates for the award, so you can take the nominations with a grain of salt. Nonetheless, this year's nominees are:
"Animals" – Martin Garrix
"Blame" – Calvin Harris featuring John Newman
"La La La" – Naughty Boy featuring Sam Smith
"Summer" – Calvin Harris
"Waves" – Mr. Probz
The Garrix and Harris nominations are far from surprising, as both of them experienced tremendous commercial success with their tracks. Both "Blame" and "Summer" debuted at number one on the UK Singles Chart, and peaked in the top 10 all over the world. "Summer" even was named the song of the summer by Spotify, while "Blame" was the fastest ever climber to the #1 spot on Spotify's Global Chart. "Animals" also experienced incredible success, making Martin Garrix a household name while shooting to the number one spot on the singles charts in the UK and Belgium. "La La La" also experienced tremendous commercial success, as it too reached number one on the UK Singles Chart. It was even named the fastest selling single of 2013 in the UK, selling 145,000 copies in the first week. The track also reached number one in 25 other countries, so its nomination makes perfect.
"Waves" is a far more surprising inclusion, as most wouldn't consider it electronic dance music. The track is labelled as "Alternative" on Mr. Probz's Soundcloud, which seems like a far more accurate classification. The nominators may have had Robin Schulz's popular remix of the track in mind, but his name was not mentioned on the nominations. Robin Schulz's remix also reached number one on the UK Singles Chart, while peaking at number one in 5 other countries as well.

The other 9 categories fail to represent dance music, but you can check out the other nominations below.
Artist of the Year:
Ariana Grande
Iggy Azalea
Luke Bryan
Sam Smith
Taylor Swift

Song of the Year:
"All About That Bass" – Meghan Trainor
"All of Me" – John Legend
"Happy" – Pharrell Williams
"Shake It Off" – Taylor Swift
"Stay With Me" – Sam Smith

Best Collaboration:
"Bang Bang" – Jessie J + Ariana Grande + Nicki Minaj
"Dark Horse" – Katy Perry featuring Juicy J
"Fancy" – Iggy Azalea featuring Charli XCX
"Problem" – Ariana Grande featuring Iggy Azalea
"Talk Dirty" – Jason Derulo featuring 2 Chainz

Best New Artist:
Bastille
Cole Swindell
Iggy Azalea
Meghan Trainor
Sam Smith

Country Song of the Year:
"Bartender" – Lady Antebellum
"Burnin' It Down" – Jason Aldean
"Dirt" – Florida Georgia Line
"Give Me Back My Hometown" – Eric Church
"Play It Again" – Luke Bryan

Hip Hop/R&B Song of the Year:
"Don't Tell 'Em" – Jeremih featuring YG
"Drunk in Love" – Beyoncé featuring Jay Z
"Flawless" – Beyoncé
"Loyal" – Chris Brown featuring Lil Wayne and Tyga
"New Flame" – Chris Brown featuring Usher and Rick Ross

Alternative Rock Song of the Year:
"Come With Me Now" – KONGOS
"Do I Wanna Know?" – Arctic Monkeys
"Fever" – The Black Keys
"Something From Nothing" – Foo Fighters
"Take Me to Church" – Hozier

Best Lyrics:
"All of Me" – John Legend
"Blank Space" – Taylor Swift
"Counting Stars" – OneRepublic
"Habits (Stay High)" – Tove Lo
"Stay With Me" – Sam Smith
"Thinking Out Loud" – Ed Sheeran

Best Fan Army:
5SOSFAM – 5 Seconds of Summer
Arianators – Ariana Grande
Bey Hive – Beyoncé
Team Breezy – Chris Brown
Sheerios – Ed Sheeran
Church Choir – Eric Church
Directioners – One Direction
Selenators – Selena Gomez
Mendes Army – Shawn Mendes
Swifties – Taylor Swift

Renegade:
Brantley Gilbert
Charli XCX
Hozier
Iggy Azalea
Meghan Trainor