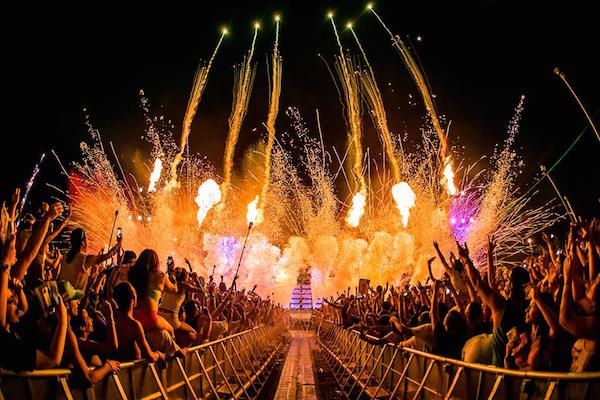 Not surprisingly Miami has surpassed itself yet again with this year's Miami Life in Color, the largest "paint party" ever. The music festival took place in the parking lot of the SunLife Stadium over the course of two days. With an estimated attendance of around 21,000 people on Friday and 25,000 people on Saturday, it was SFX's largest 'Life in Color' yet. Using over 20,000 gallons of paint, and two never before used paint cannons, this Life in Color was a truly vibrant event. With headliners like Kasakde, Diplo, Borgore, Nervo, and Carnage, it was no surprise the crowd didn't mind getting splattered in paint. These acts took place on three different and very unique stages, the "Downtown MainStage," "Paint Factory Stage," and a local artist stage. While the "Downtown Mainstage" was constructed with a downtown Miami likeness and even featured a similar dancing figure to the one on the intercontinental, SFX plans on potentially reusing the "Paint Factory Stage" for Life in Colors to come.

Day one's line up included artitsts such as David Solano, What So Not, Caked Up, Madeon, Juicy J, the Chainsmokers, Bingo Players , Carnage, and even Borgore. While Juicy J was a little bit of a switch up from Borgeous and the EDM umbrella, the crowd went wild nonetheless. The Chainsmokers' set was definitely moving, as they played right after Juicy J and took over the stage with their high energy and progressive style. While Carnages set was a bit too hard and heavy for most, Borgore was able to win back the paint covered ravers with a trap infused performance.
Day two of the festival brought more well known artists to the table, including to Deorro, Lookas, Kaskade, Slander, Diplo and Adventure Club. Set times for day two were tweaked due to conflict of interest for Diplo and Kaskade. While rumors surfaced about a possible Jack Ü set, it's been confirmed that Skrillex did not make an appearance on stage with Diplo. Regardless, Diplo had the crowd twerking, paint an all. Kaskade was able to "turn it down," with his closing set at mainstage. He played a very progressive yet captivating set. Other highlights from both days of the festival include unique art installations, acrobatic dancers on trampolines, fireworks, rides. All in all the production of the whole event was phenomenall, with attention to small details like a Cafe Bustelo station, to represent Miami's special flare.
Photo Credit: Life in Color