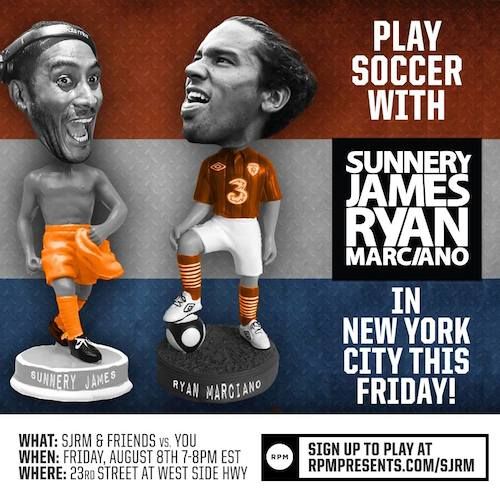 It has never been much of a secret that the Dutch soccer team has been an international powerhouse (unless of course, you're really not into soccer, in which case we understand). Coming in 2nd in the World Cup in 2010 and coming in third in 2014, the team continues to perform at the highest level. With the Dutch team playing such an important role in the lives of Dutch citizens, it comes as no surprise to see the constant backing from some of its most high profile DJ's as well. Back in 2012 the Dutch DJ's lined up against the Swedish DJ's for a match for the ages, with the Dutch team ultimately winning the match 13-11. Leading that high profile squad was none other than Sunnery James & Ryan Marciano.
With the Dutch duo set to make their Governor's Island debut tomorrow, August 9th, Sunnery & Ryan have decided to prepare for the event by hosting the 'Sunnery James & Ryan Marciano & Friends vs. You" match. This event will be a meet & greet unlike anything anyone has ever seen before!

Starting at 7pm over at 23rd street and Westside Highway, this hour long event is sure to create memories that will last a lifetime. So if you think you have what it takes to match up against Sunnery James & Ryan Marciano head over to www.rpmpresents.com/sjrm and enter for your chance to play!
If you don't get the opportunity to play in this match, make sure to head over to Governors Island tomorrow to see them headline!