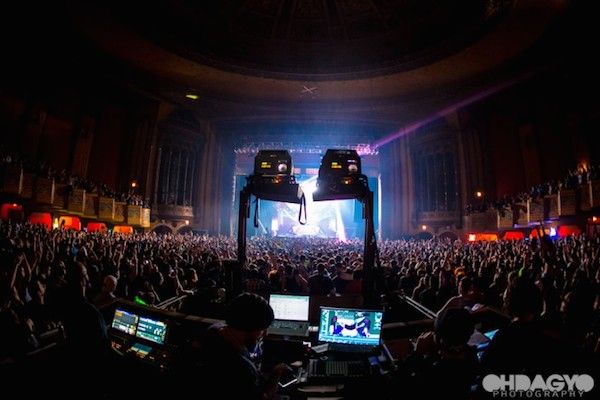 EDM, or any other term you feel is more politically correct in describing it, is no stranger to opposition. As we all know by now, the most recent push backs have been with banned items, most notably kandi and camblebaks.
The story is a little different in Chicago though, as the historic Congress Theater has banned EDM performances entirely. The venue has suffered from a recent loss of their liquor license and hasn't been in operation for a year; with backlash from the neighborhood over the dance crowds and noise issues, Congress Theater's owner, Eddie Carranza, was put in a difficult situation. In order to continue operation, and hopefully generate fuller attendance, the owner and city have come to an agreement to ban EDM shows ad perpetuam.
The agreement was slipped in a 6 page plan signed by Mr. Carranza and the local liquor commissioner Gregory Steadman, and defines "EDM" as "music created by a DJ or multiple DJs primarily using specialized equipment and software instead of traditional instruments."
The conditions of this agreement extend to "the business address, the licensee, and to all officers, managers, partners, and direct or indirect owners of the licensed entity. The sale of the business to other person purchasing the stock or membership units of the licensed entity does not void the conditions of this Plan of Operations. Any and all potential new owners of the licensed entity shall be subject to the same conditions set forth in this Plan of Operation."
Steadman claims the arrangement is meant to increase and promote safety, and is extending this to any licenses (outside the Congress Corp.) as he attributes most of Congress Theater's problems to EDM performances.
A local alderman, Joe Moreno, tends to believe this goes a little too far, "My position has always been that I think this is a little stronger than it needs to be, I think it's a blunt instrument but I do support [the plan of operation]. Hopefully there will be a time when we won't need it."
Moreno goes on to assert that genres aren't the issues, but operators are, and that Congress Theater has had a reputation of struggling with crowd control.
It's nice to see the entire community is not against the genre. It's easy to use EDM as a scape-goat for internal problems and it's unfortunate that this is becoming more of a problem as our culture continues its boom.
Via: DNAinfo Chicago