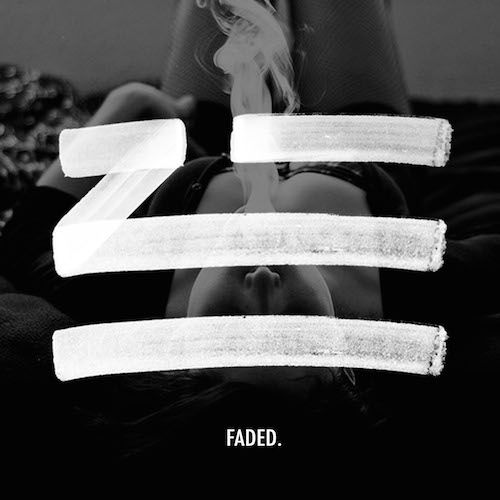 Nearly three months ago, ZHU released a track. A track characterized by naughty undertones, deep dirty basslines and a seductively mischievous vibe so strong you could…. A track that's now made its way into the ears of over 2 million listeners, and become thoroughly planted in our heads. That track of course, is  "Faded".
Faded has only been out since the 20th of April, but it's seen a meteoric rise online with over 300,000 music video views and just shy of
3 million
plays on Soundcloud. Madonna proved that "sex sells" way back in the 80s, and if anyone need any reaffirmation that it still does…then look no further than this track's bassline. ZHU's "Faded" is basically what you would get if you took the definition of the word "sexy" out of the dictionary and turned into a audio-waveform.
As a result, a slew of talented producers have gotten their hands on it and put their own spin on. To make things easy for everyone, we've got all the remixes from the official remix package right here for your streaming pleasure (and some reading material if you're not too mesmerized by the music).
First up is a little dark sorcery from The Magician's remix:The intro is made less mysterious and given a pluckier and jazzier feel, with some sweeping high pass filters thrown on the vocals and percussion line. The breakdown into the meat of the track is much more abrupt, and gives for a nice continuous groove; this remix just goes and goes and goes. The bassline has been made a bit…phattier, so the air about the track is much lighter and curiously playful.
Next, the mysterious TÂCHES.

Before listening, you may want to familiarize yourself with TÂCHES' style; the British producer's flip of Naughty Boy, Wiz Khalifa and Ella Eyre's "Think About It" is all kinds of awesome. With this remix, we get to see a different side of the darkness of the original. It's a quirky one. This rendition of Faded takes the track to the bare bones and is a great example of how minimalism in music can be powerful. The time signature and flow is not something you hear often, if ever (dare I say, of all the remixes this one is truly unique).
The Seattle based duo ODESZA gives Faded a total makeover.

They kick things off with a grungy feel a driving guitar sounds with crisp percussion and kick drums; this sound later shifts effortlessly into a hip-hop influenced structure. This remix rounds itself out with chopped vocals and pretty synth supports, providing listeners with three different flavors to enjoy. Yep. This is the Neapolitan of all the remixes, and who doesn't like ice cream?
Lido brings us the next remix, and makes things nice, slow & sexy.

For the first time, we get to hear what the track start off with the vocals in a full presence, completely isolated from everything else. Boy is that eerily good. The bulk of this remix is characterized by a series of altered samples, distorted vocals, chopping and stuttering synths that have a hint of Cashmere Cat influence in there. If you're looking for something to totally chill out too, this'll be your go-to.
Capping things off is none other than Amtrac.

Here's how to listen to this one. Pick up the best headphones available, plug em in. Hit play. Shut your eyes. And let goosebumps ensue. If there was any contender that is competing with the original's ability to set the mood, this is it. This isn't going for the sexual vibe though. It's different. The introduction is a cross between gloomy and dank, with a hint of sci-fi thriller. The intro melts into a smooth progressive build with Amtrac's signature funk n' groove snares and drums, lead by catchy keyboard melody. It's a nice fusion between the deeper sounds of the original and the funkier sounds that've made Amtrac so popular in recent months.
The beauty to remix packs like this is that there's a little something for everyone, and this set is no different. There are plenty of Faded remixes to choose from but these are the standouts. Stream them above, compare and contrast and see which one's your favorite. ZHU's EP "The Nightday" and the Faded remixes are now available on iTunes. Some notable remixers that fell short of making the list includes: Steve James, Diamond Saints & M4SONIC.