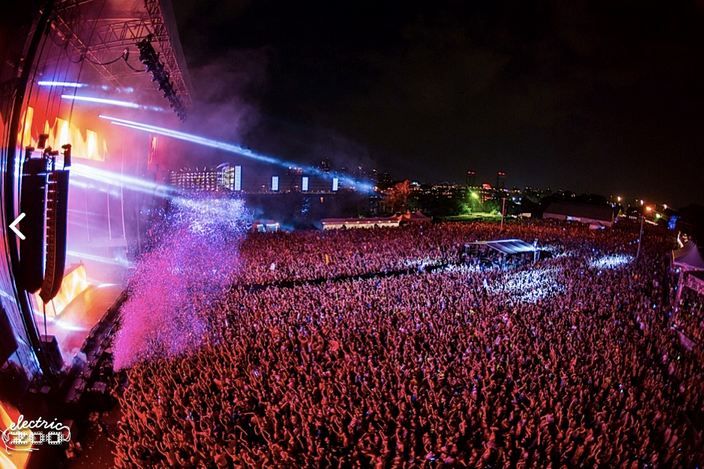 11 months ago today marks the second and final day of the 2013 installment of Electric Zoo Music Festival in New York City. As many know by now, the scheduled third day was cancelled due to the deaths of two attendees who reportedly consumed a bad batch of the club-drug called 'Molly.' As we approach this year's edition, some clarity has arrived regarding last year's horrific situation.
Yesterday, The Wall Street Journal reported the details that paint a much clearer picture as to what Jeffrey Russ and his friends were up to on that fateful day. The timeline of events begins on Friday, August 30 2013 when Russ and his friends purchased 80 'Molly' pills from 23-year-old Patrick Morgan with the intent to consume as well as redistribute. Russ attended the festivities on Saturday the 31st, passing away at 3:21 a.m. the following morning after suffering a seizure during the concert. After news of Russ's death as well as that of another attendee—Olivia Rotondo—reached the Mayor's office, the third day of the festival was swiftly cancelled. Morgan was charged yesterday in Buffalo, N.Y., with one count of narcotics distribution and one count of conspiring to distribute narcotics. Information on Rotondo's death in relation to Morgan and Russ was never disclosed.
A month from now, Electric Zoo 2014 returns to New York with all eyes on it to avoid a repeat of last year. For a while, the festival's return was up in the air, but was approved along with the announcement that this time around there will be undercover security guards who specialize in narcotics, a required pre-concert PSA, and drug-sniffing dogs stationed at all concert entrances. Upon the approval of Electric Zoo's return, E-Z00 creators Mike Bindra and Laura De Palma released a statement saying, "the opportunity to again host Electric Zoo on Randall's Island is a responsibility we take seriously, and we look forward to expanding our safety and security measures in order to further improve the concert experience for our fans."
With updated security measures and an increased focus on drug use, here's to hoping this year's festival goes down without a hitch. Music festivals are fantastic events, and do not deserve to be cancelled due to the irresponsible decisions of a few people. Now, it's up to New York City and Electric Zoo to regain their reputation and prove that they can hang with festivals like TomorrowWorld in Georgia, which saw a mere 17 medical transports, and only 2 arrests in its first year out of 140,000 attendees.