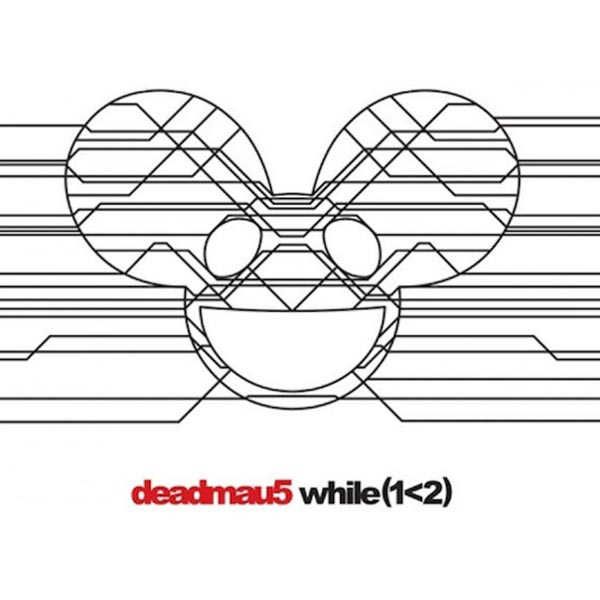 With all of his eccentric antics, it's at times easy to forget that Deadmau5 is an extremely talented producer who has captured our hearts time and time again with classics like "Strobe," "Ghosts N' Stuff," "I Remember." Deadmau5 looked to continue that string of success by moving into uncharted territory with his first ever full-length album 'While (1<2)' that, in his own words, was:
the first album ive ever done that i would even call an album… it's put together like an album. not a compilation.

— deadmau5 (@deadmau5) April 30, 2014

With this album Deadmau5, aka Joel Zimmerman, set out to challenge himself and broaden his musical prowess in making a two and a half hour concept album. Boasting 25 tracks that range from two minutes to thirteen minutes long, While (1<2)' is a piano laden album that pays homage to all of the musical styles from his past work while exploring new avenues of sound. The album is balanced with energetic, upbeat tracks and down tempo tracks that are mixed to flow seamlessly. But the true beauty in this album is the underlying meaning that it has for the future of Deadmau5 and most notably his next tour.
It's at this time that I bring Daft Punk into the equation and their album Alive 2007. Before the tour Daft Punk had three original albums; Discovery, Homework and Human After All. Alone, these albums were unique and hugely successful, but 'Alive 2007′ was a completely different animal. Part of the success comes from the fact that the album consists of a show from their last tour while the other part comes from the flawless expertise in which the tracks are melded together. These tracks became entirely new entities and the original tracks went from must listens to incomplete pieces. What Deadmau5 has done with 'While (1<2)' was give himself the final piece he needs create a live album the likes of which could rival 'Alive 2007.' These new songs carry his signature sound with a bit of modern flavor in them and have the chance to revitalize and revolutionize the sound he brings to the live circuit; turning his live set into a blank canvas with this musical catalog as the paint. With this in mind, let's take a look at the new weapons Deadmau5 has to work with.
Avaritia & Ice Age (Deadmau5 Remix)
Joel has already shown that he is not afraid to play "Avaritia" loud and proud, using it to open his spontaneous Ultra Miami set. This song is a perfect opener for While (1<2), with its cinematic intro and deep-house follow through. The tempo of this song makes it amiable to a wide array of Joel's songs, and its changes in melody would make it a perfect fit for a transition into a song like "I Remember." With "Avaritia" being the introduction to a show, "Ice Age" is the closing song. The two are the embodiment of alpha and omega, yin and yang; the entire essence of the song may be different, but there is something that ties them together, some outside force that has them flow together perfectly. Mariqueen Maandig's vocals are haunting in this tune, and the sobering lyrics would be a perfect way to end any show.
My Pet Coelacanth, Infra Turbo Pigcart Racer & Phantoms Can't Hang
These are the type of tunes that people bought this album for; energetic house music with a driving bass line. Each song has a simple yet addictive melody that is heightened by the electric chords and uplifting synthesizer work. "My Pet Coelacanth" and "Phantoms Can't Hang" have a similar sound and stand in as the new album's version of "F'n Pig," while "Infra Turbo Pigcart Racer" can draw comparisons to a fast paced "Raise Your Weapon." These five stand as a powerful progressive house mix; imagine leading "Raise Your Weapon" into "Infra Turbo Pigcart Racer," then finishing it off with "F'n Pig" leading into either "The Veldt," "Phantoms Can't Hang" or "My Pet Coelacanth." This would leave you with a powerhouse 15-25 minute set that would set dance floors on fire and rival any live set on its own.
Somewhere Up Here
This is the crème de la crème of the entire album. Better known as "Drop The Poptart," "Somewhere Up Here" is a 13 minute masterpiece that will hold the listener's attention to the very end of the song. Colleen D'Agostino's vocals are chilling, and the lyrics paint a picture of someone who loves too much. There is no question that this has become an instant classic regardless of its length, and this mixed with "I Remember" would send people into catatonic shock. There are two only problems I have with this song. At the 11:10 mark the vocals cut out and the beat abruptly changes as if someone cut and paste a section, then again at 11:50 there is a kick that is off beat. While it may have been intentional, it sounds unprofessional and as if the final edition made the cut after an 18-hour bender. These are the only things that hold back "Somewhere Up Here" from moving into the top 3 tracks Joel has ever made, alongside "Strobe" and "I Remember".
Errors In My Head
Leave it to Deadmau5 to take everyone completely by surprise; the first time I heard "Error In My Head" I thought to myself. "Wow, I remember this from somewhere, it sounds so familiar." Ok that was cheesy, but it was a surprise to hear "Errors In My Bread" added to the final product. This song is a remix of sorts of "I Remember," taking the familiar vocals and rolling them into a dark, down tempo song. It's one of the few tracks that really stands out on the album not because of how alien it is, but for how Joel worked it in so artistically. When looking at all the tracks at a stand-alone, this, "Terrors In My Head" and "Ice Age" don't belong here, but the way he transitions them in they become a linchpin that the album would fall apart without.
Pets & Seeya
Now normally I would have separated the two into their own paragraphs, but they flow together beautifully in such a way that you can't have one without the other. "Seeya" is your prototypical single and is one that actually threw me off because of its heavy pop influence. It is reminiscent of "Professional Griefers," which is a personal favorite off of <Album Title Goes Here>, in that it can reach the widest range of audiences and could possibly squeeze its way into a video game. What makes the song even better though is the build up from "Pets." The tune brings the same celestial energy that "Closer" brought to <ATGH> and serves as a perfect sound to lay down in the sun and contemplate life with.
The supporting cast
Above I have pointed out nine songs that could be released on their own EP and fair extremely well. I believe that these nine, coupled with the final versions of the "7 Deadly Sins" EP (Gula, Acedia, Invidia, Superbia, Ira and Avaritia, which was mentioned above) would be a fantastic album that would have fit in perfectly with his previous work. The ten songs that did not make the cut are not necessarily bad, they are just not ones you would insist on hearing live; rather, these songs serve as larger pieces of the puzzle. The real potential of these tracks is the ability to have them mixed with a wide range of previous tunes to create a more powerful hybrid. They serve the same purpose here, acting as filler material that interlocks the fluid sound of the album, creating a balance of hits, beauty and overall tempo.
With this, Joel is now in a unique situation; he has the production tools to bring his live show to Bon Jovi proportions, and the music to showcase it. He has given himself the opportunity to not only breathe life into timeless classics, but he has the chance to recreate his sound and elevate it to the next level. The last time Daft Punk toured they completely changed the musical world with both their stage production and their music, inadvertently giving rise to EDM. With this album Deadmau5 has given himself the final pieces he needs to completely change the landscape of electronic music as we know it and define himself as one of the greatest live electronic music acts. It really puts much more weight in the statement "I'm treating this tour as if it was my last."