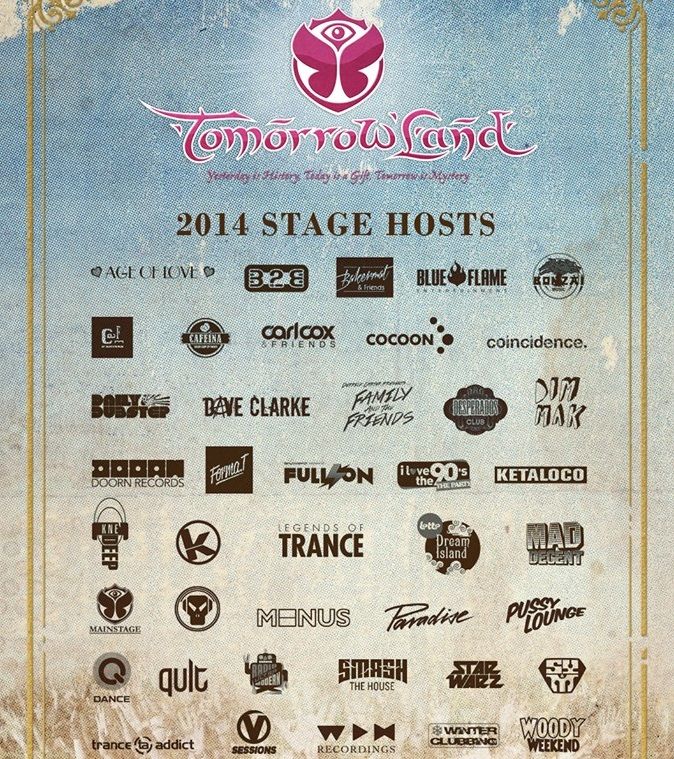 The complete Tomorrowland artist announcement is here and the lineup is so huge that it can't be contained to just one flyer. This year will mark the 10th anniversary for Boom, Belgium's world renowned festival, one of the most famous music festivals in all the world.
Tomorrowland will take place over two weekends in 2014, July 18-20th and 25th-27th respectively. Both weekends sold out in just under an hour, despite the festival's double capacity for 360,000 people each weekend.
For their 10th anniversary, Tomorrowland is coming back bigger than ever before. The festival has recently announced a partnership with MTV to televise a live stream and documentary entitled "World Stage: Tomorrowland." Even legendary composer Hanz Zimmer was brought in to compose Tomorrowland's very own birthday hymn this year.
Accordingly, Tomorrowland's 2014 lineup is completely prolific. It features a comprehensive list of just about every top DJ, ranging anywhere from deep house to dubstep.
You can discover more about Tomorrowland here and see the lineup in full below.
Tomorrowland 2014 Weekend 1 Lineup
Friday July 18th, 2014
ACTI
Adam Beyer
Alex Kidd
Andrew Rayel
AN21
Argy
Armin van Buuren
Art Department
A*S*Y*S
AtmoZ SoundZ
Audio Boulevard
Audiofreq
Back In Time Benny Benassi
Borgore
Bryan Kearney
Carl Cox
Cassy
Cemode & Seelen
Charlie Lownoise and Mental Theo
Coone
The Creamminals
Dada Life
Darude
Deorro
Deetron
Deve & Matizz
Dillon Francis
DiMaro
Dimitri Vegas & Like Mike
Dimitri Wouters
Diplo
Dirtcaps
Dirtyphonics
Dirty South
Disco Dasco
Dixon
DJ Jean feat. Mc Boogshe
DJ P Jay & DJ Vox-D & DJ Barto & DJ Luk
Donnie Darko
Double Pleasure
Double-U vs Skinnie
Eric Prydz
Fast Distance
FCL feat. Lady Linn
Felix Cartal b2b Autoerotique
The Flexican & MC Sef
Franky Rizardo
Fred Baker
Funk D
Funkerman
Geck-O
George Fitzgerald
Guy J
Jamie Jones
Jean de Gand
Joachim Garraud
Johan Gielen
John Digweed
Jorn Van Deynhoven
Keys N Krates
Kiani & his Legion
KiNK
KhoMha
Larson feat. Diego Remes
Licious feat. Delafino
Loco Dice
Makasi
Marco Bailey
Mark Jenkyns
Martin Solveig
Max Graham vs Protoculture
MC Gunner
MC Jeff
MC P Pholl
MC Stretch
MegaMen
Menno De Jong
Michael Beltran
Mightyfools
Mystique
NERVO
Neon
Nico Morano & Jean Delaru
The Oddword
Oliver Heldens
The Opposites
Orjan Nilsen
Paper Diamond
The Partysquad
Paul Elstak
Paul Oakenfold
Phill Da Cunha & Dave Lambert
Philip & Joeri
Rank 1
Richy Ahmed
Roger Sanchez
Roma
Russ Yallop
Savage Skulls
Sean Tyas
Skrillex
Steve Aoki
Team 140
Tony Junior
Trippy Turtle
Two Times Four
Uberjak'd
wAFF
Ward
Ward vs Doridzie
Wolfpack
Yellow Claw
Yousef
Yves V
Zeds Dead
2Empress
3LAU
Saturday July 19th, 2014
Afrojack
Airwave
Alesso
Aly & Fila B2B John O'Callaghan
Angerfist (live)
Astrix
Atmozfears (live)
Audien
Basement Sounds
Ben Klock
Bingo Players
Blasterjaxx
Bollen & Fichtner
Bonzai All Stars
Brennan Heart
Carnage
Caspar
Chris Liebing
Commonphase
Coone
CP
D-wayne
D.O.D
Dannic
Dillinja
DJ Fire
Don Cabron
don Santos
DubVision
DVBBS
Dyro
Eats Everything
Endymion b2b Frequencerz
Eric Powa B
Ferry Corsten
Firaga
Firebeatz
Franky Kloeck
Frontliner
Ghost
GMS
Goldie
Greg Lamore vs Jay Lee Hudson ft. Coin
Hardwell
Hardwell b2b Tiësto
Hermanez b2b Massimo Girardi
Hernan Cattaneo
Jeff Mills
Joachim
Jochen Miller
John 00 Flemingv Josh Lasden
Kaskade
Knife Party
Kr!z
Kutski
Laidback Luke
Lenzman
Luca Barassi & Fre
M.I.K.E Push
M&T ft. Mc Mota & Mc Akespeare
Marc Benjamin
Marco V
Mark Broom
Mark with a K
Martinez
Marvel
Maya Jane Coles
MC Chucky
Mc GQ
MC Gunner
MC Mitch Crown
Mc Mota
Mc P Pholl
MC Stretch
MC Villain
Mell Tierra
Mr VI
Neelix
Nero
Netsky
New Deal
New World Punx
Nico Parisi
Noisecontrollers
Pan-Pot
Partyraiser
Pfirter
Phase
Phi Phi
Pleasurekraft
Popof
Premiesku (live)
Pretty Lights
Psyko Punkz
Rebekah
Sander van Doorn
Sander van Doorn b2b Yves V
Sandro Silva
Seth Troxler
Shy Fx ft. Stamina Mc
Sick Individuals
Sidney Samson
Sied van Riel
Skazi
SP:MC
Spacid
Station Earth
Sub Focus ft. ID
Sunnery James & Ryan Marciano
Superman, Spiderman & Batman
Sven Väth
Talamasca
Thim
Tiësto
Tommy Trash
Wasted Penguinz (live)
Wildstylez
Will Sparks
Yahel
Yves Deruyter
Yves V
Zatox
Zolex
Sunday July 20th, 2014
3 Are Legend
AFTER 12
Akyra
Alle Farben
Alvaro
AN21 & Max Vangeli
Bad Dancer
Bakermat
Balistic
Bella Sarris
Boston Bun
Busy P
Carat Trax (live)
Cleavage
Cosmic Gate
Cosmo
Da Hool
Darkraver
Dave Clarke
Dave Till
David Guetta
Derrick Carter
Dimitri Vegas & Like Mike
DIMMI
Dr. Phunk
Emalkay
Erol Alkan
Esther Duijn
Evil Activities
Fedde Le Grand
Flapjackers
Franky Jones
Fred Nasen
Gaiser
Giocatori
Gols
Green Velvet
Heidi
Hot Since 82
Ibranovski
Ida Engberg
Inland Knights
Jaydee
Joran van Pol
Junior
Klingande
Kolombo
Korsakoff
Krewella
Lexer
M.I.K.E Push
Maceo Plex
Marc Faenger
Marcel Fengler
Marko de La Rocca
Markus Schulz
Massiv & The Rebel
MC Gunner
Mc P Pholl
Mc Ruffian
MC Stretch
Mental Theo
Murdock
Nadus
NGA Sound
Nicky Romero
Nico Pusch
Nicon & Mc Swift
North Base
Octave One (Live)
Olivier Pieters
Paco Osuna
Paul Elstak
Paul Kalkbrenner (Live)
Paul van Dyk
Pierre
Point.Blank
Quincy
R3hab
Redfoo
Redhead
Regi
Richie Hawtin
Rusko
Ruthless
Skream
Sneak b2b Mark Farina
Sound Pellegrino Thermal Team
Steve Angello
Steve Aoki
Surfing Leons
Svemirski
The Jelly Bellies
The Mackenzie
The Magician
The Martinez Brothers
The Offenders
Tom Dazing
Trixy
Tube & Berger
Tujamo
Ummet Ozcan
Vitalic (Live)
W&W
Wankelmut
Wolfpack
Yannick Robyns
Youri Parker
Tomorrowland 2014 Weekend 2 Lineup
Friday July 25th, 2014
2Dirty
2Empress
A-Tom-x ft. Mike B
A*S*Y*S
ACTI
Adam Beyer
Alex Kidd
Âme
Andrew Rayel
Argy
Armin van Buuren
Art Department
AtmoZ SoundZ
Audio Boulevard
Audiofreq
Avicii
Back In Time
Benny Benassi
Borgore
Bryan Kearney
Carl Cox
Carnage
Cemode & Seelen
Charlie Lownoise and Mental Theo
Coone
Dannic
Darude
Deetron
Deorro
Deve & Matizz
Dillon Francis
DiMaro
Dimitri Vegas & Like Mike
Dimitri Wouters
Diplo
Diplo
Dirtcaps
Dirtyphonics
Disco Dasco
Dixon
DJ Jean ft. Mc Boogshe
DJ P Jay & DJ Vox-D & DJ Barto & DJ Luk
DJ Snake
Donnie Darko
Double-U vs Skinnie
Eric Prydz
FCL ft. Lady Linn
Felix Cartal b2b Autoerotique
FlatFish
Franky Rizardo
Fred Baker
Funk D
Funkerman
Geck-O
George Fitzgerald
Jamie Jones
Jean de Gand
Joachim Garraud
Johan Gielen
Jon Rundell
Jorn Van Deynhoven
Just Be (Bushwacka!)
Keys N Krates
Kiani & his Legion
KiNK
Knife Party
Kygo
Loco Dice
Makasi
Marco Bailey
Mark Jenkyns
MaRLo
Martin Garrix
Max Graham vs Protoculture
Max Vangeli
MC Gunner
Mc Jeff
Mc P Pholl
MC Stretch
MegaMen
Menno De Jong
Mightyfools
Mr Grammy & Dj Licious
Mystique
Neon
Nervo
Nexuz
Nicole Moudaber
Oliver Heldens
Omnia
Orjan Nilsen
Paul Elstak
Paul Oakenfold
Philip & Joeri
Phill Da Cunha & Dave Lambert
Rank 1
Richy Ahmed
Roger Sanchez
Roma
Russ Yallop
Savage Skulls
Sean Tyas
Steve Aoki
Team 140
The Creamminals
The Flexican & MC Sef
The Oddword
The Opposites
The Partysquad
Tony Junior
Trippy Turtle
Two Times Four
Uberjak'd
Umek
wAFF
Ward
Ward vs Doridzie
Yellow Claw
Yves V
Zeds Dead
Zoet & Hartelijk
Saturday July 26th, 2014
Above & Beyond
Adrian Lux
Airwave
Alesso
Aly & Fila B2B John O'Callaghan
Angerfist (live)
Ant TC1
Atmozfears (live)
Audien
Bassnectar
Ben Klock
Bingo Players
Blasterjaxx
Bliss
Bonzai All Stars
Bountyhunter
Brennan Heart
Caspar & Don Cabron
Cedex & Higher Underground ft. 3XB
Chris Liebing
Chuckie
Coone
Coone ft. Hard Driver
CP
DConvict
Deorro
DMC
Don Diablo
don Santos
Dorian Paic
DVBBS
Dyro
Eats Everything
Ed Rush B2B Optical
Ellen Allien
Endymion b2b Ran-D
Eric Powa B
Ferry Corsten
Firaga vs Synsun
Firebeatz
Franky Kloeck
Freaquency
Frontliner
Ghost
GMS
Goldie
Greg Lamore vs Jay Lee Hudson ft. Coin
Hardwell
Hardwell b2b Tiësto
Hernan Cattaneo
Hypoxia
Ilario Alicante
Jackie White vs Norion
Jacob Van Hage
James Ruskin
Jeff Mills
Jochen Miller
Jubei
Julian Jordan
Julien Bracht (live)
Kaskade
Kr!z
Kutski
Laidback Luke
Loopers
Luca Barassii & Seelen
M.I.K.E Push
MAKJ
Many Moore
Marco V
Mark with a K
Martin Solveig
Mathy
MC Chucky
MC Gunner
MC Master X
MC Mitch Crown
Mc P Pholl
MC Stretch
MC Villain
Mr VI
Nero
Netsky
Nico Morano
Nico Parisi
Noisecontrollers
One87 & Mc Mush
Pan-Pot
Partyraiser
Phi Phi
Pleasurekraft
Prinz
Promise Land
Psyko Punkz
Rebekah
Revero
Romeo Blanco
Sander van Doorn
Sander van Doorn b2b Yves V
Sandro Silva
Sébastien Miotti & Ramioul
Shy Fx ft. Stamina Mc
Sied van Riel
Skazi
Slam
SP:MC
Spacid
Sub Focus ft. ID
Sunnery James & Ryan Marciano
Sven Väth
Talamasca
Thim
Tiësto
Tito & Echo Virus
Tom Swoon
Tommy Trash
Vibe Tribe
Visionquest
Wasted Penguinz (live)
Whizz
Wildstylez
Yahel
Yves Deruyter
Yves V
Zatox
Zolex
Sunday July 27th, 2014
3 Are Legend
Akyra
Alle Farben
Allspark & Mc Nice
AN21 & Max Vangeli
ARtronkis
Bad Dancer
Bakermat
Balistic
Better Lost than Stupid
Boostedkids
Boston Bun
Busy P
Carat Trax (live)
Cleavage
Cosmic Gate
Cosmo
Da Hool
Darkraver
Dave Clarke
Dave Till
David Guetta
Dejan Milicevic
Dimitri
Dimitri Vegas & Like Mike
DIMMI
Distance
Dr. Phunk
Emalkay
Erol Alkan
Evil Activities
Fatima Hajji
Fedde Le Grand
Franky Jones
Fred Nasen
Gary Beck
Giocatori
Gols
Green Velvet
Gregor Tresher
Icicle b2b Proxima
J.Fernandes
Jaydee
Jeroen Search
Josh Wink
Junior
Klingande
Korsakoff
Krewella
Lexer
Lou Lou Players
M.I.K.E Push
Maceo Plex
Mala ft. Son of Selah
Marco Faraone
Marco Remus
Mark Reeve
Marko de La Rocca
Markus Schulz
Martin Garrix
Massiv & The Rebel
MC Gunner
MC LowQui
Mc P Pholl
Mc Ruffian
MC Stretch
Mental Theo
Miss Sunshine
Nicky Romero
Nico Pusch
Octave One (Live)
Olivier Pieters
Paul Elstak
Paul Kalkbrenner (Live)
Paul van Dyk
Philogresz
Pierre
Primate
Quincy
R3hab
Redfoo
Regi
Rush
Rusko
Ruthless
Sam Paganini
Seth Troxler
Shermanology b2b Bassjackers
Skream
Smos
Sound Pellegrino Thermal Team
SP:MC
Steve Angello
Steve Aoki
Subreachers
Surfing Leons
Svemirski
The Mackenzie
The Magician
Thumez
tINI
Tom Dazing
Trixy
Tube & Berger
Twoloud
Vitalic (Live)
W&W
Wankelmut
Wolfpack
Yentl.
Youri Parker