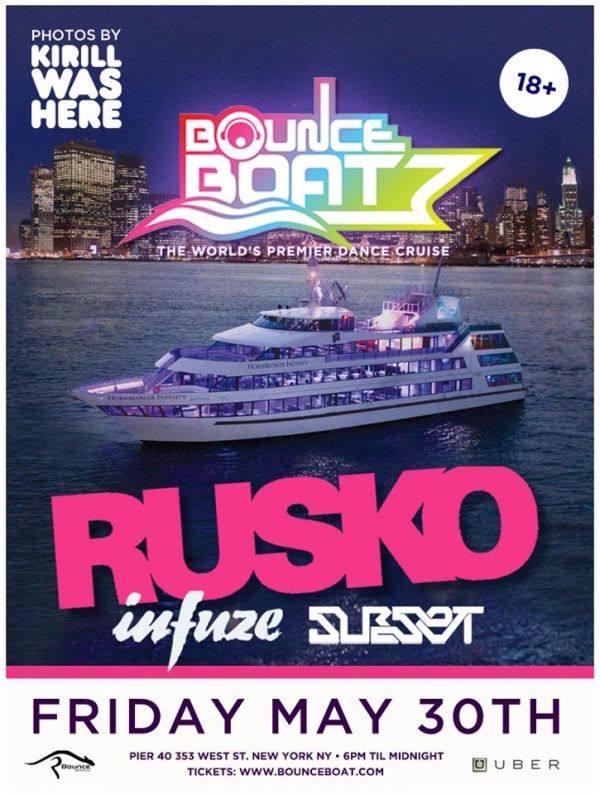 In the summer, outdoor raving options become limitless, from festivals to beach parties, to the newest sensation in premiere dance music showcases – boat cruises. And after attending New York City's first Bounce Boat voyage of the season back in April with The Chainsmokers, we're even more excited to enjoy some bass-bumpin' tunes next weekend on its second run.

The ultra-loud sound system and colorful lighting aboard the ship create the perfect club-like ambiance, but the motion of the ocean makes dancing and grooving to the beats even more flowy (OK fine, it's the Hudson River. But it's still wavy). On top of it all, the upbeat, fun party atmosphere makes for a perfect Friday night out for all your friends.
However, it's the lineup for this next voyage that is truly enticing: dubstep legend Rusko is back at it on tour and making his NYC stop on the massive Hornblower Infinity cruiser. Support will come from Brooklyn producer Infuze and Webster Hall BASSment favorite DJ Subset. Famed party photographer Kirill Was Here will also be capturing the craziest of moments – prepare for some serious champagne flow.
Grab your tickets now!