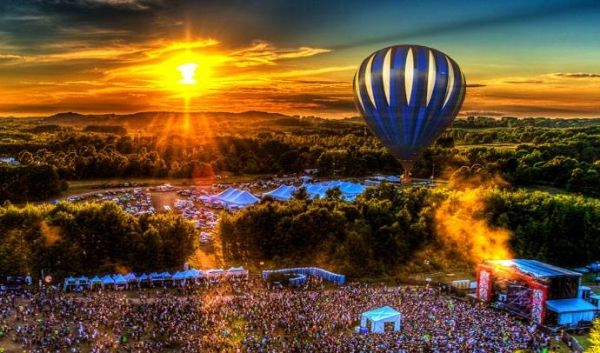 Electric Forest is slowly but surely creeping up on us, and we couldn't be more excited. The veteran festival always features a diverse lineup that ranges from jam bands, hip-hop, and of course, dance music. This year's offering is as eclectic and top notch as ever, and of course, we like to sort through it and give you, the readers, an idea of who we think is worth your time among the vast number of dance-centered acts.  As always with these sorts of posts, this is far from an end-all-be-all list, and definitely not a ranking of any sort, people always seem to think so! Rather, it is a mere guideline for artists we think are worth your time when traversing the legendary Rothbury, Michigan festival. Check out our compilation below, and let us know who you're looking forward to seeing the most.

Steve Angello
What a year it's been for Steve Angello and his Size imprint. Celebrating 10 years of progressive beats and upper-echelon success, Steve has taken not only Size, but himself as well to the pinnacle of dance music. Playing energetic sets that meld together new tunes with that classic Angello  sound, and a dash of Swedish House, this Electric Forest set is one we would recommend for any and all festival attendees, dance music fans or not.
Art Department
Kenny Glasgow and Jonny White have been in the game for a while, and know what they're doing behind the decks to a tee. If you recall, a few months ago, the pair attracted the glare of the mainstream EDM community with their comments about DJing and what exactly goes on behind the decks. Of course, this didn't go over so well with the mainstream conglomerate, and of course, the internet turned it back on them. Regardless, no one can argue that this duo doesn't know what they're doing. World-renowned for their mastery of their art form, and backed by legendary labels No.19 and Crosstown Rebels, you know AD is going to bring it on American soil.
Booka Shade
The legendary duo that is Booka Shade hardly need an introduction, or a post on a music blog about why you should be seeing them. The Get Physical label bosses are one of the most respected artists in the game, and their ability to skilfully plunge through aggressive beats and into soulful deep house is unparalleled -something you'd expect from a group that has been around since the mid 90s.
Kygo
What hasn't been said about Kygo this Spring that we can say here? Not much. He's not to be missed at Electric Forest, plain and simple. Kygo's unique style of future house has taken the traditional house sounds found so often in Europe (and a bit masked in the U.S in exchange for big room and its many variants) and melded them with a twist of progressive beats and tropical flavors to form a variation that is as infectious as it is irresistible.  He is in everyone's ear right now, and has solidified himself and the sound as the next big thing to take form in the community at large. It would be foolish to not get a front row seat for his set time at the Forest.

Seven Lions
Fresh off a critically applauded EP release,
Worlds Apart, 
Seven Lions is the master of blending dubstep with luscious builds, harmonies, and trance-like breakdowns. His sets feature a crowd pleasing blend of this unique style, along with the ability to bring in more aggressive trap styling and bursts of big room. Considering presences on polar opposite imprints such as Anjunabeats and OWSLA, Mr. Montalvo is truly a jack-of-all-trades producer.

What So Not
Similar to Kygo's meteoric rise, What So Not is right there with him, however, in a different subset of genres. Wading more in club-friendly, trapstyled waters, the brainchild project of Flume and Emoh has garnered heaps of attention, primarily on the shoulders of anthems such as "Jaguar" and "Tell Me." Their style is a powerful mix of bass music and pop infatuations that comes together to make one of the most sough after sounds of 2014.  The Australian duo is well worth one of your precious slots in a festival schedule, as they are quickly becoming one of the hottest acts in dance music.

Marc Kinchen
The Anjunadeep mainstay, known to most simply as MK, has a knack for playing delightful sets of any length. Having the ability to entrance crowds for hours with his silky house attractions, Mr. Kinchen easily has the repertoire to firmly grasp a festival crowd with his penchant for singalong house anthems and melodic leanings. His remixes as of late have been proper to say the least, with re-works of HAIM's "If I Could Change Your Mind," Rudimental's "Powerless," and Lancelot's "Givin It Up" taking the lead in energizing crowds.  The industry veteran has all the right maneuvers and tricks to keep a crowd vibing, and is without a doubt a bright hidden gem among the trees at Electric Forest.

Isaac Tichauer
 Isaac Tichauer is on here because of the gorgeous house music he has been crafting in 2014, and for his penchant as a master of the deep house/ future house genre and DJing it to a crowd. His French Express releases this year such as "Changes" and "Questions" are some of our favorites in the genre in the past few months, as is his remix of Lancelot's "Givin It Up" via Anjunadeep. If you're looking for a sultry, deep set from one of the best young stars in the scene, definitely visit Mr. Tichauer's slot at The Forest.