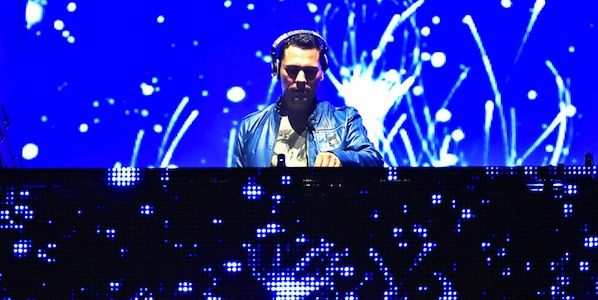 Today we're getting a two-for-one special with Tiesto: the premiere of his music video for "Wasted" featuring Matthew Koma, and details on his upcoming album out this June. It has been five years since
Kaleidoscope
, which was released on his label Musical Freedom, and we feel that we are long overdue. Even though Tiesto hasn't remained silent over the years, there's something about a fresh discography that really showcases the artist's talent, and in this case, how far he or she has come.
Tiesto told Rolling Stone of his previous LP, "The big dance music explosion was just about to happen, so the ideas and sounds on there come from what seems like a different time and place. So much has happened for dance music in such a short amount of time so it now seems like the perfect time for me to revisit the idea of an artist album."
His album will be titled "A Town Called Paradise" and it's official release date is June 16th via Casablanca Records (the label he released his "Red Lights" remix EP off of).
Tiesto continued to tell Rolling Stone that his upcoming album's title and sound was influenced by Las Vegas, "When I really look at it, it's like this oasis of entertainment right in the middle of the desert, so to me, 'A Town Called Paradise' is a good way to describe Las Vegas. It's been a very special place to me and has influenced the creation of this album."
This is the full track list:
1. "Red Lights"
2. "Footprints" (feat. Cruickshank)
3. "Light Years Away" (feat. DBX)
4. "A Town Called Paradise" (feat. Zac Barnett from American Authors)
5. "Written In Reverse" (feat. Matthew Koma) (with Hardwell)
6. "Echoes" (feat. Andreas Moe)
7. "Last Train" (feat. Ladyhawke) (with Firebeatz)
8. "Wasted" (feat. Matthew Koma)
9. "Let's Go" (feat. Icona Pop)
10. "The Feeling" (feat. Ou Est Le Swimming Pool)
11. "Shimmer" (feat. Christian Burns)
12. "Rocky" (with Kaaze)
13. "Close to Me" (feat. Quilla) (with Sultan & Shepard)
14. "Set Yourself Free" (feat. Krewella)
To top off all these announcements, the music video release of "Wasted", the second single off of A Town Called Paradise, shows off old school housewives letting loose and, to put it eloquently, getting wasted.