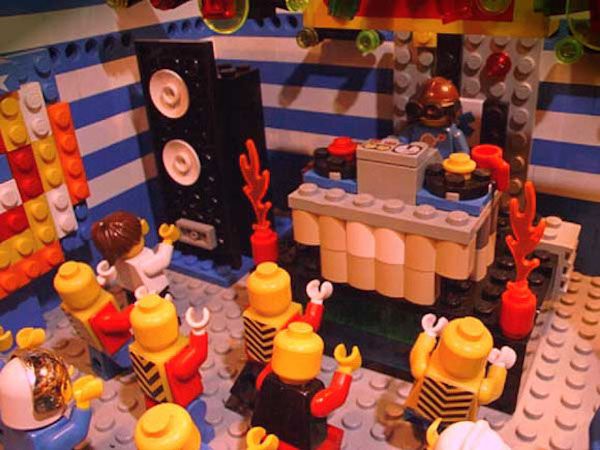 From TV shows to blockbuster movies to video game franchises, Lego's can do pretty much everything. Now, videos have surfaced of Lego's replacing humans in making music: a PhD student named Alex Allmont has created a Lego contraption -that he's cleverly named Play House- that can make music, and will do so for the annual AudioGraft Experimental Music and Sound Art Festival. Alex describes the process as so:
Play House is an automata that mechanically computes and performs hooky and hypnotic acid house. Like a generative musical loom, a single drive turns a sequence of LEGO gears, levers and latches that mutate riffs and rhythm patterns. These are played out on analogue drums and synthesisers from the halcyon days of 1980's dance music while the machine gradually shifts the timbre and space of the sound.
To appreciate this mystery machine of childhood nostalgia is to look at all the intricate moving parts; the most integral, a "random number generator" that would drop a basketball down a series of pegs (think of a peg game, where the ball drops and hits a number of pegs before landing in a destination) and land in one of 4 slots, that would play different melodies.
The next step was to build a main sequencer to control the count of the song. Allmont explains how he went about setting it up in a piece with makezine.com:
I decided instead to use 2/4 with quarter notes, partly because going from 16 to 8 saves a lot of space and complexity, but also because it would generate a melody that repeats on every other beat, and I found this ideal for the hypnotic music I was producing. The construction is very simple because Lego has a 16-tooth gear, so to make an 8-step sequencer you need a central shaft with 8 of these gears on it and from each gear you drive another 16 tooth gear, each being rotated two teeth on from the last. Each driven gear is 1/8th out of phase with the last, and if you put little tappers under each gear and you have a sequencer that taps out 1/8th notes.
The end product of this Lego masterpiece is an entertaining acid-house track that brings us back to the early days of rave music. Since this 'technology' is still in its infancy, it's still a few years off from headlining any major festivals.
If you want to read more about how Mr. Allmont went about creating this set-up, read his piece here on makezine.com.