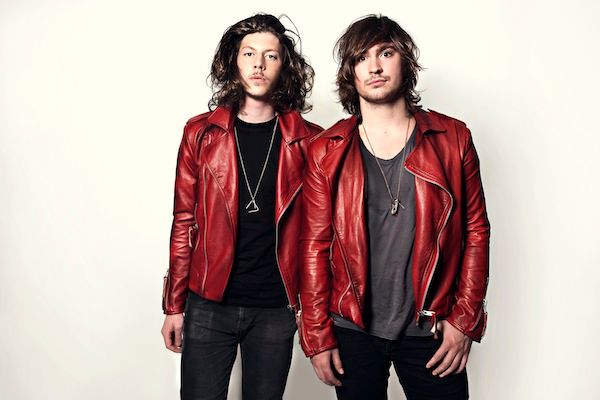 Amidst the hustle and bustle of Winter Music Conference and Ultra, we were able to snag some precious time with up-and-coming Australian duo, Peking Duk. Made up of Reuben Styles and Adam Hyde, Peking Duk is enjoying a steady rise to fame with recognition from major artists like Laidback Luke and Tommy Trash. The group sat down with us before delivering a diverse and fun performance at Nikki Beach's No Sugar Added festival. Styles and Hyde divulged everything from their roots in live music to the origin of the name "Peking Duk." Check out what the pair had to say below.
Before forming Peking Duk you guys both had a background in live music. What was that like?
Adam: Yeah, well Reuben had a background, he was playing bass in a band. He was doing really well.
Reuben: I played guitar in like three or four bands and Adam was in a hip hop crew and also playing in bands. Pretty much just testing the waters in every way, shape, and form.
Adam: And then we found out about good dance music and just got obsessed with it.
What was the transition like from live music to electronic music? Was it easy, was it hard? Did a live background help?
Adam: I think it definitely helps a bit, if you love any kind of music and you're really into it, it's all relative.
Reuben: I think yea, it was slightly almost techno that got us into and it having the hip hop and rock foundations made it more fun in a way.
Your music spans a wide variety of sounds and genres, how would you best describe your music in a few short sentences to people that have never heard you before?
Adam: It's just a ratchet party. That's our sets. Our music is sweaty, fun and sometimes you can get a bit emotional to it, if youd like to.
Recently Australian DJs have become very prominent in America, with people like Tommy Trash leading the pack in terms of recognition. I noticed your SoundCloud "about me" is a quote from Trash, "Peking Duk doesn't just taste good, it sounds good too." Whats your relationship with Tommy Trash like and do you have plans to work together in the future?
Reuben: Honestly, we had a gig with him like two years ago, and then he said he wanted to put a quote on our bio and we sort of just left it there.
Adam: Yeah, hes a friend of ours
Reuben: He's a legend, we hung out with him, had a beer.
Adam: As far as working with him, there's nothing planned but you never know what can happen.
Your schedule is mostly Australian based with just a few U.S. stops, whats the primary difference you've notice between audiences and venus in both countries?
Adam: The venues over here are great., theyre amazing. Theyre really lush sort of clubs.
Reuben: Its done right over here (in the U.S.). Theres not bad sound systems, ever. In Australia you get lucky when there's a good sound system.
Adam: The crowds are really good as well. All the shows that we played at South By Southwest and last night in San Fran were incredible.
Reuben: Everyone loves the kind of sets we love playing. We loves playing like a ratchet party, where there's hip hop, trap, rock and roll, and big room and something bouncy; just a party. It works so well over here. We'll move over here one day soon.
"Mufasa" is a personal favorite of mine. The tribal sound is showing up a lot in electronic music lately. What was it like working with Laidback Luke, such a seasoned producer and DJ?
Adam: Oh man, we feel so blessed to work with him. He is the nicest dude I think I have ever met in my life.
Reuben: He is the definition of a good dude. Theres not many like him.
Adam: When we worked on the track he was so efficient with everything. We hung with him in Australia, we had a great night with him. He's a down to earth legend.
EDM has become a craze lately, especially in popular culture. You guys have seen great success in a relatively short period of time, with "High" reaching the Top 40 Aria Charts. Do you think the craze surrounding the genre, and the Internet has helped you break through quickly?
Adam: Definitely. The Internet is crazy. Anyone can find music now.
Reuben: Theres so many good platforms like SoundCloud.
Adam: Like EDMTunes!
Reuben: Like, EDMTunes. Theres so many ways for people to simply share something.
Adam: You don't need to find a record label and release anymore.
Reuben: Better yet, you don't have to buy the album, take it to your friend's house, chuck it in their CD player and say, "check this out."
What's the story behind the name "Peking Duk?" Are you guys just huge Chinese food fans or is there something deeper?
Adam: There's something deeper!
Reuben: We definitely love Chinese food but…
Adam: You know like, when you're peaking…No drug references here or anything, I swear. Sometimes when you're peaking really hard you look like a duck.
Reuben: You start pulling a duck face!
Adam: It became a joke amongst our friends. One night when we were sitting there when we had a bunch of music that we had written, we were like "Oh we need to have a name!" And at that time we were peaking, so it just made sense.
Reuben: And it was sort of at that time when we were getting into electronic music, was when everyone was like, "Oh dude check out Dave, he's Peking Duk!"
So almost like the Australian "Duck Face?"
Adam: Yeah, yeah, exactly!