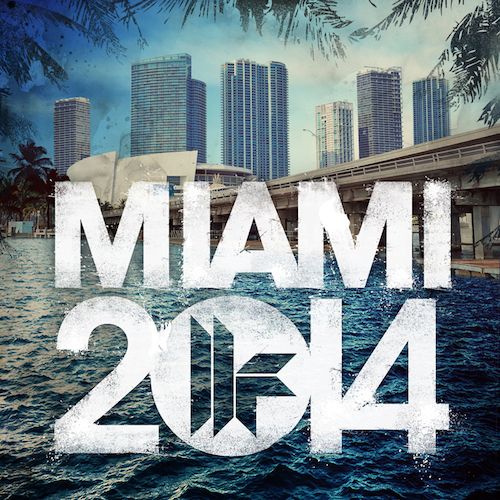 For some, Groundhog day is the day that dictates how much longer winter is going to hang around. For the EDM community though, it would seem Toolroom Records has taken up that role; ladies and gentlemen the Toolroom Miami 2014 compilation has just arrived, and the spring and summer seasons are right around the corner.
Each year they compile a tracklist consisting of the finest house producers and tunes. This year's compilation brings us 59 house essentials (or over 60 if the album is bought in full) that are destined to be club floor mainstays in the coming warmer seasons.  Twenty-five of these tracks are new and exclusive to Toolroom Miami 2014. The label has split the album into three sections, each with a different theme and intended vibe: Poolside, Club, Afterclub.

Poolside:
The first twenty tracks make up the "Poolside" portion of the album. This section boasts a wide selection of house and deep house artists to get everyone in the party mood before the night begins. It's an allstar selection from the get-go, supported by the likes of Waze & Odyssey, Weiss (UK), and Jason Burns to just name a few. Frankly these tunes would work as well in a club as they would at the pool or on the beach; with the passing of each track you're taken one deeper into a sultry mix bound to get any party started on the right foot.
Club:
The star studdedness continues in the club portion. This is the meat of the of compilation. The main event if you will. Prok & Fitch, Dusky, and Kove set the tone for this section. Up tempo and bumpin' house is plentiful and dancing is inevitable (so listening to this at work might not be the best idea). By no means are these massive big room house hits or bass bangers, these are true funk and groove house tunes.
Afterclub:
Really this could be called "the second club". The Afterclub portion sports a list of names that may not be so familiar to those who aren't familiar within the techno genre, but rest assured these guys are big hitters. Filterheadz, Dosem and David Herrero know how to throw down a sexy bassline; Filterheadz exclusive, "The Box", could really fit in any of the sections here, it's gem of a track. Afterclub should have no trouble reviving the energy of the party.
All in all, Toolroom has done a helluva job curating this compilation. There's something in here for everyone, and you'd be amiss to not include at least some of these tracks in a party playlist. Don't be surprised to hear DJs spinning these tunes in your local club scene either. Now if only spring break would hurry on up and get here.