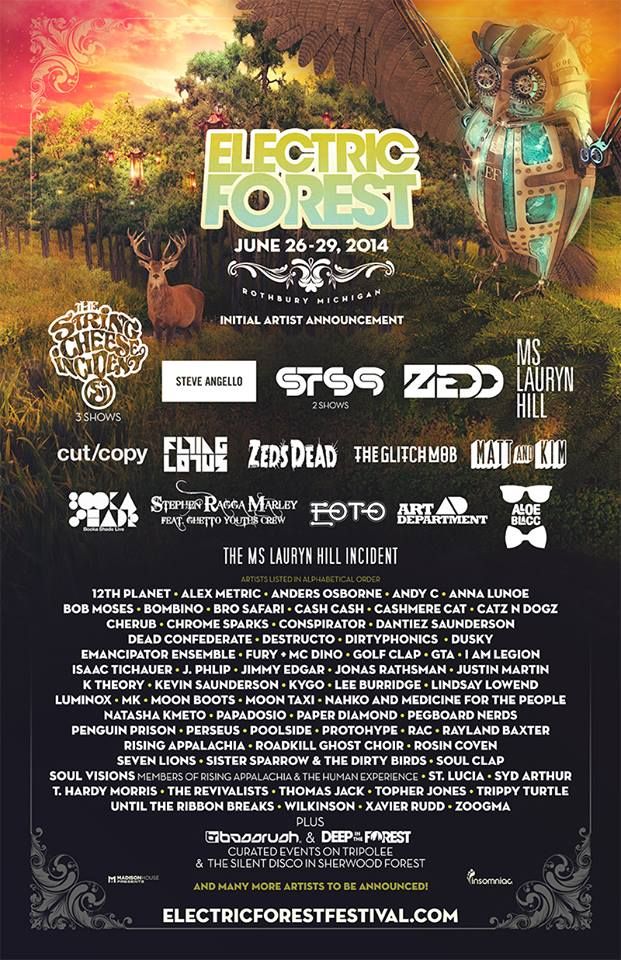 Can you imagine anything more perfect than chillin' in a huge, beautiful Michigan forest with friends, all while being stimulated by a vast array of electronic dance music and visual art installations? If you thought the Electric Forest festival couldn't get any better, it just did. Start loading up your playlists and getting ready for June 26-29 in Rothbury, Michigan, because the Insomniac-run event has just announced its first wave of musicians on the lineup.

Among it, some of the regulars: annual headlining  band The String Cheese Incident, as well as jammin' groups like STS9 and EOTO. Big names in EDM like Zedd and Steve Angello top the roster. But a closer look at the rest of the lineup illustrates the ever-growing conclusion we're coming to as fans of electronic music: it ought to be celebrated through all genres and styles, and not limited by category.
There's dubstep, like 12th Planet and Zed's Dead. Drum n bass artists from across the pond stake a claim in the lineup – see Wilkinson and Andy C. "Jersey club" beats will be provided from the likes of Cashmere Cat and Trippy Turtle. And deep house, the genre that's only getting bigger and bigger here in the States, is certainly represented (Dusky, Justin Martin, Golf Clap).
Online forums have already displayed complaints about the lack of the usual suspects – think Pretty Lights, Griz, Gramatik – that have played at the Forest in the past. However, this change of pace can't be a bad thing. Festivals are about discovering the latest and greatest, and maybe stumbling upon something you never would have otherwise! It's way more fun this way.
This year's Electric Forest promises a festival weekend like no other, camping in a beautiful locale at the height of the season in June. Be sure to get your tickets and check out the full experience opportunities available before they're gone!