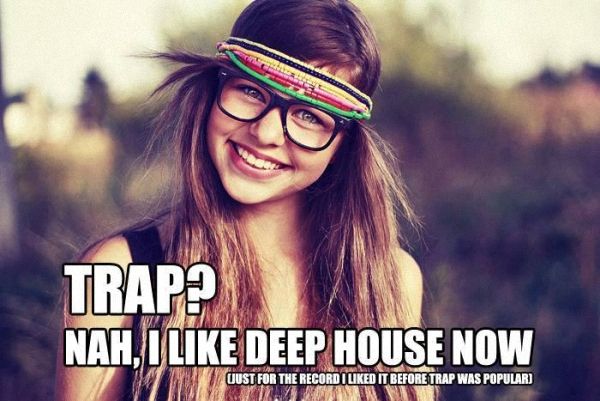 After a brief hiatus for the beginning of 2014, episode 14 is finally here. It's going to be a good year for house music, and there are many fresh tunes from the past two weeks that are getting the year started off in fine fashion.  There is one topic of conversation I'd like to cover first, and that would be the fact that we are now living in a world that's post Tiesto dropping a deep house Club Life episode (hence the picture up above). Tiesto, the king of the big room set, the champion of the bro, the always entertaining mogul of dance music the world over, has finally turned his mainstream gaze to the realm of the deep (or the norm in every country besides the U.S).  Is this a bad thing? Of course, the hipster purists and Euro argument-inducers will obviously think so. They're livid right now. In reality, this was a great thing for the scene and an obvious move for Tiesto -who, in all fairness, is great live, just enjoy the party music with your friends, don't be a snobby bitch. It's obvious that traditional genres of house have a very strong chance of breaking out this year in the behemoth U.S EDM market.


These genres and their pioneers and mainstays will lead the charge to truly good dance and club music that isn't trying to be the same as everything else. Of course, we'll hear copy cat productions and a dumbing down of the intricacies that make deep house deep or those that define techno, however, the genres are so entrenched everywhere else in the world that I don't see its positioning into the limelight in the states as much of a danger to its overall quality.
With regards to the set itself, Tiesto actually has a fairly great tracklist. Of course, it's quite kosher for the most part (and slightly outdated), however, it's a fun listen and has some truly fire tracks in it. Starting off with "Set It Off" is awesome, definitely one of my favorite tracks of the past few months. Agoria's "Scala" is also a solid tune, as is Claptone's fantastic rendition of "Music Rises Up." Anyways, let's get on to the other tunes from the past ten-ish days or so, enjoy.
Moby – Almost Home (Agoria Remix)
A deep, yet serene offering from Agoria

Patrick Topping – Stop (HOT CREATIONS)
Hot Creations rising star Patrick Topping is back after his Any Amounts success with more peak time beats. The sampling employed here is fun, and really carries the track as there's not a whole lot going on outside of it.

Patrick Topping – Straights Up (HOT CREATIONS)
A funky bass line over a typically crisp bass line goes a long way in a club, and Topping is well aware of that for "Straights Up."

Plastik Funk – Get Down On It (Dave Rose, Gallo, Alaia Remix)

Kevin McKay – Goin' Freak EP (Incl. Brett Gloud Remix) – OFFSPIN018
OFF Recording's brand of deep house is infectious as well as always bursting with quality. The two remixes featured in this file are both near-peak time tracks that utilize vocal samples in very traditional ways. Check it out.

Sébastien Léger – Waves of Life

S. Chu – Closure [TUNE OF THE WEEK]
Prolific London producer's S. Chu's first release on Defected is smooth, sultry, and sexy. It flows well, employing  hypnotic vocal lines brilliantly amongst its whirring pads and rainy keyboard melody.

The Japanese Popstars feat Green Velvet – Matter Of Time (Coyu Remix)
I don't know if I like this Coyu take on "Matter of Time." It's a little pronounced in its attempt at aggressiveness. For the sake of transparency, I've included it anyways.

Burial – Come Down to Us (Hal Incandenza Eau de Africa Haters Gonna Hate Remix)(HENRY SAIZ)
Henry Saiz plays with some interesting pads and rhythms here, and it makes for a very enjoyable, chilled out remix.

Stelios Vassiloudis – I Burn Like – Guy J Remix
A fairly typical Guy J offering, I didn't find anything particular to fawn over in this remix, however. Solid nonetheless.

SETS
Triple J Radio – Jamie Jones & Lee Foss (Hot Natured) in the mix 07/12/13

Jody Wisternoff – INTENSIFIED on FRISKY RADIO – Jan 014

Weiss Live @ The BPM Festival 2014 with Toolroom Knights (SET OF THE WEEK)
I'm very glad this came up on Soundcloud. Weiss sets aren't exactly the most common thing on the internet, so a prominent performance such as a BPM set is always welcome.