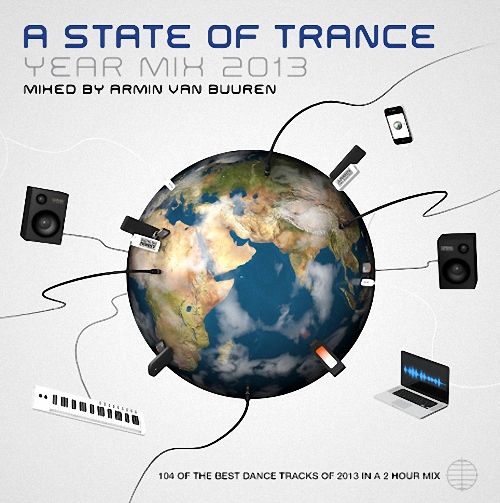 A State Of Trance – Year Mix 2013: Mixed By Armin van Buuren
Label: Armada Music | Release Date: December 20, 2013
Pre-Order On: iTunes | Armada Music Shop
So, here it is…we've made it to the end of another year of exponential growth of all music of electronic persuasion. In this time each year, we are treated to a variance of forms of Year Mixes which retrace the aural trends of the prior 52 weeks…and none of said mixes being more gilded than Armin van Buuren's A State Of Trance Year Mix.  Some Year Mixes take the approach of simply mixing prior years hits into each other, track after track…however, that approach is clearly too mortal for Armin. The trance Golden Boy has collapsed 54 and 47 tracks (on CDs 1 & 2, respectively) into a 2 hour long masterpiece of wickedly woven weaves of 2+ tracks, ludicrously luscious layering and seamlessly deft drops into subsequent tracks which propels the whole "Year Mix" phenomena to the next level/universe/dimension.

The theme of Armin's 2013 Mix sees the case of The State vs. Trance called to court, with none other than Armin being summoned to the stand initially to testify. Promising to follow his heart and not the chart, and to build up his sets from a solid melodic foundation to a crescendo of 138 [beats per minute], Armin clearly is making a statement on how he will continue to approach his productions and DJ sets in the foreseeable future. He hearkens us that "it's only a matter of what you believe in." Reminding us all that belief (and following that belief) is one of the most important cornerstones of a fulfilling existence. But enough rhetoric, on to the tunes!
First off, I have been pretty much listening to the promotional copy that Armada provided non-stop since last Thursday. Throughout my 9-5 "normal job" work schedule, in the car, in the gym…at home. Each individual atmosphere cultivates a unique listening experience which in turn allows you to glean different feels from the same mix, dependant  on your current surrounding environment. Even the breakdown of track selection between CDs 1 & 2 was flawless! As stated in his testimony, Armin kicks off CD1 with a nice buildup of melodic tempo. Next time I receive the inevitable question from an EDM listener "what is trance?" I will refer them to CD1 of this years' ASOT Mix. Spanning the trance aural spectra from atmospheric, progressive, angelic, pounding, driving, hard-hitting, uplifting, and even some darker tinges…but all melodic in one aspect or another, CD1 is a great crash course into the current sounds of trance. CD2 offered a much deeper rabbit hole into the depths of the higher BPMs of the trance world into the darker and edgier sounds of the trance underground. Don't forget your spelunking gear for this one, peeps.
*Note: Tracks spotlighted throughout this review by no means should be treated as a substitute for hearing Armin mix and mash tracks on this Year Mix…TRUST!

CD1 featured the most mainstream-friendly of the trance spectrum, being comprised of many crossover hits throughout the calendar year such as personal favorites as Dash Berlin's remix of Band Of Horses' "The Funeral", Audien's "Wayfarer", Arisen Flame's remix of Conjure One & Aruna's "Still Holding On", Beat Service's remix of Bobina & Ana Criado's track "For Who I Am" as well as a smattering of tracks from Armin's own Intense & Intense Remixed albums. As mentioned previously, though, you are not hearing these tracks in the same light as their official releases.

Armin has taken the tracks and layered them on top of each other in pseudo-mashup form…in turn crafting a whole new aural listening perspective and fresh experience in reliving the tranciest bangers of the year. A few spotlight transitions and mashed concoctions that made me go slack-jawed were: Bluestone's "Sinai"–>Aurosonic's Progressive mix of "Satellite"–>BT's epic "Skylarking"–>Andy Duguid & Jaren's "7even" and Orjan Nilsen's "Violetta"–>"Thunder"/"The Code" with W&W–>Mark Sixma's "Requiem"–>Orjan's "XIING"–>Ferry Corsten's "Many Ways". Brain-bending transitions like from "Love Again" into "Still Holding On" and mind-blowing mashes like Heatbeat's "Game Over" with Cosmic Gate's "So Get Up" (which actually made that track legit IMO) and "Walter White" with "Waiting For The Night" were just…awe-inspiring. And that was only CD1.

CD2 is where the octane is really boosted and the afterburners ignited. Depending on your perspective, either taking you deep into the depths of outer space or deep underground into Armin's own rabbit hole, this hours' focus is on the climbing BPMs, on curating those uplifting feels abound…on taking you on a mental journey. In essence, the ethos of trance as its been throughout the years – in "staying true to the original sounds and beats." Hitting stride with one my quintessential tracks of 2013, Markus Schulz's "Remember This", Armin has also included personal favorites such as Simon Patterson's "The One", Fisherman & Hawkins "Apache", the Uplifting mix of Aly & Fila's "Mysteries Unfold" and Dart Rayne's "Silhouette" (Allen & Envy Remix).

Whereas CD1 has a greater vocal presence, CD2 has turned to a larger sense of rhapsodic instrumentation dripping with immaculately composed musicality and high quality finesse and craftsmanship  via Armin's aural culinary skills of slicing and dicing and presenting the productions to you in a fresh new light. The mini voyage from Andrew Rayel's "Dark Warrior–>Armin/Markus Schulz's "The Expedition"–>Armin's own "Intense"–>Solarstone's Blade Runner "Love Theme"–>Mark Sixma's remix of Orjan's "Mafioso" was spine-tinglingly scintillating…and Aly & Fila's "Without You"–>RAM & Susana's "RAMelia" (Tribute To Amelia)–>The Thrillseekers "Anywhere With You" left me with a feels explosion! Impossible to verbalize. Just, wow. I'm sorry, I just don't get that kind of feel from the likes of Hardwell and crew. Skillfully bringing his journey to an end with the absolutely atmospheric aura of Skypatrol's "Folding Your Universe" (possibly my favorite trance track of the year)–>RAM's "RAMnesia"–>Sneijder's mix of "What It's Like" by Andain and wrapping up his pleading with Sneijder & Bryan Kearney's "Proper Order", Armin rests his case for trance music (while leaving the audience, aka me, screaming and begging for more).

To those members of the #trancefamily in the same boat as me, don't worry…we only have a few more months to get through until Armin Only hits the states for the first time! I hope to see many of you April 11th at Madison Square Garden in NYC…and until then, don't worry: the A State Of Trance Year Mix holds up under replay after replay after replay after replay…believe me, I'm on my third listen of the day and its only lunchtime. As a perfect gift for any trancefam member (or from a trancefam member looking to convert friends to the fray), be sure to grab the iTunes preorder now or pick up the full release on Friday. It's like a Christmas card from Armin, only better.
Tracklisting:
Disc 1:
Armin van Buuren – Intro – The Oath (A State Of Trance Year Mix 2013) (01:44)
Omnia – The Light (Radio Edit) (02:57)
ilan Bluestone – Sinai (Original Mix Edit) (04:10)
Headstrong feat. Stine Grove – Satellite (Aurosonic Progressive Radio Edit) (03:30)
BT – Skylarking (Radio Edit) (03:26)
Andy Duguid feat. Jaren – 7even (Radio Edit) (04:12)
Omnia feat. Everything By Electricity – Bones (Radio Edit) (03:14)
Christian Burns, Paul Oakenfold & JES – As We Collide (Orjan Nilsen Radio Edit) (03:04)
Band Of Horses – The Funeral (Dash Berlin Radio Edit) (04:12)
Denis Kenzo feat. Sveta B. – Lullaby Lonely (Progressive Mix Edit) (03:35)
Dash Berlin & Alexander Popov feat. Jonathan Mendelsohn – Steal You Away (Radio Edit) (03:00)
Hardwell feat. Amba Shepherd – Apollo (Dash Berlin 4AM Remix Edit) (04:48)
Armin van Buuren feat. Emma Hewitt – Forever Is Ours (06:41)
Above & Beyond feat. Zoe Johnston – Alchemy (Above & Beyond Club Edit) (03:33)
Audien – Wayfarer (Original Mix Edit) (03:26)
Omnia – Immersion (Radio Edit) (03:50)
Orjan Nilsen – Violetta (Radio Edit) (03:15)
W&W – Thunder (Official Radio Edit) (02:58)
W&W & Ummet Ozcan – The Code (Radio Edit) (02:45)
Mark Sixma – Requiem (Radio Edit) (03:42)
Orjan Nilsen – XIING (Radio Edit) (02:53)
Ferry Corsten feat. Jenny Wahlstrom – Many Ways (Radio Edit) (03:16)
Lange feat. Ilseviolin – Violin's Revenge (Dark Club Radio Edit) (03:58)
Ronski Speed feat. Lucy Saunders – Rise Again (Omnia Radio Edit) (03:39)
Johan de Kock & Stefan Viljoen feat. Nanje Nowack – Silence (Tommy Johnson Remix Edit) (04:36)
Kat Krazy feat. elkka – Siren (Armin van Buuren Radio Edit) (03:13)
Bobina & Ana Criado – For Who I Am (Beat Service Remix Edit) (04:02)
Armin van Buuren vs Arty – Nehalennia (Radio Edit) (04:05)
Super8 & Tab – L.A. (Original Mix Edit) (03:18)
Armin van Buuren feat. Richard Bedford – Love Never Came (07:00)
BT & Aqualung – Surrounded (Super8 & Tab Radio Edit) (03:23)
Mark Knight & D. Ramirez V Underworld – Downpipe (Armin van Buuren Radio Edit) (03:46)
Armin van Buuren & W&W – D# Fat (Radio Edit) (03:15)
Armin van Buuren feat. Cindy Alma – Beautiful Life (Protoculture Radio Edit) (03:51)
Armin van Buuren feat. Trevor Guthrie – This Is What It Feels Like (W&W Radio Edit) (03:26)
Armin van Buuren feat. Laura Jansen – Sound Of The Drums (03:55)
Estiva – Dinodrums (Radio Edit) (03:16)
Andy Moor & Betsie Larkin – Love Again (Andrew Rayel Radio Edit) (03:43)
Conjure One feat. Aruna – Still Holding On (Arisen Flame Radio Edit) (03:56)
Arisen Flame – Gladius (Radio Edit) (03:35)
Shogun feat. Tania Zygar – Find Me (Radio Edit) (04:10)
Alex M.O.R.P.H. feat. Natalie Gioia – Dreams (Radio Edit) (04:22)
Heatbeat – Game Over (Radio Edit) (04:01)
Cosmic Gate – So Get Up (Radio Edit) (03:41)
Emma Hewitt – Rewind (Mikkas Radio Edit) (03:35)
Above & Beyond – Walter White (Radio Edit) (02:46)
Armin van Buuren feat. Fiora – Waiting For The Night (Radio Edit) (03:04)
Dash Berlin feat. Christina Novelli – Jar Of Hearts (Radio Edit) (03:41)
Dash Berlin feat. Sarah Howells – Go It Alone (Andrew Rayel Radio Edit) (04:00)
Giuseppe Ottaviani & Eric Lumiere – Love Will Bring It All Around (Radio Edit) (03:45)
Mark Sixma – Character (Radio Edit) (03:45)
Beat Service – Aurora (Radio Edit) (03:22)
W&W – Lift Off! (Radio Edit) (03:04)
Andrew Rayel & Jwaydan – Until The End (Club Radio Edit) (03:010)
Armin van Buuren presents Gaia – Humming The Lights (Radio Edit) (03:34)
Alexandre Bergheau – Damavand (Original Mix) (08:06)
Rank 1 vs M.I.K.E. – Elements Of Nature (Radio Edit) (03:54)
Armin van Buuren – A State Of Trance Year Mix 2013 (Full Continuous DJ Mix, Pt. 1) (60:04.0000)
Disc 2:
Markus Schulz – Remember This (Radio Edit) (03:32)
Skytech – The Other Side (Radio Edit) (02:59)
Max Graham – The Evil ID (Radio Edit) (03:45)
Bobina with Andrew Rayel – Sacramentum (Andrew Rayel Aether Radio Edit) (04:14)
Andrew Rayel – Musa (Radio Edit) (03:35)
RAM & Alex M.O.R.P.H. – Grotesque (Radio Edit) (03:36)
Alex M.O.R.P.H. feat. Sylvia Tosun – An Angel's Love (Andrew Rayel Aether Radio Edit) (03:32)
Woody van Eyden – Nangulan (Radio Edit) (03:45)
Andrew Rayel – Dark Warrior (Official Radio Edit) (02:31)
Armin van Buuren & Markus Schulz – The Expedition – A State Of Trance 600 Anthem (Radio Edit) (02:48)
Armin van Buuren feat. Miri Ben-Ari – Intense (Radio Edit) (02:53)
Solarstone – Love Theme From Blade Runner (Pure Mix Edit) (03:37)
Orjan Nilsen – Mafioso (Mark Sixma Radio Edit) (03:58)
MaRLo – Visions (Radio Edit) (03:21)
Arisen Flame – Unity (Radio Edit) (03:40)
Jorn van Deynhoven – Six Zero Zero (Radio Edit) (03:39)
Andrew Rayel – Zeus (Radio Edit) (03:27)
Simon Patterson feat. Lucy Pullin – The One (Radio Edit) (03:14)
MaRLo – BOOM (Radio Edit) (03:22)
Fisherman & Hawkins – Apache (Official Radio Edit) (02:50)
Ferry Corsten – F The Bull$h1t (Original Mix Edit) (03:17)
Antony Waldhorn – Theatrum (Radio Edit) (04:21)
Driftmoon & Andy Blueman feat. Dsharp – Exodus (Radio Edit) (04:16)
Alexander Popov – Lost Language (Radio Edit) (03:24)
Solarstone & Clare Stagg – Jewel (Pure Radio Edit) (03:37)
Craig Connelly & Christina Novelli – Black Hole (Jorn van Deynhoven Radio Edit) (03:59)
Abstract Vision & Elite Electronic – Conqueror (Radio Edit) (03:53)
Matt Bukovski vs Andy Elliass & Abys – Cheops (Original Mix Edit) (04:12)
A.R.D.I. – Beyond The Time (Radio Edit) (03:51)
Aly & Fila and Susana – Without You (Radio Edit) (03:05)
RAM & Susana – RAMelia (Tribute To Amelia) (Radio Edit) (03:25)
The Thrillseekers feat. Stine Grove – Anywhere With You (Solarstone Pure Mix Edit) (04:28)
Bjorn Akesson – Gunsmoke (Radio Edit) (03:25)
Sergey Nevone & Simon O'Shine – Apprehension (Aly & Fila Mix Edit) (04:26)
Armin van Buuren – Who's Afraid Of 138?! (Photographer Radio Edit) (03:36)
Adam Ellis – Napalm Poet (Original Mix Edit) (03:54)
Aly & Fila feat. Sue McLaren – Mysteries Unfold (Uplifting Radio Edit) (03:58)
Simon Patterson – Brush Strokes (Radio Edit) (04:21)
Dart Rayne & Yura Moonlight and Sarah Lynn – Silhouette (Allen & Envy Radio Edit) (03:38)
The Avengers – Yugen (Original Mix Edit) (05:05)
M.I.K.E & Fred Baker presents Active Sight – Never Ending (Bryan Kearney Remix Edit) (04:39)
Ciro Visone – First Coming (Ian Standerwick Remix Edit) (04:54)
ReOrder & Ian Standerwick presents SkyPatrol – Folding Your Universe (Radio Edit) (03:53)
RAM – RAMnesia (Radio Edit) (03:54)
Andain – What It's Like (Sneijder Radio Edit) (03:22)
Sneijder & Bryan Kearney – Proper Order (Original Mix Edit) (04:39)
Armin van Buuren – Outro – A Matter Of What You Believe In (A State Of Trance Year Mix 2013) (00:47)
Armin van Buuren – A State Of Trance Year Mix 2013 (Full Continuous DJ Mix, Pt. 2) (60:40)