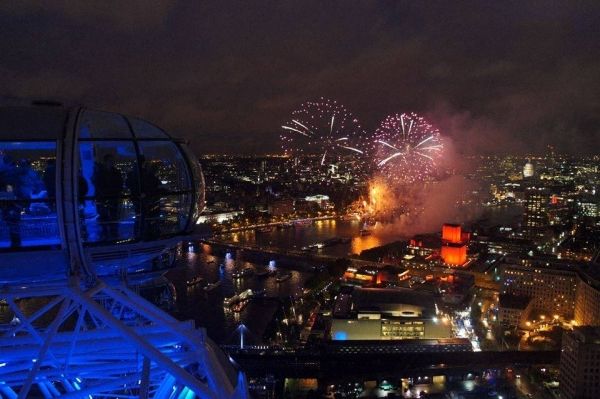 For one night only, the Red Bull Revolutions in sound festival will touch down at Londons Eye. Kicking off at 7.30pm GMT, It will be the world's first live stream of 30 stages simultaneously on Channel4.com & YouTube. The event is chance to celebrate the legendary clubs of England,  from the likes of Cream and Fabric in the capital to Hacienda in Manchester.  Every club involved has an amazing reputation.
The London Eye will become a melting pot to bring together all spectrums of music. Every capsule of The Eye will be transformed into a legendary club night with an original line-up of resident DJs and superstar guests. To have all these amazing djs represent their sound in a setting like this is groundbreaking, not to mention easily one of the coolest events from recent memory.
Here is a quick guide to some of the standout stages and performances at this years event:
The Boiler Room
It's going to be an even tighter squeeze than usual in the Boiler room pod, featuring an all-star cast  fo Bok Bok, Oneman, Jackmaster, Loefah, Girl Unit, Lil Silva and MC Chunky.
Bugged Out!
The much loved Bugged Out will get their pod party moving with resident DJ Erol Alkan and Chicago techno artist Green Velvet.
Cream
The world renowned superclub has crammed their capsule with house heavyweights Seb Fontaine, Andy Carroll and Paul Bleasdale. This is going to be a large one.
Fabric Vs Fabric Live
London's biggest and best. The Farringdon superclub will have residents Craig Richards and Ben UFO getting their pod party pumping.
FAC51 The Haçienda
The renowned Manchester institution returns with some legendary selectors. Get raving with Graeme Park, Mike Pickering and Todd Terry.
Lost
The well-known techno night will have everyone sweating to the sounds of none other than Richie Hawtin and Steve Bicknell.
Motion
Bristol's Motion has filled their pod with an eclectic and impressive lineup including Eats Everything, DJ Die, Jenna G, Inja, Gotsome and Serocee
Rinse
A big name like Rinse was always going to go big with their capsule crew and they haven't disappointed. Getting it jumping is Skream, Katy B and Artwork.
Shindig
Having run for an impressive 21 years, these guys know how to get people moving. On the decks in this pod will be two very impressive residents in Sasha and Dusky
Talking Loud & Saying Something
Gilles Peterson, Patrick Forge and percussionist supremo Spry revisit the mythical Sunday sessions at Camden's Dingwalls.
The End
Layo & Bushwacka! and Mr C of The Shamen fame take you back to the beginnings to the End.
Twice As Nice
UK garage OGs show will show why their soulful sound from the 90s is more relevant than ever before.
Our stream of choice will have to be the Lost pod with Richie Hawtin and Steve Bicknell. Richie posted a facebook message earlier on today stating that" On November 14 1979, I left the UK and moved to Canada. Tonight – 34 years later to the day – I perform a special set in the London Eye with Steve Bicknell and my long-time friends at LOST who have been supporting my music journey since Day 1″. This is sure to be a very special performance.
Watch everything live from 7:30pm GMT  on Channel 4 or outside the UK at Redbull's website.