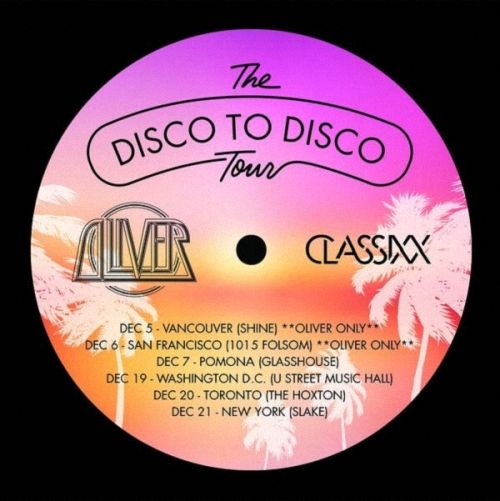 OLIVER and Classixx have announced six stops on the Disco to Disco Tour. Unfortunately for Classixx fans, the LA-based duo will miss the first two stops in Vancouver and San Francisco but will join OLIVER in Pomona, D.C., Toronto and New York.
The two acts have more in common than disco.  OLIVER just finished supporting Zedd on the fall leg of the Moment of Clarity Tour; Classixx is set to join Zedd for the Moment of Clarity Holiday Tour at the stops in New York and Chicago.

Dates and venues for the Disco to Disco Tour are below.  Tickets haven't gone on sale yet so check out Songkick for more information for each stop.
Thursday, December 5th — Shine, Vancouver
Friday, December 6th — 1015 Folson, San Francisco
Saturday, December 7th — Glasshouse, Pomona
Thursday, December 19th — U Street Music Hall, Washington, D.C.
Friday, December 20th — The Hoxton, Toronto
Saturday, December 21st — Slake, New York