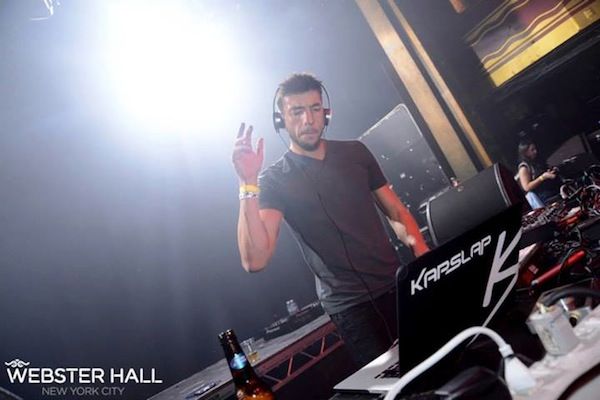 It was midnight, Friday November 15th (16th if you want to be technical). The team working hard over at Girls & Boys had a huge lineup for the night. Mashup king
Kap Slap
and rising progressive duo
Mako
were going take the stage in the grand ballroom, with mashup producer Doug Bogan opening up the night. Being a big supporting fan of Mako and Kap Slap, my expectations were high. Over the past couple of months I've heard a disgusting amount of "Festival Trap Anthem" and big room tunes so I was hoping for my ears to be refreshed with a new sound.
First up was Bucknell DJ and producer
Doug Bogan
. He had a full house ready for his 40-minute opening set. With the crowd vibing and the legendary Webster Hall sound system fully juiced for the night, things were looking good. Doug threw in some hot mashups as well as a big progressive remix of "Waterfall" by Coldplay. With everyones hands already in the air, transitioning to "Years" by Alesso was the perfect move.
After warming up the dancing bodies of Webster, it was time for Alex and Logan of Mako to take the throne. These guys, aside from the being some of the nicest people you will ever meet, have an immense amount of talent. In the past couple of months, they have taken the EDM scene by storm and quickly raked in over 50,000 likes on their Facebook fan page. Having already worked with the likes of Sander van Doorn and Dubvision, they are bound to blow up in 2014. Now that you have a clearer idea of Mako's ridiculous potential, here's what went down. So Alex and Logan walk on stage. Alex is looking dapper in a sharp suit while Logan reps the clean-cut look by wearing an ironed black button-down. Some big tunes of their set were Pendulum's "The Island," Cash Cash's "Take Me Home," Dash Berlin's remix of One Republic's "If I Lose Myself."
In addition to these big progressive tunes, they flaunted some of their own work, spinning "Beam" and their big collaboration "Into The Night." Their track selection was on point. They threw in a healthy amount of electro house, showing their mastery of the DJ "push and pull" technique. They closed their brilliant set with their latest release "Our Story." It was quite a euphoric moment for everyone. All of Mako's fans had an awesome time and those who were new to the duo instantly fell in love with their music.
Mako had a stellar set. Next up was the headlining 23-year-old DJ and producer Jared Lucas, aka Kap Slap. Ravers pushed their way to the front. In the course of three years, Kap Slap has produced a sensational buzz, cranking out quality mashups on a consistent basis. All of his tunes have been a college-staple. Before I dive into his set, let me just give you my initial thoughts when he stepped on stage. How often does he work out? The dude is fit. Those triceps don't just form overnight, that's all I'm saying. Anyway, back to the music. So Mako's set finished. They cut the music. The anticipation was high. Kap Slap gets settled behind the decks and begins his set. Right from the start, the crowd went insane for his Pumped Up Kicks mashup that was revamped with a splash of Madeon. His transitions were FLAWLESS, with each song's key complementing the next. His biggest mashup of the night was by far W&W's "The Code" mashed with Linkin Park's "What I've Done."
All in all, it was an epic night filled with awesome tunes and a ton of talent. Props to Webster Hall for seriously recruiting some of the biggest names in EDM this year. Excited to see what they have in store for 2014.