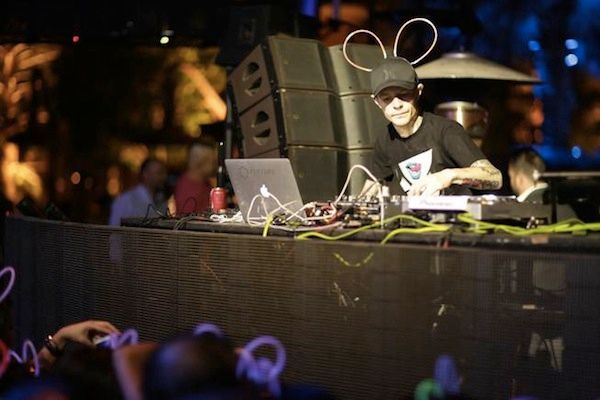 Over the summer the incredible Las Vegas nightclub, Hakkasan, opened. With it came some of the biggest DJ residencies in the game. Tiesto, Calvin Harris, Nervo, Aoki and more were playing every week to tremendous crowds. But something was off once the summer season ended. Deadmau5, who didn't have a "residency" according to Hakkasan, but still performed often since the opening, was becoming more and more rare to see at the club and was barely on the club's event calendar online. Now he's nowhere to be seen.
Vegas residencies are an interesting thing. The top-earning clubs have their big name DJs jump between their day clubs and night clubs in the summertime. Deadmau5 played many Wet Republic shows as well as Hakkasan ones, but the politics behind the deals are intricate. If the Mau5 wanted to completely sever ties with Hakkasan, he did so this past Friday night when he played a surprise, completely on a whim set at XS in Las Vegas.
According to reports, the DJ was in town playing a private show somewhere else and went to the Wynn (where the club XS is located) to meet up with Jesse Waits, a managing partner at XS and longtime friend of Zimmerman (Deadmau5). While the two had dinner, Deadmau5 joked that he should be booked to play at XS that night. Waits could do it, but it would be free. And my God did Deadmau5 DO IT! Sans head though.
From 11pm to 1am, the DJ played an "opening set" for that night's scheduled act, Wolfgang Gartner.
Thanks to social media, word spread fast of the spontaneous performance and XS reached capacity very quickly. No news yet on any new deals or future performances from the Mau5 at XS.
Photo curtesy of Danny Mahoney for XS.