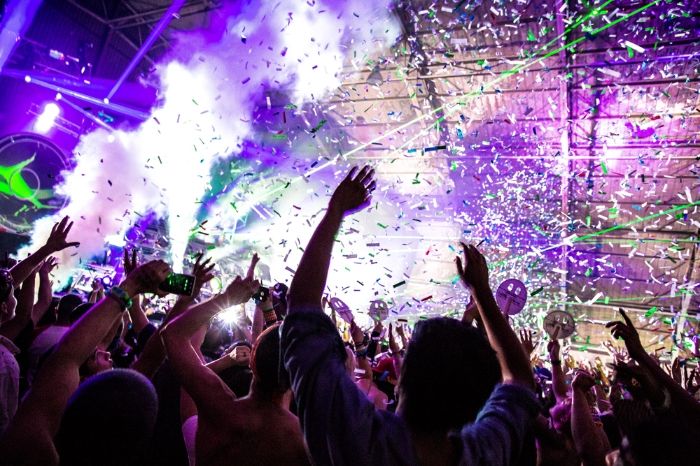 There's nothing more majestic than seeing a star-studded group captivate a gracious audience of die-hard fans to close out a successful tour. This was definitely the case for Bingo Players as the drew their Rattle and Roll North American Tour to a close in San Bernardino's North Orange Show. The venue is an old friend to the Southern California crowd who has seen major festivals such as Beyond Wonderland, Escape From Wonderland, and Nocturnal Wonderland. The event brought back anticipation to an old fan-favorite venue and transformed one of their hangars to bring the Rattle and Roll crowd an awe-inspiring night. The overall setting was powerful as the tour brought a super-size LED set up that transformed to a multi-speaker stage for Bingo Players.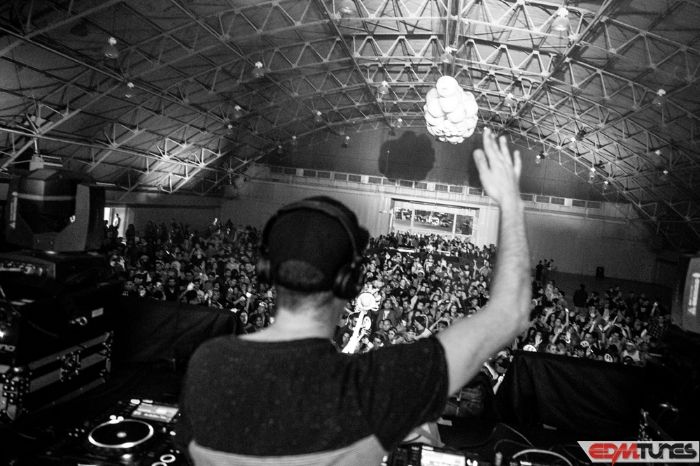 Fans of Bingo Players were granted a fun-filled evening beginning with Carl Tricks who riled up the crowd with some awesome tracks such as the insane "Mad Dash" and a funky remix of Bingo Players "When I Dip". The crowd at least doubled in time for the American act and rising favorite Makj who unleashed a barrage of bass including the robust Hardwell co-creation "Countdown" and a Makj Edit of Showtek and House Of Pain titled "Slow Down or Jump Around" that got the crowd from bobbing and weaving to throwing their hands up. Bassjackers took the booth and threw down a hard set that featured their new remix of Adrian Lux's "Wild Child" while playing old favorites like "Mush Mush". Then it came like the first thunder strike of a rain, Bingo Players' Maarten rolled in to the stage and the crowd was roaring. Before beginning he paid a heartfelt homage to his compadre Paul which let the crowd know how sorry they were that Paul was unable to attend the festivities. The crowd received this news with overall wide support and the Rattle and Roll began. The stunning set began with their most recent successful Electro House anthem "Out Of My Mind (Mode)" and was led in to a set filled with more than just bass and beats but an array of genres that could've been catered to any crowd for a good time. Vocals from tracks like Capital Cities "Safe and Sound" and Lana Del Rey's "Summertime Sadness" were mixed with hard-hitting tracks, making it very hard for anyone to turn down for the good time. Fan favorites were also played like the ever-funky "Rattle" mixed with  Martin Garrix's "Animals". The crowd was also granted a very special sit-down that included Makj, Carl Tricks, and Bassjackers to a grand hard style remix of Hardwell's "Spaceman".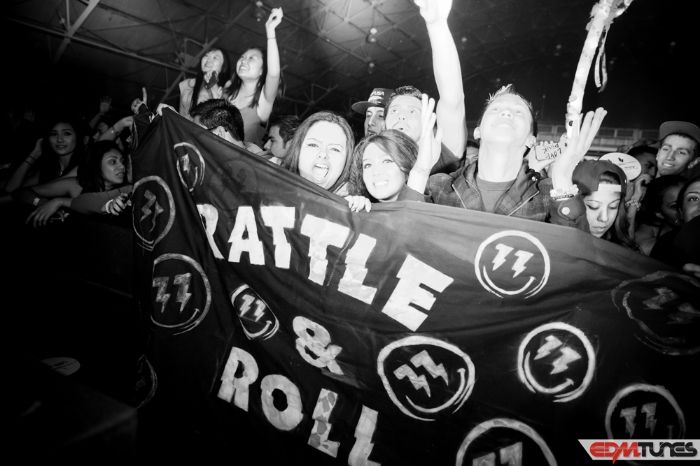 Bingo Players brought to Southern California a night to remember. From the incredible line up to the affordable services, the coordinators of the night had planned the whole event out smoothly while bringing an almost mini-festival experience to a concert. The night taught that Bingo Players likes to take care of their fans, ticket prices were affordable, drinks were affordable, and lines moved comfortably along. The most prolific experience of the night was definitely being able to share and enjoy the awesome show amongst hundreds of fans who were full of energy and heart. While it may be awhile until our friends Maarten (and maybe even Paul) return, it's safe to say that the Rattle and Roll North American tour couldn't have ended at a better place than beautiful Southern California, and the spirit and vitality brought to San Bernardino that night will be embedded in the memory of those that witnessed it for a long time.