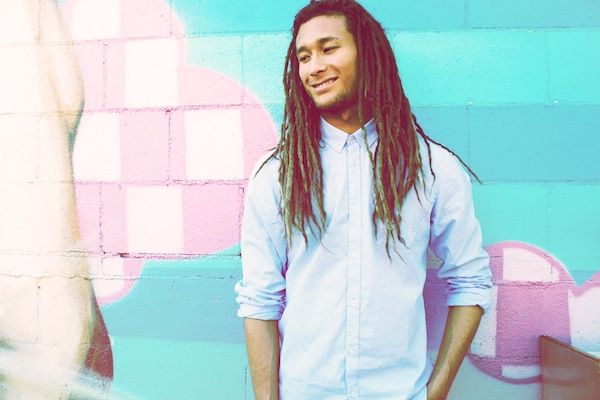 This past Saturday at the Aragon Ballroom in Chicago, Henry Fong was part of a World Record-setting lineup that also featured the likes of Craze, Clockwork and Dada Life. Shockingly, he's only been involved in the electronic music scene for a few short years, but Fong is proof-positive that it's not about how long you've been doing it. Rather, it's about the approach you take to your music, from the sets you play to the original tracks you produce. I had the good fortune of sitting down with Henry Fong after his masterful opening set on a night where Dada Life would set a new Guinness World Record for largest pillow fight, and was blown away by his insightful perspective. Had I not known otherwise, I would have thought I was speaking with a long-time industry veteran who had spent untold years honing his craft.
Henry Fong isn't just looking to make the next big hit. He's looking to make music that lasts, that can be played again and again and again. And then, after several years have passed, it will be one of those tracks that a DJ sneaks into a set and the crowd, almost immediately recognizing the tune, will erupt. It's this instinctual awareness that Fong has that has made the mash-ups he creates and the sets he plays so good, and this shrewd foresight that has already made his original music so powerful. He understands the importance and impact of making music that leaves a lasting impression. If you haven't been paying attention to Henry Fong as of yet, you need to start now. It won't be long until he is a household EDM name.

You're here as the opener for Dada Life on a World Record night. How do prepare yourself for an event like this?
Honestly, shows like this are so much fun that you really don't have to prepare, because you know it's going to be fun and it all just kind of flows. I didn't really have time to make a playlist; I never really make a setup. I'm the kind of person when I go play a show, I like to just wing it (laughs). That way you get a little bit more natural flow and however the crowd is, you start kind of feeling the crowd a little bit more. I like to do it like that. But I'm excited! Tonight's show is just something so cool and different that's never been done before – world record pillow fights, like what!? [laughs].
The idea of this World Record Pillow Fight and breaking that record, where did that idea come from or how did you find out about it?
I was actually talking to the Dada Life guys and they were saying how they had this crazy idea, 'We're going to break the World Record for biggest pillow fight.' And I'm like 'Wait, what? How are you guys going to do that?' They're like, 'We're going to buy like 5,000 pillows…[laughs]… spend all this money on pillows. We're going to pass them out and we're going to have a pillow fight at the show.' It makes sense because they have some incredible fans and everybody's there at the show, everybody's getting rowdy, everybody's ready to party. Perfect time and place, so just a great, clever idea.
Tell us a little bit about what Riot! What was all about and if there was there anything you learned in that experience that sticks with you today?
Absolutely, man. That was the big, big stepping stone for what I'm doing today. It was me and my buddy NYMZ, he's in a duo called Milo & Otis now, they make trap. He and I were like, 'Let's just start a dance music party.' At the time, there were no dance music parties by the college – I went to UCF – nothing at any of the college bars. So we were like, screw it, let's start our own party. We don't care how many people are going to come, we're just going to play whatever music we want. This was about 2008 or 2009 when dance music started to catch on in clubs. We were listening to Bloody Beetroots, MSTRKRFT, Crookers, that kind of stuff. Really dance floor electro, and we just started playing that music and we just really pushed the music as hard as we could on the local college crowd. We wanted to make a party that had no rules…literally no rules. We said fuck DJ booths, we're going to put a table right on the dance floor and we're going to DJ right in the middle of all the madness. And that's how the term Riot! came about. We were literally going to make this party a riot. We just want everybody going as crazy as possible, no dress code, DJ booth on the dance floor and we're just like we're going to play whatever we want to play. And it became the go-to spot for dance music. The night blew up and then we used that as a stepping stone and went from there.
It's a brilliant idea not only to make your own event for yourself, but then to make it really something unique, too. What's interesting is that you don't hear a lot about the Orlando electronic music scene.
No, but there's a really good scene there. I feel like Orlando gets a little bit overlooked as far as the dance music scene, but there's a very, very solid scene there. Orlando's dance music roots go way deeper than that. Orlando was essentially a rave capital of the U.S. during the '90s…breakbeat scene, the trance scene, it was very, very big in Orlando. Hip-hop took over from like say 2000 to 2007 and then all of a sudden, boom, all this dance music came back and all the old ravers came back out. It was cool to see the scene switch a little bit, but Orlando is pretty rich in dance music history. A lot of people don't realize that.

All the old guys are like legends there. I wasn't like, raving during the 90's. I was a little kid, but after meeting all these guys… man, they would just tell me the craziest stories about how, you know, they would rave until 11am in the morning and there were no laws. The reason why bars in Orlando shut down at 2am is because of all the raves. The city cracked down on the raves, shut them down, so it's called the Rave Law, or whatever it was. And that's why the clubs aren't open past two; it's because the dance music scene was that crazy!
Why did you start with mash-ups or was there something about mash-ups that really caught you?
Well, I started out as a DJ first, I was just playing normal club nights. Then I began to make a couple mash-ups to play to the crowd. Edit together a couple of tracks, get a good crowd reaction. That really makes your sets unique, your edits. If you listen to any good DJ, that's what really sets you apart. Of course, your original productions are the key, but also it's the edits and mash-ups. There's just so many, infinite possibilities. That's why I try to make some more unique edits that'll work on the dance floor, and started doing that first.
You have a relatively young career compared to some of the people in the industry, but there was this pretty amazing shout-out you got from Dillon Francis in an interview he did with UKF picking you as one of three artists who's really pushing the electronic scene forward. How did you first hear about that acknowledgement and what was your initial reaction to hearing that news?
Oh man, that was crazy because I've been following Dillon Francis forever! I used to check blogs and he was still making dubstep. So then I saw this guy go from dubstep to a little bit of like 128 BPM electro. And then all of a sudden he started making this super unique…I don't even know if you'd call it Moombahton, just this super unique 110 BPM stuff. One day I got a text that was like 'Yo, Dillon Francis shouted you out on the UKF interview.' I had been talking to Dillon a little bit, sending him some music and stuff, he played some of my tracks. I don't know man, that was just unreal to hear that he thought that my music was unique enough and was pushing boundaries. That was so cool. So cool.
That's awesome to see it go from you're a fan of his to now he's supporting your music. So sort of the evolution of not only your personal career, but how you work your way throughout the industry, as well.
That's the crazy part about it. A lot of these guys I've always looked up to and now I'm like, talking to them about music. It's unreal!
Who are some of the artists that you're paying attention to these days – either veterans or new to the scene – who you think are really doing something interesting or really pushing electronic music in a different or new direction?
One of my buddies, Toby Green, is killing it. I did the track "Revival" with him, and it was so cool collaborating with him. He's only 17, he's from Denmark, he's been producing since he was little, man, probably like 11 years old. He's making just some awesome stuff. He's going to blow up real soon. And then, there's these guys Kill FM from Sweden, a Swedish duo. They just make the heaviest electro stuff. Those guys are going to blow up soon, too. Who else? I really, really like this other duo, Merk & Kremont, two Italian kids. They just had a track signed to Nicky Romero's label, one to Fedde Le Grand's label, and they make really, really groovy stuff. They don't make typical big room stuff, they take these really groovy riffs and all their stuff works really good on the dance floor, so I like their stuff a lot, too.
Speaking of Toby Green, you've obviously done a lot of work with him on various tracks. Your newest release coming out this week, "Hot Steppa", is something you did with Toby Green and Mike Hawkins. What can you tell us about this track and maybe the inspiration behind it, or something interesting for fans to look forward to for it's release this Monday?
I had previously worked with Mike on our track "Jump!" that came out on Hysteria. I have a really good chemistry with those guys working in the studio. We each have our own perspectives on it and we just kind of combine our different backgrounds. Mike one day was like 'Yo, let's make a collab' and then he's like 'Well, I'm actually supposed to make one with Toby, too, so why don't we make a three-way collab?' And I was just sitting around and we're like 'Well, what are we gonna make?' I had this ska reggae guitar, so I said let's do this reggae track. Mike started thinking of some crazy trumpets and Toby is writing this crazy chord progression and I'm getting all these crazy rasta samples and stuff. Oh man, it was cool! We all just threw our pieces in together and we had this great combination. It's something that we're all really, really proud of because we all really put a lot of work into it. We really wanted to make something that was going to be unique. Not only that, we wanted to make something that people can listen to a year, two, three, four, five years down the road and be like, 'Ok, that was a really cool track.'

I think that's the most important part, doing something unique and leaving an impression, you know? A lot of tracks these days, they might work on the dance floor and DJs play them for a month…then they're gone. They're nowhere to be found. We wanted to really do something that is going to leave an impression. We want people playing our music years and years down the road.
So what is a "Hot Steppa"?
Of course, the original Hot Steppa track is a reggae track, but a Hot Steppa is pretty much just a badass. When I think of the track, a Hot Steppa can be anyone that's doing a fucking crazy dance. We just want it to be one of those things that embodies everyone, you can just put your own definition to Hot Steppa. So we've been posting pictures of people around the world doing crazy dances. So that's kind of what it is, I'd say, for now [laughs].
Are you finding that you're defining now what your sound is?
Absolutely, I feel like my sound is constantly evolving, but it's very electro based. A little bit of big-room influence, but I also like to keep it a little bit groovy. I think that's always important to have a good groove. But also, the root of every good track is the melody. So for example with "Jump!", I tried to do a cool, fun melody; same thing with "Hot Steppa." We just wanted to make one of those melodies where you just hear the melody and everybody just, boom, instantly recognizes the track. I think a lot of tracks are missing good melodies these days because everybody is kind of building tracks for the dance floor, but I think a good track is a good melody. And of course, a drop that has energy and a good groove to it, too!

Somebody who's done it actually perfectly who's been a big influence is Tommy Trash. He's very good at writing melodies, if you haven't heard "Reload" [laughs]. But also, he knows how to make a drop that's just going to groove. Everything he produces has this incredible sound design, too. I think guys doing stuff like that is what's going to carry over and last.
You've been performing now with some really big name DJs, like Adventure Club, Knife Party, here with Dada Life tonight. What have been some of your best moments sharing the stage with some of these artists?
It's so cool playing with different people. Everyone kind of has their own specific crowd. Like the Dada Life guys, their fans are awesome, so it's such a pleasure to play these shows where they have such energetic fans. Played a show with Knife Party, their fans are awesome, too. It's just really cool to share the stage with these guys. You know, you're playing and they come on, and you're like 'Oh, what's up man?' [laughs]. And they hop on. It is really cool!
What's next for Henry Fong? Where do you see yourself going from here?
I've got a ton of stuff coming up that I'm really excited about. "Hot Steppa" just released & I just did an official remix for Zedd, "Stay the Night". That'll come out next week. I've got a couple great originals, collabs and other remixes in the works, but you'll just have to wait and see [laughs].
You tweeted that you had the Aladdin theme song for some reason stuck in your head. Is that a hint? Are we going to get any sort of crazy electro-Aladdin remix?
[laughs]. It's one of those things where I didn't really have a musical background. I messed around with saxophone in band for maybe like 2, 3 years in middle school. But other than that, it's just one of those things now that I've been more into music, you start hearing melodies, and a song like that just pops in your head and you just think about it. The other day, I was thinking about the Jurassic Park theme song [laughs]. So it's starting to get to the point where you start hearing things and you draw influences for your music from completely different things. After that, I was like oh wow this shit is tight. I want to figure out a way to have the Jurassic Park theme song vibe with these trumpets [laughs]. I just started messing around. I honestly don't know why I had that stuck in my head. I think it's more developing your ear, and then you start picking up on other things as you develop as a musician. I think that's really important to draw influences from everything.