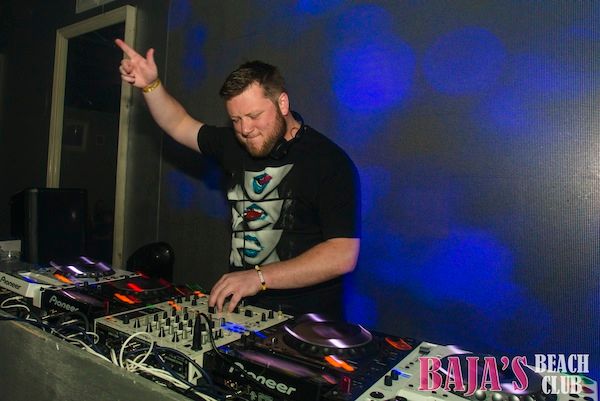 Hailing all the way from Scotland, Chris Elliott, better known as Nom De Strip, has played all over the world. He is currently traveling with Chris Lake on their Rising Fall tour. From electric to techno and dutch to disco, Nom, (as his friends call him), has garnered a lot of respect in the industry and isn't stopping anytime soon as he is set to debut an album. He sat down with EDMTunes to catch us up on hour tour life has been, the origin of his name and what it's like working in the EDM world.

For those who are unfamiliar with Nom De Strip, could you tell us a little bit about yourself and your music?
I've been producing for 10 years with Stupid Fresh and have now been solo for 3 years.
Let me read you something here that I found on Urban Dictionary: Nom De Strip – A name assumed for glamour photography / pornography / other sexual activity when an alias might be advisable; one's stripper name. Can you explain where you got this idea and how that translates to your style of music?
That was exactly where I found it. I will struggle with names for a track for ages and the same with this new alias. I wanted something that would suit me and I was using Urban Dictionary before and I came across it and thought it was suitable for me because it's kind of quirky, sleazy and a weird kind of thing but it doesn't really mean anything, it's not an actual name. It's kind of vague and at the time I felt it suited me because I didn't know what direction my music was going to go in. Everyone just calls me Nom.
Compare the scene today to how it was like a few years ago when you first stepped into the game with Stupid Fresh. What has changed? Would you say it's way more difficult to "make it" nowadays?
I think it's changed quite a bit because everyone has the same technology and there's kids now, 17 and 18 years old, that are producing great tracks. There's definitely more producers around than there was but at the same time that means there's stuff out there that isn't so good that's available now. So there's a lot more good stuff and a lot more rubbish also. It's easier to start doing your thing, just harder to stand out.
There's been a lot of talk about Deadmau5 lately in regards to his new webseries (have you seen it?), he seems to be quite outspoken and obnoxious, in a good way. I understand that you guys have spent some time together but have you ever worked on music with one another?
I haven't actually seen it yet. We haven't spent too much time together face to face but I've been to his place before in Los Angeles. He's quiet, not shy, I was nervous about meeting him for the first time. He was working on a track and it was good fun to watch him work in the studio. I don't know if he'd ever want to work with me (laughs).
You're barely halfway through this Rising Tour with Chris Lake, how's it been thus far? Does all of this traveling and touring get in the way of your production?
I'm very much used to being in the studio and this month has been difficult. We've been doing 6 shows in 9 days and I've been trying to fit a weeks worth of work while I'm home into a couple of days but I just want to rest when I'm home. It's been tough, I'm 31 as well and as you get older it's harder to keep on going. But we're all really good friends and traveling together has been fun. It's nice to have your friends and the shared experience.
Has Chris Lake introduced you to his Rising Music Studio? What's the main difference between producing on the fly such as on your laptop at airports/tourbuses compared to making music inside the studio?
Yeah that's where I've been for 4 months. Chris and I have been sharing the space. I can do both kinds of producing because I'm used to traveling a lot with my wife. I've made sure that I can function with just the headphones and laptop so I don't find it too difficult to do that. I've been in the studio now for an extended period and you definitely get a more polished sound. I don't really enjoy working on music on an airplane but sometimes you just have to.
Besides making killer beats and producing A-list tracks, what else does Chris Elliot succeed in that we don't know about?
I used to play a lot of soccer and I still follow it. When I realized, when I was 13, that I was never going to make it, I focused on the music.
Photo cred: Avi Raz