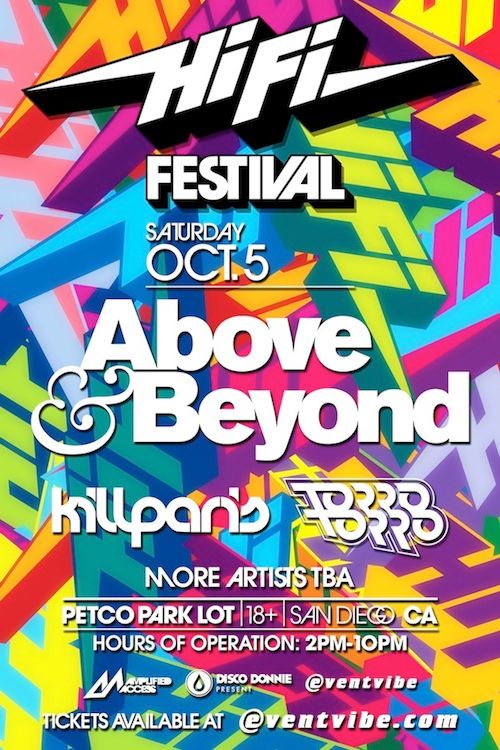 Buy Tickets
We are giving away 20 tickets HERE!!!
HiFi Fest at San Diego's Petco Park Lot on Saturday, October 5th, a one-day bass and energy flash to the future of electronic dance music. Come wrap up your festival season at HiFi Festival by dancing to the sounds made by one of the greatest trios of today, Above & Beyond. For all music lovers who enjoy the original beats and those of up-and-coming, this is a dream come true.
When?
Saturday, October 5th from 2pm-10pm
Where?
Petco Park Lot in San Diego
Who?
Above & Beyond is Jono Grant, Tony McGuinness and Paavo Siljamaki and their story is one of constant movement. From their early days as hotly tipped producers to their current global standing, Jono, Tony and Paavo have remained as down-to-earth and determined as ever – always focused on the next goal. Over their 13-year history, this dedication has continually paid off.
The only dance act in history to win Essential Mix Of The Year twice (in 2004 and 2011), the London-based trio have remixed greats like Radiohead and Madonna, played to one million people on Barra Beach in Rio de Janeiro (New Year's Eve in 2007) and even had their track "Buzz" chosen to soundtrack the launch of Richard Branson's Virgin Galactic SpaceShipTwo in the Mojave desert. And as these landmarks rack up the non-stop pulse of their global touring keeps them connected to their growing international fanbase. Each week brings another crowd, another country and often another continent, while their weekly Group Therapy radio show now reaches over 30 million people worldwide
Kill Paris – Corey Baker aka Kill Paris has been scorching the internet blogesphere this summer. Receiving support from A-Trak, Dillon Francis, Flux Pavilion, and Skrillex. Kill Paris's focus has been on giving his music away for free and make it easier for people to share with others. He just had his own "name your own price" album release on killparis.bandcamp.comcall "The Beginning (2012)" His also soundcloud features 23 songs that anyone can download for free. Being an Ableton Certified Trainer, his software of choice is Ableton Live. Live shows consist of 90 percent originals and remixes. Corey is currently sharing the stage all over the US with the likes of Pretty Lights, Zion I, Mimosa, AraabMuzik, Whiskey Pete, Figure, Mac Miller, Infected Mushroom, & Nicky Romero to name a few.
Torro Torro is the Toronto based production duo of Mike ("Digits") Gonek and Evan "Yo Ev" Norton. The duo masterfully create an identifiable brand of contemporary party music, influenced by hip hop, electronic dance music and tropical riddims. Their remix and original productions have landed them the highest acclaim of their peers. Today there is no doubt that you will hear a Torro Torro record played at the biggest parties the world has to offer, all the way down to the intimate taste-maker clubs nurturing the growth of global bass.