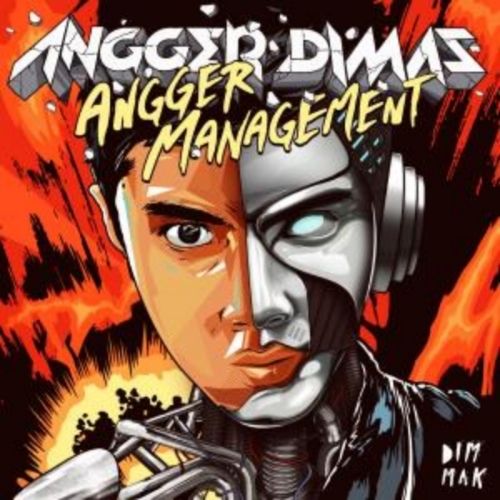 ANGGER DIMAS, 25-year-young rising star out of Indonesia is back with some serious noise. What started merely six short years ago when he signed with Vicious Recordings has quickly turned into a phenomenon and placed Indonesia on the map of the EDM world. Having traveled the depths of the world and completing multiple tours throughout the U.S., Canada, Asia, and Australia, playing at acclaimed festivals such as Tomorrowland (Belgium), Electric Daisy Carnival (Las Vegas), Electric Zoo (NYC), Future Music Festival (KL), Nocturnal Wonderland,Beatpatrol, and many more, Angger seems like he's here for good.

With his recent release: Angger Management is ANGGER DIMAS' most talked about release to date, showcasing his versatility and technicality as both a songwriter and producer. The album fuses together the elements of electro house, pop, moombahton, hip-hop, progressive vocal house, hardstyle, and beyond. Luckily, he's giving away a free download of a minimix of the album, which includes almost all the album tracks in under 12 minutes!
Take a listen and preorder the full here today (Set to be released on September 3rd):

Tracklist
1. Resurrection (VIP Album Mix)
2. Steve Aoki & Angger Dimas – Annihilation Army
3. Angger Dimas & Vandalism – Good Stuff
4. Speakers Bout To Blow featuring Will Brennan
5. AAAH!
6. Release Me featuring Polina (VIP Album Mix)
7. Boom Do It Like That
8. Punch Tha House featuring Xander Pratt
9. Angger Dimas & Jevin Julian – Assassin
10. Take A Breath featuring Cassie Crawford
11. Angger Dimas & D.O.D – 123
12. Cant Talk Sex Only
13. Angger Dimas & Piyu – More Than Just A Feeling featuring Tara McDonald
14. World Wide Love
15. Hollywood
16. Gotta Be [BONUS TRACK] 17. Jump Floor [BONUS TRACK] 18. The Muds [BONUS TRACK] 19. Release Me featuring Polina (Digital LAB Unreleased Remix) [BONUS TRACK]
In support of the album, ANGGER DIMAS will be launching his Angger Management Tour this fall, a North American headlining trek kicking off on September 1st with a high-profile performance at this year's Electric Zoo in New York City at the Dim Mak Up All Night Stage. He will then travel to venues and festivals throughout the U.S. and Canada, including Ruby Skye in San Francisco, Avalon in Los Angeles, and an anticipated performance at the inaugural TomorrowWorld, where Dim Mak is again hosting the Up All Night Stage. Look for more dates to be announced soon.
ANGGER DIMAS' North American Angger Management fall tour dates are as follows:
| | | | |
| --- | --- | --- | --- |
| DATE | | CITY | VENUE |
| Sun | 9/1 | New York, NY | Electric Zoo at Randall's Island Park |
| Thu | 9/5 | Washington, D.C. | Ultrabar |
| Fri | 9/6 | Ottawa, ON | Ernst & Young Centre with Nicky Romero |
| Thu | 9/12 | San Francisco, CA | Ruby Skye |
| Fri | 9/13 | Los Angeles, CA | Control at Avalon |
| Sat | 9/14 | San Diego, CA | Voyeur |
| Wed | 9/18 | Calgary, AB | Commonwealth Bar & Stage |
| Thu | 9/19 | Winnipeg, MB | Greenroom |
| Fri | 9/20 | Seattle, WA | Foundation Nightclub |
| Sat | 9/21 | Dallas, TX | Lizard Lounge |
| Wed | 9/25 | Ann Arbor, MI | The Necto |
| Fri | 9/27 | Chattahoochee, GA | TomorrowWorld at Chattahoochee Hills |
| Sat | 9/28 | Miami, FL | Grand Central |